A good doctor keeps up with the latest research and listens closely to patients. But even the best doctor can't possibly know every single treatment–conventional, naturopathic, chiropractic, and so on–for every ailment. SharePractice, a crowdsourced knowledge base of treatments, is designed to give health care professionals access to all the knowledge learned by their peers. Think of it as a Yelp for medical treatments.
When Dr. Andrew Brandeis, co-founder and CEO of SharePractice, was in medical school, he shared a Dropbox account with a fellow student to store the clinical pearls of wisdom imparted by their teachers. After Brandeis graduated and began practicing medicine, the account remained one of his key references. At the same time, Brandeis was constantly emailing and texting his mentors for advice. "I realized this was a horrible way of sharing information that's so important," he said.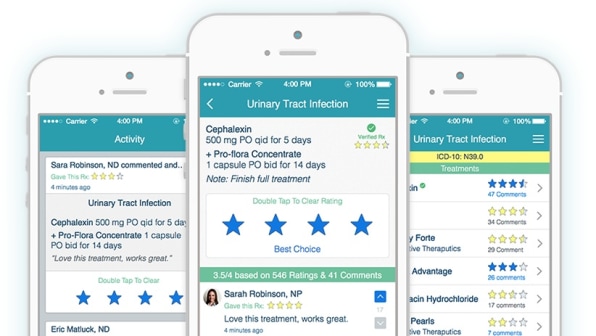 As a doctor practicing in Silicon Valley, Brandeis was bound to have an "aha" moment for how to make the process of sharing medical information better. That moment came while using–wait for it–Yelp. "I thought, 'I'm benefiting from all the people who've been to this restaurant before me. Why can't we apply this to medicine?'" he says.
One of Brandeis's patients, who also happened to be a programmer, offered to build a prototype of the SharePractice platform, which now lets users search for ailments and view treatments by ranking (and add their own treatments if they want). In November, a pilot version of the app launched. Today, there are over 5,000 health care providers using the app. Some 3,500 crowdsourced treatments have been posted, covering 80% of the most common patient diagnoses. In the next few weeks, SharePractice will add in every FDA-approved treatment for these diagnoses.
Brandeis, a naturopath, believes the platform makes it easier to see how different types of health care providers approach problems. "We have this idea that if an MD says it, it must be true," he explains. He gives the example of an emergency room doctor that used the platform looking for a migraine treatment. The second or third highest-rated treatment on SharePractice is magnesium given by IV–a cheap, safe approach that isn't FDA-approved. The doctor tried the approach in the ER, and it worked.
SharePractice is only available on the iPhone for now, but Brandeis says that his team is working on Android and web versions. They're also working with the Santa Rosa Family Residency Program in Northern California, creating a private version of SharePractice so that clinical faculty can share their preferred treatments. "Drugs change, bugs change," says Braindeis. "The standard of care should change every day.