Two every second: That's how many people join LinkedIn as new members, many of whom hope to exploit the platform's rich resource for industry contacts. That means that by the time you finish reading this article, you'll have on average 250 people and counting to compete with for the professional world's attention.
What you do with your LinkedIn profile can mean the difference between garnering views and job prospects and alienating potential employers. But before you even consider your strategies for interacting on the popular social media site, you must first look inwards–at the state of your profile.
This infographic from social media agency Link Humans shows you how to stand out from the crowd and put your best profile forward:
Don't skip the profile picture. Without a photo, you'll be 11 times less searchable than your competition.
But reserve the selfies for Instagram and Twitter. Make sure your profile picture is a simple, professional shot.
Be sure to also update your contact information and headline. Fast Company contributor Amber Mac suggests customizing your headline to include information about how you can help potential connections, rather than simply stating your position.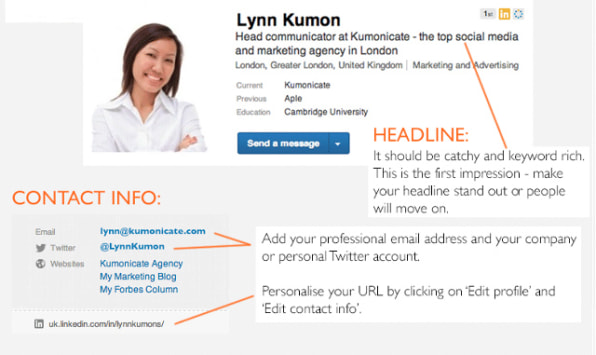 According to a few LinkedIn surveys, company status updates with links result in 45 percent higher engagement than updates without links, and updates receive higher engagement if you keep them short.
Post content to LinkedIn that you think will help your followers become more successful professionals and you'll be more likely to convert them into loyal viewers.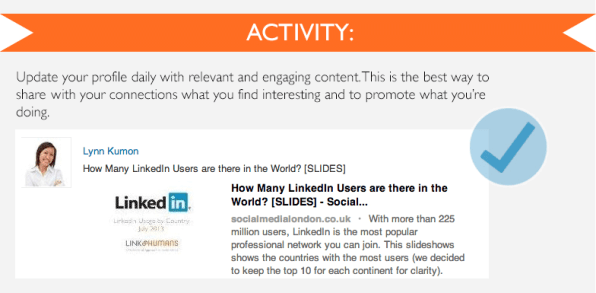 A few rules of thumb from the information compiled by Link Humans:
Make your summary keyword rich

Use the first-person

Add some contact details

Throw in some relevant media links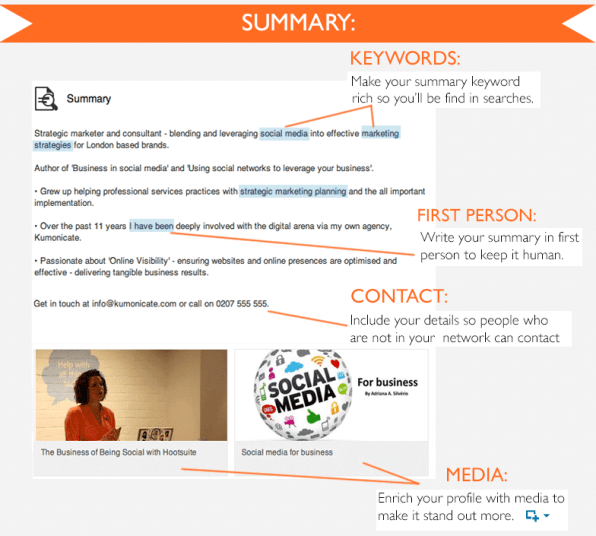 Perhaps the most obvious section you'll want to keep updated is your experience section, since this is one of the first things employers will skim–it's the closest thing you get to an online resume.
While you should certainly be descriptive, be careful about what keywords you choose to use. Steer clear of buzzwords like utilize, optimize, cutting-edge, team player, and liaisoned–that one's not even a word.
You can also add media to each of your job experiences in this section and showcase the recommendations you've received for particular positions.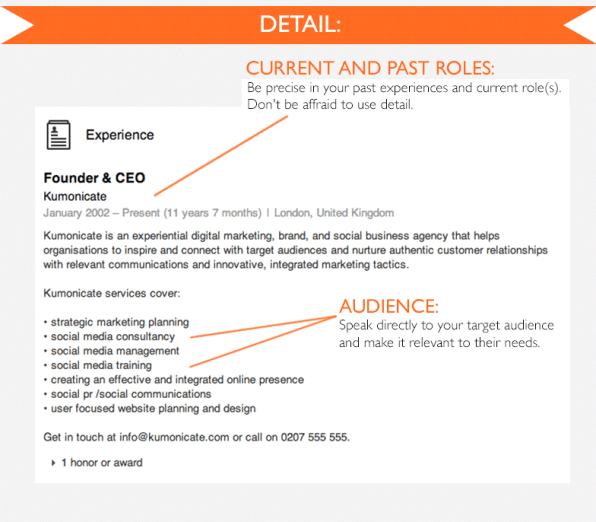 LinkedIn's Director of Product Management Christina Allen writes that adding compelling projects to your profile can demonstrate experience relevant to your professional goals. Why not add links to show them off even more?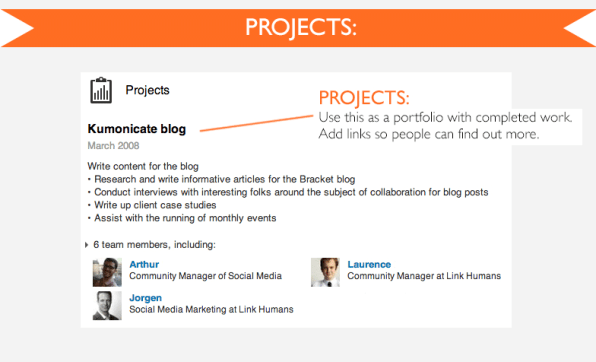 Not sure if there's a LinkedIn Group out there for you? There are literally millions to choose from–so odds are you'll have a handful of networking opportunities to choose from.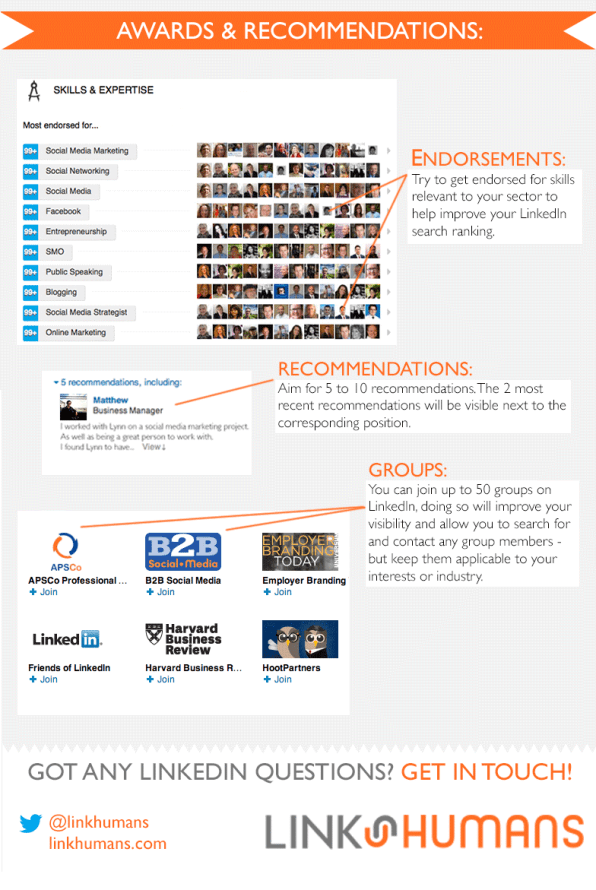 If you feel like you've accomplished something brag-worthy, now's not the time to be humble–let the world know what you've done by adding some Honors & Awards.
According to LinkedIn's Career Expert Nicole Williams, including your social impact as part of your professional identity isn't just nice to have, it's becoming the norm. She blogs about how including the Volunteer and Causes section in your profile will likely win you the job.
Joining–or even running–an Organization is a great way to improve your leadership abilities, something that employers will take note of.
If the task of fine-tuning your LinkedIn profile seems too daunting, try setting aside 15 minutes a day to focus on sprucing up just one section of your profile? At this rate, you'll have a killer profile in no time.