If you're a list-maker, behold the to-do list and productivity secrets of these business superstars.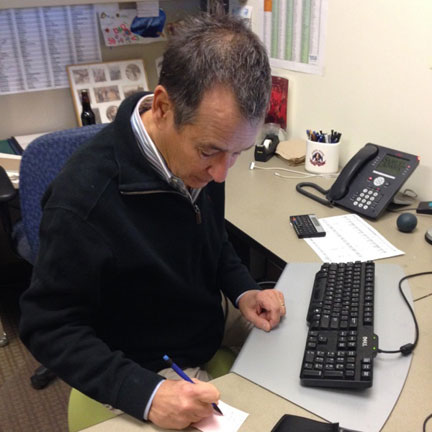 My day moves fast, and is often dictated by priority items from various internal teams. Each morning I keep myself on track by writing down three to five of my must-do items for the day on a Post-It note. (I used to use a small notepad but when I spilled beer on it, I wiped out a bunch of pages. If I wipe out one Post-it, it's easy to grab another one.)
These are important, but not necessarily urgent items. Once my day gets going, I keep the list close by as a reminder–it's easy to let these sit or delay and put them off for another day, but I make it a priority to cross them off my list before the end of each day.
At the beginning of the week, I make sure I don't have more than five e-mails in my inbox even if it means getting it done Sunday night. I also try to address e-mails as soon as they come in, knowing that the longer it takes to reply, the longer it will take to resolve whatever issue or question is raised. Waiting "until I can get to it" means it will take more, not less, time.
It helps me think, and increase my productivity when I stop and take short breaks during the day. I often turn off my computer screen to escape from email hell. There's a hardware store close by, so I often go down there to check out the tools or pick up something that I might need at home. Often my dilemma, issue or idea is solved by the time I get back to my desk. And I've got a cool new color of duct tape.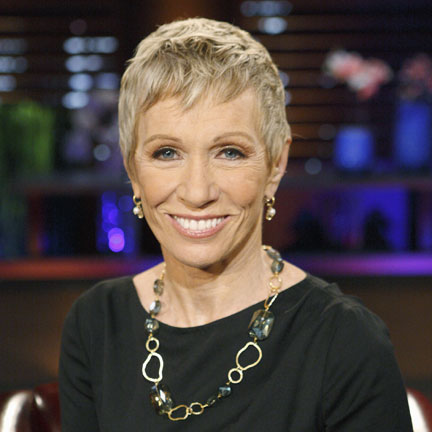 I organize my list in sections, mostly because of time constraints. First are the calls. A call is something I feel like a want to make or I promised a friend I'd make it. It's typically two or three calls. I put it upfront because I don't want to lose sight of it.
Next is the review section, which is quick things. It might short tasks, answering questions like 'Do you want to do that satellite tour?' or others. The paperwork related to it is attached to the list, so I can just do a quick review and get it out of the way. I try to get these done within the day, but they're not listed in any priority.
The third section is the project list. That's where the gold is. These are the things that will make me money and that will move the business forward. I prioritize those as A, B and C and they vary from working with any one of the companies I've invested in on Shark Tank or other things I think are very important. It's an A on the list if it's important and there's only a limited time period to get it done. Even if something is very important, it will move to a B if it doesn't have to get done today.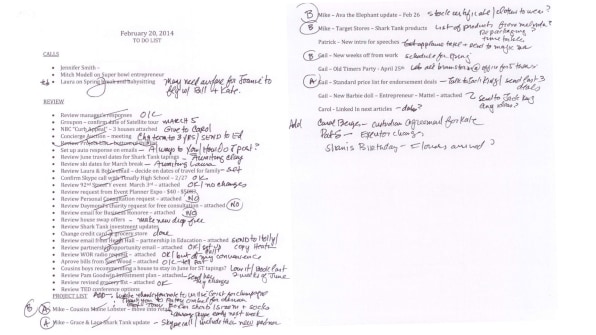 The list is always too big. What's scary is when a list is too small because the means I've been busy enough that I haven't had any time to reflect on anything. The more time you have to reflect, the bigger the list grows, especially in the project area because you start to think of new opportunities you don't want to lose sight of. And while I've tried different online to-do lists, I cannot work off of a to-do list that isn't written or typed. The delete button will never give you the kicks that crossing off tasks will give you.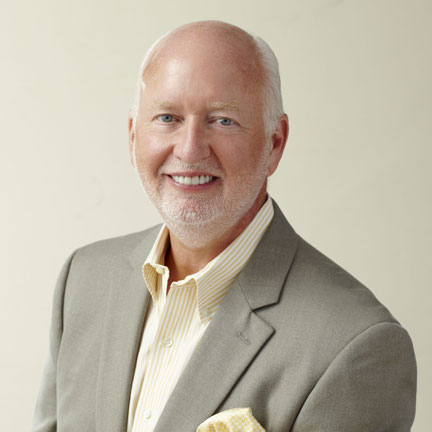 I've been a list-maker most of my professional life. I ran a home for teenage boys and started my flower business on the side. The man who was my mentor at St. John's Home in Queens New York was crazy list-maker. He was extremely buttoned up and most organized person.
I followed his example and used a particular pad that had "Things I Have to Do Today" printed on it. When the Dallas company that made them went bankrupt, I had my assistant track them down and buy four cases of those pads. Now, I use a combination of digital and a note pad.
I have several lists: There's a "things I have to do today" list, a more general to-do list, a projects list and a long-term ideas list, which are major things we have said it's important for the company to achieve this year. I jot things down to remember them, but before assigning them to a list, I think about a few things. Does it have to get done today? We have lots of good ideas. Some make it to the projects or the longer-term ideas list.
The team reviews these lists regularly to determine if they're still good ideas or things that have to get done. If not, we replace them with new ones. Lists help you look at how you're spending your time. It's easy to be busy and a lot harder to be effective.