When Square partnered with AIDS organization Product Red to create a special credit card reader, it was obvious what color it would be: red. Simple, right?
Not so much. "It would've been really easy and straightforward to make the exact same design," says Chrissy Meyer, of the hardware team. But Square being Square, designers carefully inspected dozens of samples of red in different hues and textures.
"Our industrial designer flew all the way to the East Coast, sat down, and custom mixed all these different shades of red and came back with piles and piles of red samples, that to anyone on the street, they would all look the exact same color," Meyer explains. "You wouldn't be able to tell, but we could tell, and it mattered to us that we dialed in the exact shade we wanted. And it's perfect."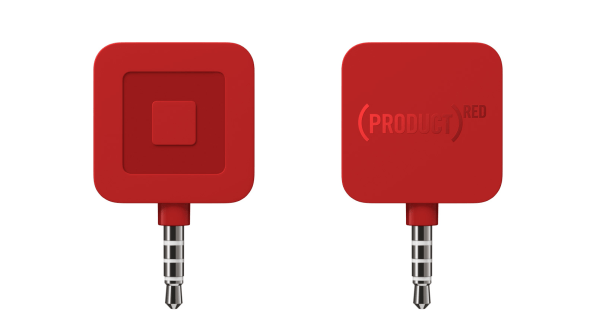 The appropriately named SQUA(RED) reader, which began shipping to merchants earlier this month, was birthed from a company hack week over the summer. Some employees had toyed around with the idea of different colored Square readers, and then it hit them. "Of course we should be doing this [partnership with Product Red]," says design director Paco Viñoly. "It's an important cause that aligns with what Square believes in and what a lot of merchants believe in."
With its pop culture roots (Bono is a cofounder) and success rallying a mobile generation, Product Red is known for its partnerships with hip companies–including Apple, Starbucks, and Beats by Dre–to sell co-branded products, with a percentage of proceeds going to the Global Fund. With the Red reader, 97.25% of its $10 cost goes to the organization, which provides "24 days of life saving HIV medicine" in Africa, says Product Red's chief digital officer Chrysi Philalithes. (The remainder is to cover credit card processing fees.)
"We were absolutely over the moon because we had been friends with the Square guys for many years, since they launched," Philalithes says. "For many years, we've been thinking of the best way to partner with each other."
The organization has guidelines about the hue of red chosen for products it licenses its brand to, but there is some leeway. "What translates on a page with a Pantone color doesn't come out with actual material," Philalithes says, noting the collaboration between the two organizations. If you pay careful enough attention, you'll notice the surface of the Red reader has a matte texture, while the edges are smooth and shiny (it's flipped for Square's white reader).

A company-wide effort that involved mechanical engineers, software engineers, packaging engineers, people from operations, and more, the Red reader was refined in about a month. "We did it fairly quickly for hardware standards," says Thomas Templeton, of the hardware team. "One of the unique things about Square is we have all the capabilities in house."
As a way to engage customers, the receipt Square sends via email urges customers who swiped on the Red reader to join the fight, with a special message on the bottom and link to donate to the Global Fund. Square declined to say how many Red readers it's sold thus far, but its goal is to raise $250,000, and that initial batch of readers has already produced tens of thousands of receipts. "It's such huge exposure at the right point in the customer's experience," says Viñoly, adding the new reader has become a talking point, further raising awareness, because customers have been accustomed to its iconic white look. "It enables the right type of situation for donations."
Indeed Square, named one of Fast Company's Most Innovative Companies in finance, has shown how UI can shape consumer habits. In the third quarter last year, merchants generated more than $70 million in tips, up 133% year over year. What's remarkable is that more customers are leaving gratuity at establishments where tipping hasn't been customary, such as coffee shops and bakeries.
In typical Square fashion, no detail was spared, even with the packaging. Upon removing it from the envelope, the translucent red cover immediately shows off the reader. "Whenever we get to make [the reader] the hero, we take the opportunity," Viñoly says. To achieve that simplicity, the plastic cover was scored in such a way it wouldn't bend. The team also went on a hunt for the perfect glue that would remain invisible behind the translucent cover. To understand the customer experience, they also dropped these packages in the mail so they know what it's like to receive and unravel the reader.
One of Product Red's biggest partnerships, Apple's Red products have generated more than $65 million donated to the Global Fund. Last summer, Intel also partnered with the Global Fund to support AIDS and malaria research by leveraging spare processing power of volunteers' personal computers to create a virtual supercomputer. In December, the Bill & Melinda Gates Foundation pledged to double its contribution to the Global Fund, totaling about $500 million.
"We wanted it to mean something if we were putting all this extra thought and money behind it," Meyer says. "We really wanted to do it for a cause we felt was worthwhile."