There's a method to how Turner Sports approaches March Madness. There has to be. The company produces the official app for the NCAA men's basketball tournament one of the year's biggest sporting events. Starting with the first round on Tuesday, NCAA March Madness Live offers three weeks of college hoops–live streaming of 67 games and four additional broadcasts (more on that later)–for smartphones, tablets, laptops, and PCs.
The app includes all sorts of bells and whistles, from curated social media feeds to a mobile-optimized bracket. Together, they acknowledge one of the central realities of how fans watch sports today: with one eye on the screen, the other on Twitter, Instagram, Deadspin, and any number of sites offering live event coverage. Fans don't just want the game's score; they want the conversation around the game. With March Madness Live, Turner Sports–which co-produces the tournament coverage online and on TV with CBS Sports–gathers all that social media under a single umbrella, ensuring relevance at a time when fans might split their attention among dozens of other sources.
11 Months And 15 Days
Not long after the championship game last April, Mark Johnson and his staff at Turner Sports were back at work. The basketball teams themselves may not be able to work together year-round (them's the rules), but the team behind the tournament's popular online and mobile apps does. "We spend 11 months and 15 days on these products," says Johnson, vice president of business operations for Turner Sports.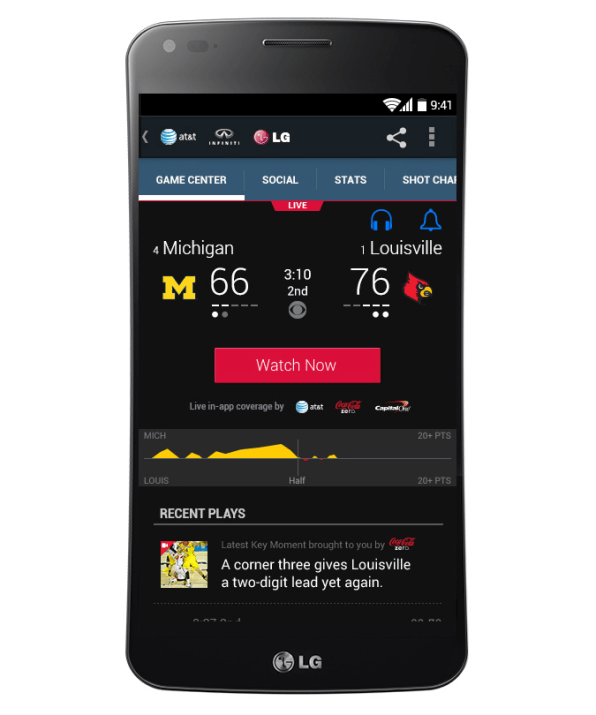 What takes so long? The group scraps nearly all of the previous version of March Madness Live and starts over. It designed the apps to be compatible with various devices (iPad, iPhone, Android, Kindle, etc.) and the latest operating systems and to incorporate newer technology, such as Vine and Instagram. Whatever they create is tested for months (and on regular-season games in February) to ensure that it can withstand massive amounts of traffic. Last year, March Madness Live delivered 49 million live feeds of the games.
"The easy way would be to take 60% or 70% of the product every year and just tweak that," Johnson says. Instead, two weeks after Louisville's thrilling title win over Michigan, engineers, developers, and designers gathered at Turner's Atlanta offices, and "We said, 'Okay, What can we do differently?'"
A Better Bracket
The bracket is more than a schedule of the games. It's the event's defining infographic, telling the story of the tournament–survival, failure, upsets–round after round. The ubiquitous format is now used to chart competition of any kind, even beyond basketball. (Here at CoDesign, we're using it to enlist readers to crown the greatest living designer.) Last year, the bracket on March Madness Live didn't do it justice. The limited navigation only allowed searching by region. This year, the bracket is optimized for smartphones and tablets. Pinch and zoom any branch to watch live action or retrieve highlights and results of earlier games. "We gave the bracket that cool factor," Johnson says.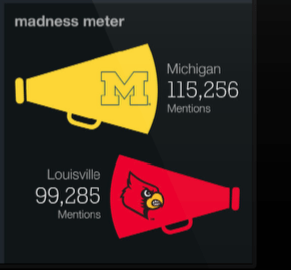 School-To-School Competition
These days, the action on Twitter during a game is nearly as fierce as what's happening on the court. During each game, the Turner team breaks out the tweets for both schools in its Madness Meter. "We want to show who's winning the war on Twitter," Johnson says. It's a measure of the most tweets fired, not the funniest, most devastating or illuminating quip.
Mapping the Twitterverse

The paradox of watching sports on a TV, tablet, or smartphone is that you may be watching alone (or with friends) but ultimately you're part of a national audience. To convey that communal experience, Turner created a United States map to show where game-related tweets are coming from throughout a given game. "We want to help people visualize the volume of Twitter content," says Johnson. By scrolling over the map, you can read the latest comment from that location.
A Fine-Tuned Feed
Like a lot of other media companies, Turner realized that too much Twitter detracts rather than enhances a game. "In the past, we may have had 20 different search parameters–everything with the word Kentucky or Wildcats, the five starting players, the coach, the top alums," says Johnson. "But looking through 100 tweets in a few minutes isn't the best fan experience." So Turner is using a handful of search terms and employing more people to curate tweets–as well as Vines and Instagram photos–for each game.
Hoops for Homers
The tournament changes with each round. So does March Madness Live. "We have to design for each of these stages so they look different," says Johnson. The most dramatic change this year is the Final Four. For the first time, Turner Sports and its broadcast partner, CBS Sports, will air three different versions of each Final Four game on three TV networks. While TBS will air the standard national broadcast of the game, TNT and TruTV will air versions with announcers who are associated with each school. Those "team-cast" feeds will be available online on March Madness Live as well.
"It was done with the fan in mind, knowing that we all have our favorite school," says Johnson. "It's the homer network for that school."
Along with national champion Louisville Cardinals, Turner Sports was the big winner last year. It teamed with CBS Sports for the tournament's highest TV ratings in 19 years. And March Madness Live had record viewership: more than 14 million hours of live video streamed–a 168% increase over the previous year.
Beating that performance is a tall order, but the new features and the growing audience for streaming video give Turner Sports a good shot. If you were making a bracket of such things, it'd be a No. 1 seed.