Constraints can seem like the last thing you'd want for a creative project, but they're actually beneficial when it comes to doing good work. If you've ever faced the common writer's hurdle of the blank page, you'll know what it's like to be paralyzed by innumerable opportunities. What restrictions do is take away some of the choices available to us, and with them, the paralysis of choice that stops us from getting started.
We love trying things that seem counterintuitive at Buffer, but we especially love examples of how counterintuitive approaches can produce great results.
Check out a few examples of the amazing work that can come from creative constraints, and then find out how you can begin to use constraints to aid your own creativity and productivity.
This is one of those stories that's so old, no one can really prove who was part of it or how it went down. But even without certainty of the facts, it's worth retelling. Supposedly Ernest Hemingway was the story author, who bet some friends that he could write an entire story in just six words. Of course, it seems an impossible feat: how do you introduce characters, explain their relationships, and tell a tale about them in just six words? Here's how Hemingway did it:
For sale: baby shoes, never worn
Powerful stuff, right? Like I said, it's a story worth telling, even if we'll never know the exact details. It certainly provides a lesson about working with constraints. With such an extreme brevity limitation, not only did Hemingway have to choose his words carefully, but he also had to craft them in a way that imbued the silence around those words with the rest of his story, since he'd run out of words to tell it.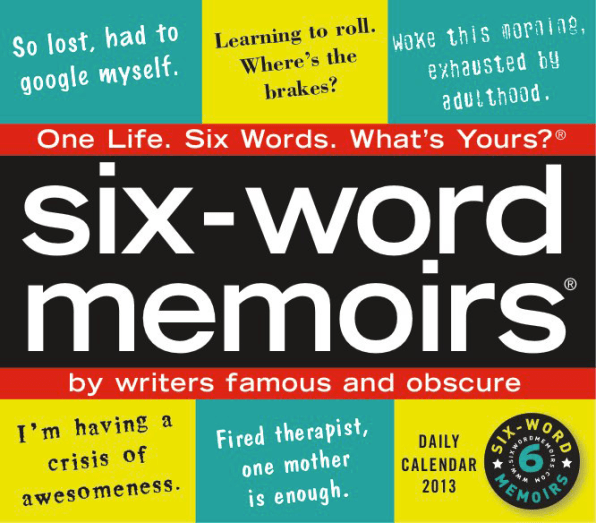 Speaking of six-word writing restrictions, here's a fun project based on the same thing. The book Not Quite What I Was Planning is a collection of memoirs written by famous and not-so-famous writers in exactly six words. Summing up your life in just six words sounds hard, but then imagine writing a whole book about your life–suddenly six words doesn't seem so daunting, does it?
Here are some examples from the book:
Well, I thought it was funny. — Stephen Colbert

Couldn't cope so I wrote songs. — Aimee Mann

Grumpy old soundman needs love, too. — Lennie Rosengard

Painful nerd kid, happy nerd adult. — Linda Williamson

No future, no past. Not lost. — Matt Brensilver
Phil Hansen's story is nothing short of inspiring. As an art student, Phil relied on a specific pointillist style he'd developed. He was understandably distraught when an injury from creating art this way meant he couldn't do it anymore. After walking away from the art world completely for three years, Phil returned and started using constraints to his advantage.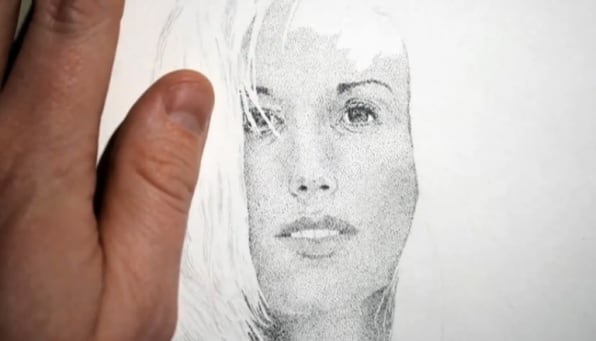 His shaky hand, a result of his art injury, led him to a new style incorporating the shaky lines he couldn't help making.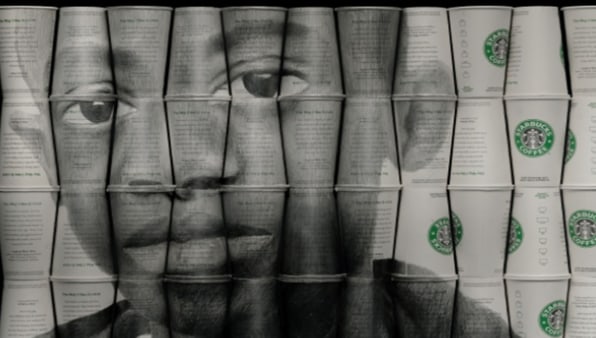 Eventually Phil realized how powerful constraints could be and started creating his own: from drawing on coffee cups to painting with karate moves to creating temporary art with matches, candles, and chewed-up food.
I can't do his story justice, so I highly recommend watching his TED talk about what he learned. It includes videos of him making amazing art pieces based on self-imposed constraints:
The last time I explored the use of constraints in creativity I came across this artist who creates amazing work within physical and spacial constraints.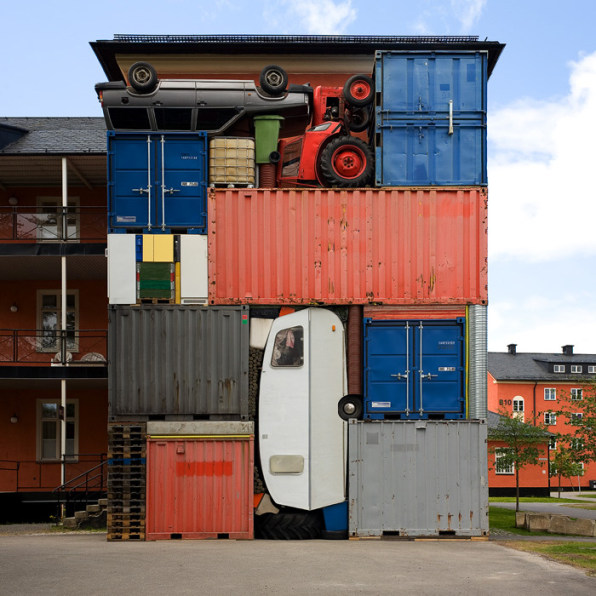 Michael Johansson takes used objects and repurposes them into artistic projects. I'm tempted to call them sculptures but it doesn't seem to fit with the almost 2-D look of his work.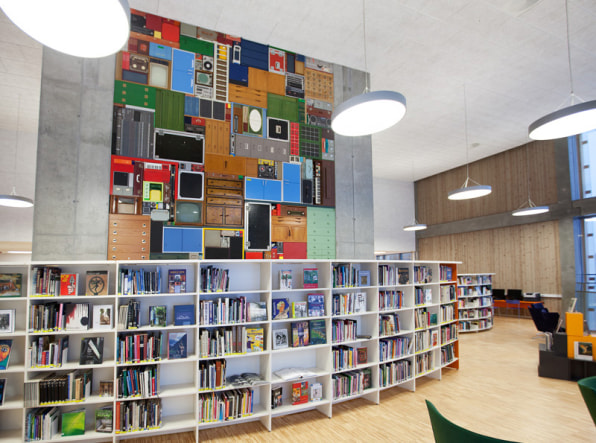 What's so impressive about Michael's work is that he seeks out frames to work within–physical spaces to use as constraints–and makes his used objects fit together inside those areas.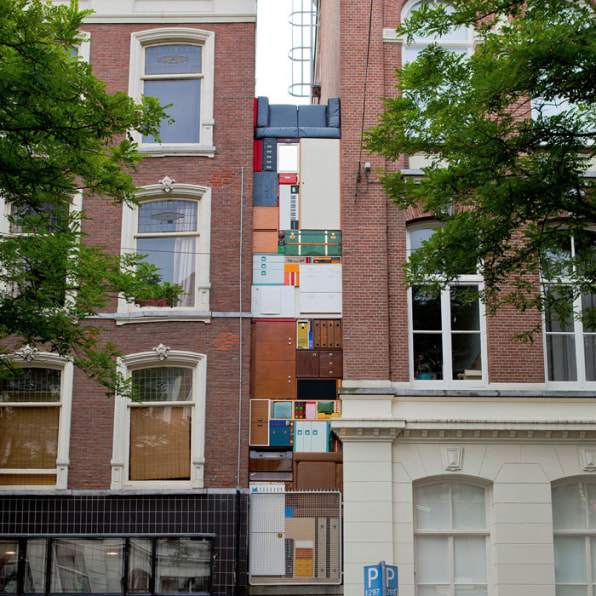 In the video below, Michael describes his work as being almost a game: like real-life Tetris.
A favorite artist of mine, and somewhat of a regular on the Buffer blog recently, Austin Kleon provides an excellent example of working within constraints. Though he's known for several things, perhaps what first made a name for Austin were his newspaper blackout poems.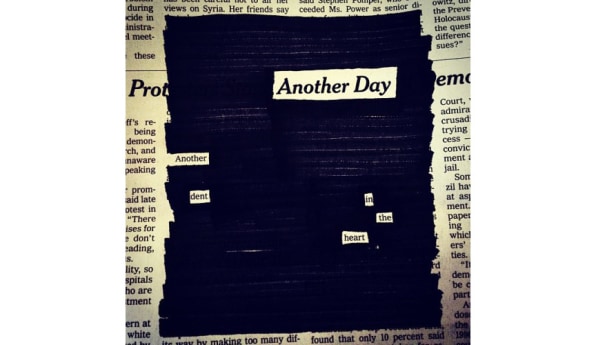 Working from the constraints of the words already presents in a newspaper article or column, Austin uses a marker to black out words, subtracting from the original content until only his own message is left.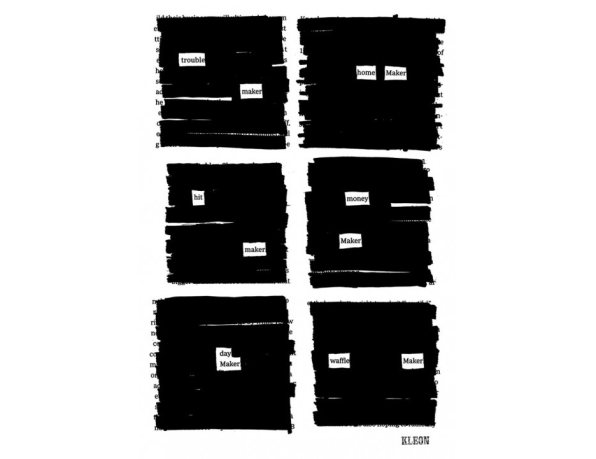 Even more than that, Austin has copyright restrictions to think about, since he's using someone else's work. In a New York Times piece, Austin explained how the various areas of copyright law provide inspiration for his work, as they give him constraints to work within.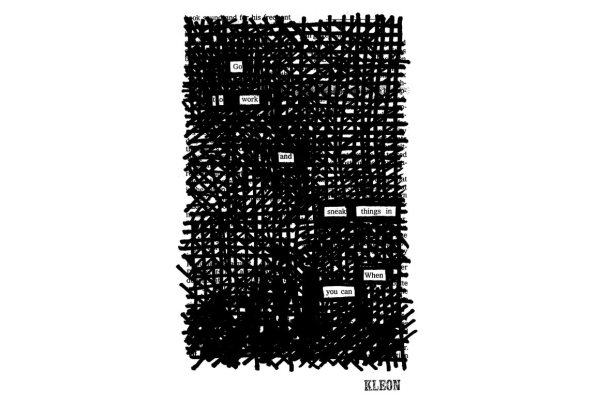 For instance, he needs to ensure that the final message in each of his blackout poems, if not completely different to that of the original, reverses or parodies it. He also notes that the fewer words he uses from the original and the more space between them, the less likely he'll be to face a copyright suit.
How's that for creative restrictions?
Damien Correll is a highly sought-after designer who's become used to imposing his own constraints on his work. Without any constaints, Damien feels he has too much freedom:
I think if you're given a clean, fresh palette, and you do whatever you want, it's almost too much freedom, at least for me.
Damien has learned over time that imposing restrictions tends to result in better work:
I find [constraints] make the process a little more enjoyable and the final output is usually something I'm more proud of.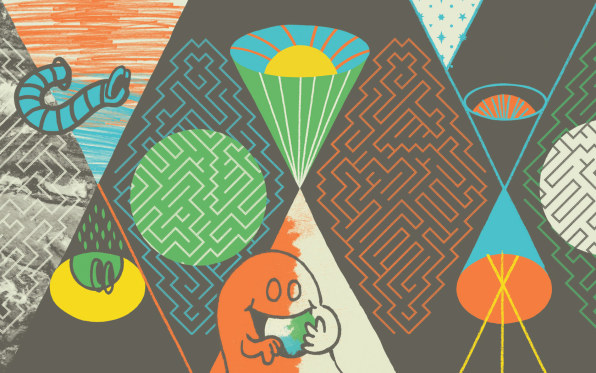 Damien's constraints often come in the form of short deadlines, which help him to put an idea into practice quickly and rely more on his gut feeling without time to second-guess himself.
The idea process and the making process usually come hand in hand or immediately following.
We looked at the benefits of starting small recently, and how easy it is to forget that big companies like Google and Facebook were small once.
37signals is another good examples of this. Here's a company that's so big, so successful, they're selling off their products and rebranding so they can once again focus on their initial product, Basecamp.
But back when they were building Basecamp initially, one of the things that helped them along was embracing the constraints they were faced with:
When 37signals was building Basecamp, we had plenty of limitations. We had:
A design firm to run
Existing client work
A 7-hour time difference (David was doing the programming in Denmark, the rest of us were in the States)
A small team
No outside funding
Looking at the success of 37signals today, and their product Basecamp, it's hard to imagine them having to work through constraints like these. But they did, and found them to be benefits in some ways:
Constraints are often advantages in disguise. Forget about venture capital, long release cycles, and quick hires. Instead, work with what you have.
Those are some pretty compelling case studies into the benefits of constraints. How can you harness the power of constraints in your own work? Here are some strategies to try:
Have you used constraints to aid your creativity? How did it go? Let me know in the comments.
This article originally appeared in Buffer and is reprinted with permission.