Late on a weekday morning in San Francisco's Hayes Valley neighborhood, Eliza Bennett is at Smitten Ice Cream, chatting into an iPhone. She stands behind a counter outfitted with four, new-to-the-shop stainless steel machines that look like space-age, industrial versions of your mom's old KitchenAid mixer.
But Bennett's about the farthest thing from a disaffected ice cream shop employee. On the receiving end of the FaceTime call: a bunch of 10- and 11-year-olds in a classroom about an hour north of San Francisco.
"We were doing a virtual fieldtrip, a fifth-grade class that had just started a design thinking unit, and they were really focusing on entrepreneurial processes and using design to solve problems," explains Bennett, a Dartmouth grad who speaks multiple languages and runs Smitten's education programs for kids and community outreach.
The session was the first virtual science class for Smitten, a company that makes ice cream to order in under two minutes using triple-patented, algorithm-controlled machines programmed to deploy hazy gusts of liquid nitrogen that rapidly, precisely transform fresh ingredients into individual servings right before customers' eyes. While the cryogenic freezing process puts on a good show, Smitten relies on it for reasons beyond taster-tainment.
"It's all about ice crystal formation. So when you freeze ice cream, the texture has a lot to do with the size of the crystals, and the bigger the crystals the more sort of icy or gritty and freezer-burned it is," explains Smitten founder Robyn Sue Fisher, a self-described ice cream nerd who'd loved the stuff since childhood and set out on a mission to create the perfect scoop while pursuing an MBA at Stanford.
It hasn't always been easy. Fisher's quest for frozen nirvana includes a stretch of time in 2009 when she could often be found wheeling her invention around San Francisco in a Radio Flyer wagon to let people taste the flavors that she developed with pastry chef Robyn Lenzi (yes, same first name). But by 2011, they'd opened their first shop. Another followed in 2013. And a 1,700-square-foot flagship is set to open in Oakland on April 1, with a fourth location slated to welcome customers later this spring.
Back in the day, in order to freeze ingredients into the smallest ice crystals possible, Fisher and a fellow Stanford engineer began experimenting in her Palo Alto backyard with a tank of liquid nitrogen, duct tape, and mixer parts bought off Craigslist. Fisher soon realized she would need to create an entirely new machine to get the texture she was after. And so, over the next several years, she worked with a retired NASA engineer and, later, yet more engineers to design, build, prototype, test, improve, and–finally–manufacture the first Brrr machines (the name and technology is trademarked with the three-R spelling). Outfitted with constantly moving beaters that keep the ice cream in constant motion, the machines take fresh, unfrozen ingredients and douse them with liquid nitrogen at -321 degrees (F), the better to create a cold, smooth texture fast.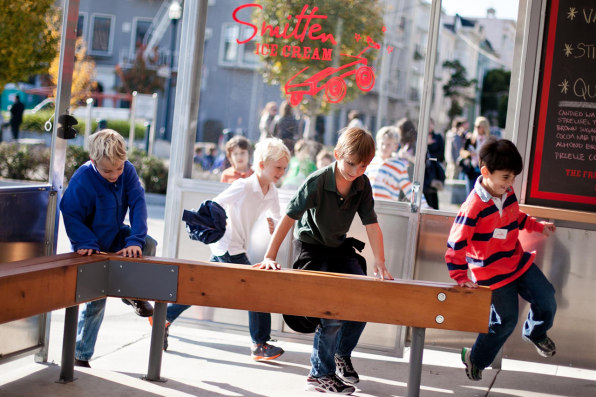 According to Fisher: "The double helical beaters scrape every surface of themselves and every surface of the bowl such that no ice cream particles get frozen to the mixer itself. This is why Smitten has the smoothest ice cream on Earth–because no clusters, iciness, or grittiness can form."
Additional stores and experiments in virtual education aren't the only new territory for the company. Smitten is also rolling out new machines that, in way that would make any lean startup salivate, tweak her business into yet leaner, more efficient territory. Where earlier iterations of the signature machine needed human assistance to achieve Fisher's high standards for ice cream perfection, the latest ones are completely automated. They're also sleeker and heavier (weighing in at 100 pounds versus the 40-pound previous iteration), but, perhaps more importantly, they're a whole lot smarter.
"These Brrr machines literally know what's going on in the bowl. They can feel the thickness of the ice cream," Fisher says.
Not only can they handle the job of producing more ice cream more efficiently and allow a single person to operate multiple machines at one time (which in turn means more efficient staffing), the new ice cream makers operate using software that takes into account the flavor and size of an order and monitors viscosity (a.k.a. thickness) in real-time and adjusts accordingly. They've made it possible to standardize the resulting output–so you get the same version of, say, blood orange ice cream at every shop–and reduce time spent training employees in the nuances associated with different flavors. Last but not least, an upgraded design means the machines are easier to clean, service, and repair. That may not sound like a big deal, but it is when you're talking about a machine with custom parts requiring attention from specially trained engineers who must sign comprehensive NDAs and undergo extensive training before even getting their hands on the thing.
"Before, parts were, like, so buried in all these little attachments that it was really hard to fix things. It would be like an eight-hour repair and that's obviously not the best cost structure," says Fisher.
It's innovation that stands out in an industry that experts say can be slower to experiment and implement new technology than other food-related sectors.
"In the dairy industry, we have regulations and laws like any industry, but we have what's called standards of identity, which really proscribes formulations and processes that we use for the manufacture of the product," says Dr. Phillip Tong, the director of the Dairy Products Technology Center at Cal Poly State University. "While they're there to protect the consumer and integrity of the product, it can sometimes slow innovation."
Manufacturing, packaging, storing, shipping, and selling ice cream at retail locations brings a lengthy array of significant and expensive logistical and regulatory hurdles for would-be ice cream entrepreneurs, says Tong.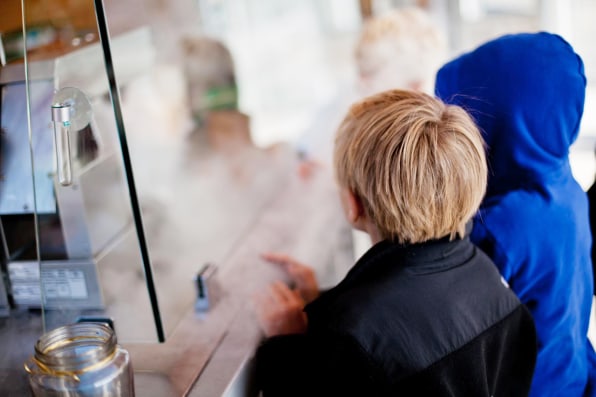 But Smitten sidesteps all of that by selling made-to-order servings with its custom machines and eschewing the option of chasing retail brand success for a restaurant model that relies instead on marketing itself as a family-friendly place with old-timey sensibilities–including rustic, wood accents for the interiors and a sign and logo that looks ripped from the 1950s–artisanal ingredients (they even make their own chocolate chips), and organic dairy products. Oh, and yes, some pretty cool technology that puts on a good show. But that, says Fisher, is not the point. It's a means to an end.
"The gist of Smitten is going back in time and using a new technology to do that better than ever before," says Fisher. "So we're not trying to be mad scientists of ice cream. I hate that picture in my head. We're really trying to do something old fashioned."