When Cosmos: A Personal Journey aired on PBS in 1980, it went on to win an Emmy Award and become that network's most-watched series, by more than 700 million people worldwide. Not only did it capture the majesty of the universe and the possibility of humankind's potential, it also–thanks to the charisma of its host, the late astrophysicist Carl Sagan–transformed the way the public regarded science.
"Here was a man who not only pioneered science, but ways that science reached the public," says astrophysicist Neil deGrasse Tyson, who'd met Sagan several times before the latter's passing in 1996. "What Carl did was connect the science to humanity, to your mind, body, and soul. Before him, science was just something to learn, whereas Cosmos told us why it matters and how it affects us in today's world."
So when Tyson joined Family Guy creator Seth MacFarlane, science fiction showrunner Brannon Braga, film producer Mitchell Cannold, and Ann Druyan, Sagan's widow and co-creator of the original Cosmos, to remake the series for a new generation, it was quite a legacy to follow. They faced the daunting task of maintaining the original's core values, while advancing the science and presentation. The resulting 13-episode resurrection of that iconic series–Cosmos: A Spacetime Odyssey, premiering March 9 on 10 Fox and National Geographic channels–is both a continuation and updating of that message.
"The primary objective is to awaken in an unsuspecting public, an affinity, sense of understanding, and experience of the universe that science reveals," says executive producer Druyan. "It's more wondrous than any story we've ever been able to make up, and it's been put through the winnowing process of a scientific method. So we've tried our best to ferret out all that stuff that we just want to believe because it makes us feel good. What we're left with is this pure experience of traveling across space and time."
The new series brings back some of the storytelling vehicles of the first–such as the Ship of the Imagination (an immersive transport spaceship that takes viewers through the universe) and Cosmic Calendar (which scales the life of the universe down to a year)–but enhances them with advancements in digital effects. Computer-generated effects also recreate the Library of Alexandria and its surrounding city.
"We have new elements, such as telling some of the great stories about the acquisition of knowledge, about great people who, in some cases suffered the ultimate sacrifice in order to get new knowledge," says Druyan. "Instead of dramatic recreations, we're animating those stories. That's a result of Seth MacFarlane's involvement."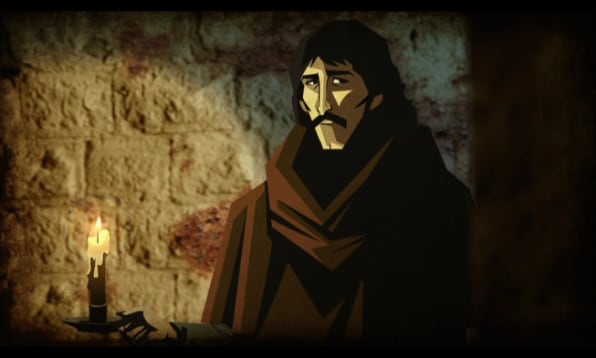 Cosmos presenter Tyson, whose day job is director of the Hayden Planetarium at the Museum of Natural History in New York, helped winnow the most compelling elements of recent discoveries.
"There are stories that are fascinating, that could ignite a fire within you and have you thinking about science the rest of the day–and possibly the rest of your life," he says. "And so, my access to those elements of the universe, by knowledge and experience reaching people, is what I bring to Cosmos. Anne wrote the series, and infuses a soul into the science. Science without a soul is a textbook. Science with a soul is a mission statement that we have as humanity.
"I think it's the first time such a portfolio of methods and tactics are being brought to bear on the subject of science at a time when science is under attack," he adds. "People don't understand why we should care about it. The goal of the imagery, music, and storytelling is to ignite your curiosity for who we are and our place in the universe."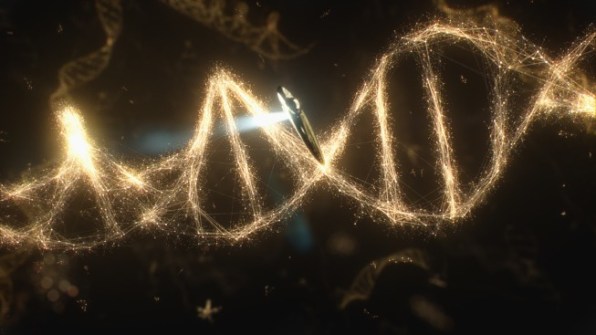 Director Braga, also an executive producer, drew on his sci-fi experience with the Star Trek franchise, FlashForward, and Terra Nova to craft a more visceral involvement.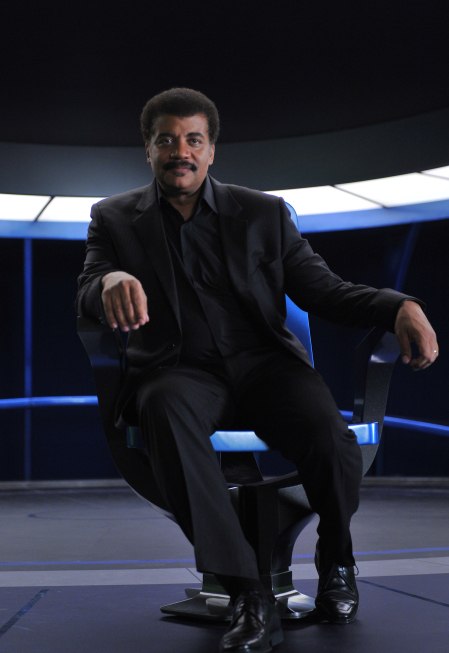 "We can't take cameras into the far reaches of the universe, so we have to create an immersive experience for the audience," he says. "We're emphasizing things like the Ship of the Imagination, which might have been more figurative in the original. We're putting Neil on the bridge and seeing its exterior, so it's not quite as abstract. So in that regard, I brought my personal interest in designing ships and creating those kinds of sequences to bear on the show."
Deep universe images from the Hubble Telescope and Martian landscapes from the Mars rover, Curiosity, enabled views that didn't exist 34 years ago. "In one of the sequences, we take Neil to the surface of Mars as seen from the point of view of the rover," says Braga. "That's a change of view that you wouldn't have been able to do effectively or convincingly at an earlier time."
Adds Tyson: "One of the crimes of sequels is thinking that making it bigger means better. Here, Cosmos is bigger, because we know more about what's happened in last 14 billion years and here's a venue in which to place real phenomena. It's bigger, because the universe is bigger and we can tell that story."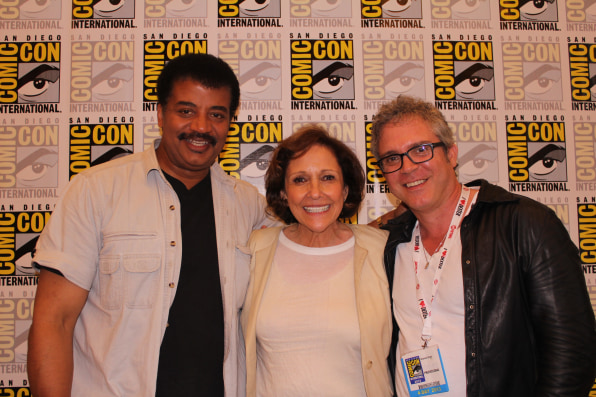 Cosmos spent six years in the germinating, planning, and production stages, with a shooting and promotional itinerary that's taken the team around the world.
MacFarlane, who created Fox's Family Guy and American Dad, met Tyson at the 2008 kickoff of the Science & Entertainment Exchange, a National Academy of Sciences effort to connect Hollywood writers and directors with scientists for more accurate portrayals of science in films and television. Tyson later introduced him to Druyan and Cannold, who were trying to pitch a new version of Cosmos to science-themed cable channels. MacFarlane took the project to Fox, and brought in Braga and Ted producer Jason Clark. The project's pedigree and message attracted substantial cinematic talent, including director of photography Bill Pope (Matrix) and composer Alan Silvestri (Forrest Gump).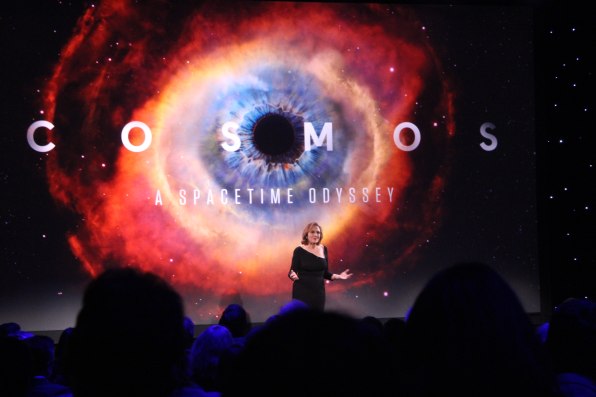 The 70-day shoot began in January, 2013, traversing numerous countries and employing roughly 1,000 people, with visual effects from a dozen VFX houses around the world. "I've never been involved in a project where people are so passionate about what we're doing. It's not just their next gig," says Braga. "That passion's going to come through."
More recently, the principals have been on an international promotional tour, culminating this week with Samsung Galaxy and Chryster-sponsored screenings in 10 cities and live-streamed Q&A with Tyson and producers answering questions posed through social media, as well as a planned screening and Tyson keynote speech at SXSW.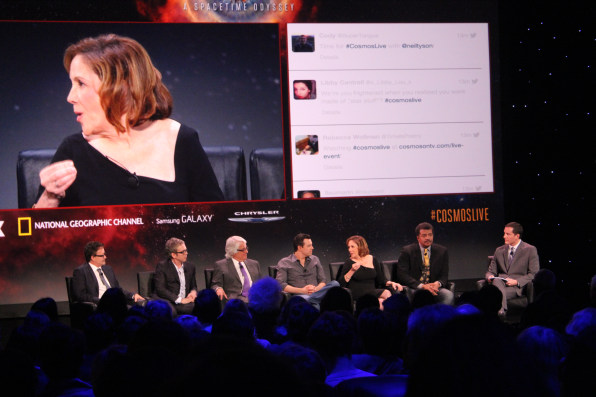 "If Carl were alive today, he would want the adventure to continue," says Druyan. "Carl had a relationship with Neil, so there's a kind of organic passing of the baton, which we hope will create a kind of immersive transporting experience. It's not just rigorous science, it's also that sense of inspiring spiritual uplift about our connection to the cosmos and into the fabric of space and time."
Space enthusiasts should also check out National Geographic Channel's Live from Space special on March 14, when astronauts Rick Mastracchio and Koichi Wakata give a live guided tour of the International Space Station.