The nutritional label printed on most packaged foods in the United States is one of the more iconic bits of government-mandated design out there. With the news that the FDA is, after years of demands from nutritional experts, redesigning the label, we were curious about how professional designers would react to the proposed new look. The new design simplifies and magnifies the calorie count, moves the percent daily value to the left side of the column, and includes a space for "added sugar." Here's who we asked about the changes:
Tobias Frere-Jones is one of the world's leading type designers. He teaches at Yale and lives in Brooklyn. Stefan Sagmeister has created album covers for the Talking Heads, Brian Eno, and The Rolling Stones, and was a frequent artistic collaborator with Lou Reed. Bonnie Siegler is a founder of design studio Eight and a Half, which has worked with everyone from the Criterion Collection to the Brooklyn Public Library to Late Night With Seth Meyers.

Co.Design: What are your overall impressions? Is this an improvement?
Tobias Frere-Jones: It's as stark and as dowdy as before, but that's actually a good thing. It creates a blunt contrast with the surrounding package, so consumers can locate this label no matter what. That was a remarkable achievement the first time around, and this proposal does well to preserve it.
The FDA never specified Helvetica, using it only as an example, but it was a good choice and it still is. Helvetica tastes like authority, like confirmed fact. We need to feel trust when we get a second opinion on our food.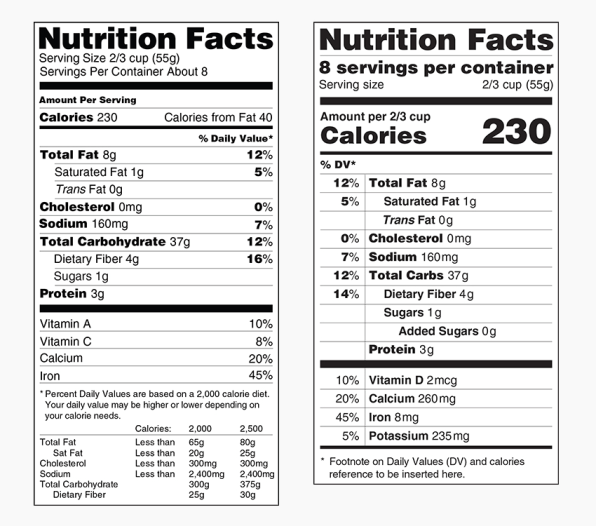 Stefan Sagmeister: I always thought of the existing label as one of the best pieces of government communication. The new one is even better.
Bonnie Siegler: This is a nice big baby step in the right direction. The original label was not designed for consumers, but rather as compliance with the FDA. Now, consumers reference the sticker all the time, but it is still following the same "not for consumer" model.
What are the best design details here? What are the worst?
TFJ: Shifting the Daily Value percentages to the left makes each category a clear unit. The previous flush-left / flush-right arrangement would make connections difficult: "Sodium, 160mg (pause) (pause) (pause) (pause) 7%. Wait–was that about, sugar?"
The multi-column footnotes at the bottom were baffling. They felt like an excerpt from an accountant's spreadsheet, so they were an invitation to tune out.
SS: There is now a clear hierarchy to the information that reads faster and communicates quicker.
BS: I think the scale adjustments make lots of sense. The Nutrition Facts headline used to be the largest single item, now the largest piece of type is the number of calories. That huge number is simply unavoidable now. I also like that the number of servings per container is much bigger. That small hidden number has always been a way to kid yourself into thinking you're not overeating.
Is a chart like this the best way to present this information?
BS: I think most people don't relate to the percentages of daily values. No one is keeping track of the percentage of sodium they have already had, before eating french fries. I think this needs to be simpler and more plain-spoken.
What could the FDA do differently to draw attention to certain facts?
BS: In terms of hierarchy, I would make the sugar section more prominent since that seems to be one of our biggest issues. Added sugars is a great addition but it is still very small.
How would you present these facts if it was up to you? Would you change anything about it?
BS: As someone who can eat a pint of ice cream alone, I wish the serving sizes were more realistic. I don't know if I've ever had a single serving of anything, as dictated by nutritional facts. Additionally, since we don't use the metric system here, using metric in this one situation is a bit of a mystery to me.
Maybe we should just be more blunt: different specific dangers carry different colored nutrition facts labels, so people prone to diabetes know without even reading that they should stay away from, let's say, a blue label. People with high risk for heart disease should not buy any food with a red label.
TFJ: I'd want more data on there, but I'm also a nerd. I'd like to see countries of origin listed as well, but I guess that's a fight for another administration.