A few months ago, Keith Stanfield was so broke he couldn't even check emails because he'd run out of minutes on his pre-paid phone. But this weekend, thanks to his soul-searing performance in Short Term 12, the 22-year old actor/rapper will be mingling with Hollywood big shots when he competes against Michael Fassbender, Jared Leto, Will Forte, and the late James Gandolfini for Best Supporting Actor recognition at the Independent Spirit Awards.
Nominated for portraying abused teenager Marcus in Destin Daniel Cretton's foster care drama, and earning acclaim for the song he co-wrote (with Cretton) for the film, So You Know What It's Like, Stanfield marvels at the recent turn of events. "It's been quite a journey, man. I grew up very poor in a fractured family that was dysfunctional on both sides, but I sort of put up these reflectors to most of the negative things that have occurred in my life. I don't carry around much baggage." But to bring loner Marcus and his dark backstory to life, Stanfeld realized he needed to load up on "emotional baggage," imaginary or otherwise.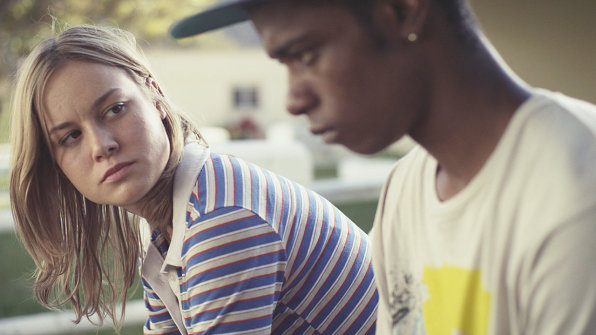 Instinctively, Stanfield went into Method Acting mode when he showed up for the 20-day Short Term 12 shoot. He recalls, "Most of the cast members probably thought I didn't like them but that wasn't the case. I was just trying to stay in the zone of this character. I made myself cold to the outside world, didn't talk to anybody on set, stayed in my head the whole time."
The self-imposed isolation paid off when Stanfield exploded with an unplanned meltdown that emerged as one of the film's most bravura sequences. When two group home counselors (John Gallagher Jr. and Spirit Award nominee Brie Larson) give Marcus a haircut for his birthday, Stanfield/Marcus suddenly burst into tears. "It was one take," Stanfield says. "I knew we were going to do the scene that day but I really didn't know I was going to cry."
Stanfield continues, "before we shot, Brie and John and I just sat staring at this mirror for a long time. There were no words said. All this tension and emotion started building up to where I felt so sorry for the character, so when Destin said 'Action,' the energy was there and we caught the moment."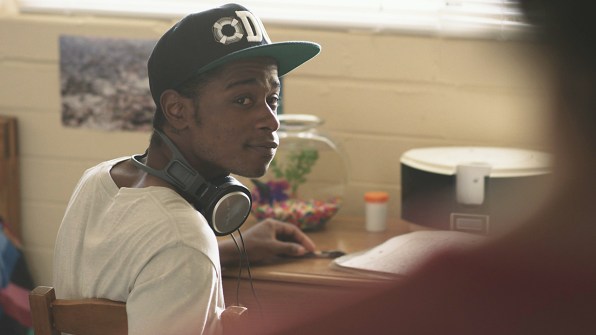 Stanfield decided to become an actor at age 14 shortly after moving with his family to Victorville, California. "I was kind of a weird kid in high school," he says. "I didn't have many friends in my age group because all they wanted to do was fight and have riots."
Stanfield found refuge in the drama club. "That was like my safe place with great teachers where everyone could let down their guard and not feel judged. As soon as we walk outside, it was like 'Look at these weird drama club kids.' But we all had our own agreement that we were cool in our own way."
Trying to break into show business from the remote Mojave Desert community some 100 miles north of Los Angeles, Stanfield trawled the web for casting calls. "Most of them turned out to be scams," he laughs.
Stanfield eventually enrolled at Los Angeles' John Casablancas Modeling and Acting Career Center, got a manager, started going on auditions, clicked with Cretton and appeared in the filmmaker's San Diego State University thesis project–a short version of Short Term 12.
The short won a 2009 Sundance Jury Prize, which Stanfield only learned when he checked old emails after he'd been off the grid for a few months. He auditioned for the feature at Cretton's apartment. "When I looked up, Destin was wiping a tear from his eye," Stanfield says. "I wasn't sure if that was good or not, and Destin said 'Yes, it's great.'"
The feature-length Short Term 12 picked up SXSW's Grand Jury Award last spring and earned 99 percent Rotten Tomato rating. Since then, Stanfield's played the best friend to a teenaged version of James Franco in the actor/writer's upcoming movie Memoria.
He's also building off a riveting Short Term 12 rap performance to create music for his own Moors duo with producer HH.
"Things are falling into place in this serendipitous way and I've just been riding along with it," Stanfield muses. Thinking back on the themes that he helped dramatize in Short Term 12, Stanfield says, "Some people look like they're lost causes but they're not. Even if they're in a messed up situation, the one little thing you do to help can go a long way."