Adam Pash, who used to run the DIY-and-tech emporium that is Lifehacker, just posted a new web app called And Then I Was Like, which uses your computer's webcam to help you create a GIF of your face, or whatever else it's pointed at. It's great; super easy to use, which a lot of GIF-making tools aren't, and tailor-made for reaction GIFs, as its name suggests. Pash answered some of my questions about the app over email.
What was the motivation for creating the app?
1) GIFs are a lot of fun.
2) Browser technology has reached a point where you can record video in your browser without Flash.
3) I really like animated GIFs, but I think it'd be great if more people participated in the creation of GIFs. And Then I Was Like makes it as easy as it could possibly be to do that.
Are you planning on turning it into a mobile app, or is it staying as a web app?
Right now I kind of like the idea of it as web-focused, but I'm not ruling out a mobile app. Convention is being bucked here! Mobile last!
How do you see the GIFs made with the app being used?
I, like everyone else, really like animated GIFs–but the steady stream of pop culture repeats gets a little stale. My hope is that the site will help move GIFs into a more participatory medium–rather than finding a GIF as a proxy to your feelings, maybe it'd be fun to just make one!
Has anything surprised you about how it's been used?
I'm always surprised by how people use things like this. The obvious use case is the selfie, which is great, and so far most common. But it's up to three seconds, so you're only limited by the time. Maybe it's the Lifehacker remnants in me, but I think it'd be really interesting to see people use it to demonstrate things–a step in a recipe, for example.
The design of the site is super simple and easy to use–how did you come to that design?
My partner in this project is Ellen Flaherty. She is an amazing graphic designer, and she is also my wife. The goal was to make the site as simple as humanly possible, to give ample light to the subject (hence the white background), and to allow the whimsy of the creations hold focus. I think it does exactly that, while also adding a nice personality to the site overall.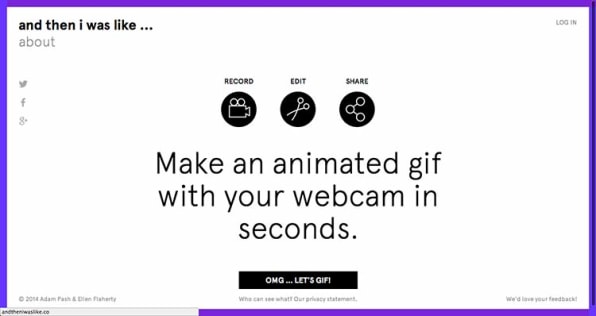 What's next for it?
I guess that depends on the GIF-makers. We'll keep an eye on how people are using it to make sure we're focusing our time on features people are actually interested in–and features that will make the GIFs that much better. I'll also keep working on performance to make sure the GIF-making experience is as seamless as possible.
This interview has been (very) mildly edited for punctuation and, in one instance, spelling.