Contrary to marketing lore, consumers' resting pulse about brands is indifference. How then are a few forward-thinking companies inspiring enduring engagement?
The Dove Campaign for Real Beauty*, IBM Smarter Planet and American Express Small Business Saturday all have in two things in common: They were big winners at the 2013 Cannes Lions and each leveraged a new formula for enduring engagement Edelman calls a participation platform.
Whether corporate positioning, consumer marketing or B-to-B communications, these programs illustrate: the power of a deeply held conviction, when combined with a bold provocation, an invitation to take part, collaboration with intriguing partners and multi-year planned and spontaneous reverberation. The result is deeper and more sustained engagement that doesn't just "seem" authentic, it actually is.
In each of these cases, the initiative ties a company or brand to an issue, trend or value – one that is bigger and broader than their business alone. Dove supporting women's and girls' self-esteem to create a new definition of beauty. American Express championing small businesses as worthy of committed patronage. IBM applying its ability to engage big data to create both business value and a "smarter planet."
Each taps into a passion or a purpose that is meaningful both to the companies and the people with whom they want to connect. Their platforms challenge skepticism. They demonstrate that maybe, just maybe, these companies have a soul, values and ideas people can relate to, learn from and engage with.
This approach is in stark contrast to the companies and brands that think if they simply tell people about their philanthropy or "tie to some cause" they will have the same impact. Others try to look smarter by assigning idea exploration to a media partner or another third party — an obvious and oftentimes transparent passing of the buck.
Our view is that brands need skin in the game — actions, not just words. And that the journey to true participation is iterative, one that ebbs, flows and evolves over time.
If your company or brand is ready to embark on the participation journey, here are a few tips and some lessons to keep in mind we've learned along the way: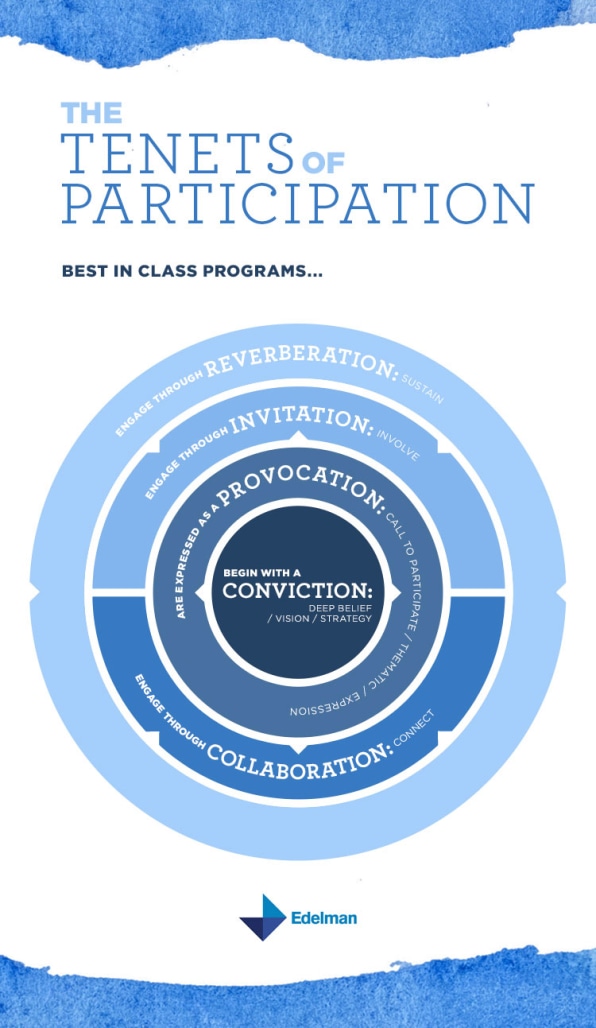 Divining your conviction can't just be an intellectual brand theory exercise, it has to stem from core beliefs and connect at a gut level. It must be both believable and aspirational. Skip this step and you will spin your wheels needlessly or end up with a foundationless provocation that never yields transformational engagement.
A provocation works best if it is attached to an unmet need or under-recognized fact and ultimately tackles an actionable question you look to solve. How you express a provocation to the outside world can vary widely, from showing your point through your own actions to asking a big unsolved question. If conviction requires a combination of self-reflection and grit, provocation requires courage to boldly set out into uncharted waters. And this must be presented with creativity to both strike the right tone and get their attention.
When framing the ask to inspire people to join you — whether that means to solve, celebrate, champion or catalyze something — make sure you know your audience's state of mind and the current flow of conversation. There's nothing worse than showing up late to a party asking a question everyone else already knows the answer to. Look for ways to accommodate a spectrum of participation, from people who want to take part and engage deeply to those who simply want to bear witness and be in the know. Embrace your skeptics early and often.
Having a company or brand assert something is much less credible and interesting today than the other parties that share the stage — from NGOs, to experts, to government and people like yourself. Sometimes strange, unexpected bedfellows make the best collaborations because they can spark people's imaginations. Take a wide view here.
It's not enough to just launch and leave a participation platform. It's typically a multi-year endeavor that requires continued evolution and reinvention to keep people engaged. Creating reverberation requires a strong dose of creativity and willingness to up the ante on bold thinking. Don't expect people to flock to you. It requires a 360 approach (yes, paid media and media partnerships are a part of this) backed by substance and true skin in the game.
The harsh reality is this — people aren't waiting to hear from brands; remember those resting pulses. Today, it's likely they are distracted, overwhelmed and have little time to pay attention. As brand stewards, our job is to give them a reason to care, and meaningful ways to get involved. If you can do that, you're one step closer to the kind of engagement you're striving for.
*Dove is an Edelman Client
Russell Dubner is president of Edelman's New York office. Ben Boyd is deputy chairman of practices & sectors and global chair of Edelman's Corporate Practice.