Language-learning tool Duolingo was named Apple's App of the Year for 2013. Its game mechanics make memorizing foreign words for medical terms or days of the week fun and addictive–as do Duolingo's other gamified competitors like MindSnacks, Babbel, or even the lolcats-inspired CatAcademy.
Can these cheap or free games can pose a real threat to the Rosetta Stones and Pimsleurs of the world? And where do language game apps fall short?
"It can definitely be a nice supplement, but it's lacking the interactive component," says Kelsey White, a doctoral student in linguistics at the University of Wisconsin who's written about Duolingo's efficacy. "It doesn't really train you to listen to another person's utterance and provide an appropriate response. There is also little to no cultural or pragmatic training, as of yet. You still may be unaware of certain conventions needed to carry out a polite conversation."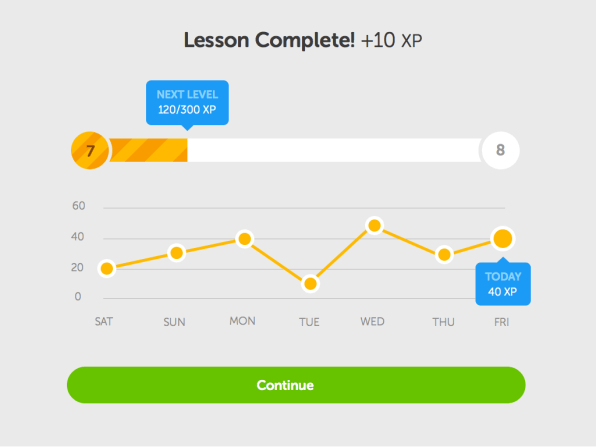 Right now, Duolingo, MindSnacks, and other gamified language apps offer mini-games or challenges that revolve around vocabulary and basic grammar. If you make three mistakes and lose all your lives, for example, or let the timer run out, you lose the lesson. Do well, and you'll set the high score among your Facebook friends, or get rewarded in virtual currency you can use to "buy" power-ups. The games' colorful interfaces and catchy gameplay have sparked a frenzy of downloads that has catapulted into the millions. But the apps don't offer any extensive training in listening or conversing. You can often listen to a recording of a native speaker, and repeat the sentence back aloud, but there's no back-and-forth with another human.
"Speaking face-to-face is critical, and we certainly recommend pairing that experience with using the app," says Jesse Pickard, CEO and cofounder of MindSnacks. "Learning a language requires multiple tools to master."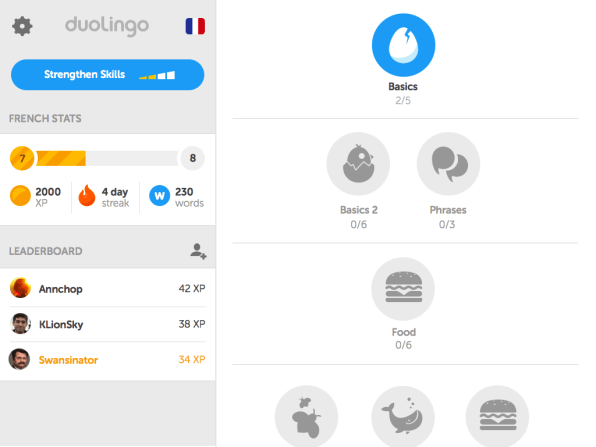 There are certainly online tools that help you find real humans to talk to, though. But none of them have the slick presentations and video game influence that helped launch apps like Duolingo to App Store fame. HelloTalk trumpets itself as being the first mobile app that connects language with real speaker partners, while Conversation Exchange matches you with native speakers of your target language in your area, facilitating Skype sessions or face-to-face meetings. Verbling offers in-browser video chat with people all over the world looking for conversation practice.
To be fair, the issue is apples and oranges. It's way more complicated to gamify human conversation than it is to gamify the rote memorization of French breakfast foods or cardinal directions. But those more itemized elements of language learning–vocabulary, grammar, syntax, spelling, visual recognition–that's where game-centric, goal-driven apps like Duolingo or MindSnacks shine.
"The truth is, any method that claims you can reach perfect fluency is misleading. Mastering a language takes years and often involves moving to a different country for full immersion," says Gina Gotthilf, Duolingo's head of communications. "What we do know is that we're at the level of college classes, and that currently, users who begin learning a language from scratch on Duolingo can reach an intermediate level at the completion of the course."
And she's right. According to a study conducted December 2012 by the City University of New York, it would take a completely novice user of Spanish "on average 26 to 49 hours of study with Duolingo to cover the material for the first college semester of Spanish." Note: Duolingo funded the study, but the data collection and analysis were conducted independently by CUNY's research team.
That being said, the study does contain limitations. For example, the study can't generalize the results to account for other languages other than Spanish. Since the study only consisted of American adults whose first language is English, it might take longer for the same subjects to learn a non-Romance, non-Germanic language, like Japanese, Chinese, or Korean, which use completely different writing systems and are the most difficult foreign languages to learn among native English speakers. Duolingo says they're working on those East Asian languages, by the way–they're shooting to launch them in the next six months or so.
Also, no matter how many high-score challenges or unlockable achievements or cartoony fanfares you throw into an educational product, it's no guarantee that users are going to actually stick with it. A Portuguese tutoring app can be the next Angry Birds or Super Mario Bros. in terms of fun factor, but if the user's heart isn't it, it doesn't matter how exciting the service is to play.
"Many people dropped out of the study or spent less than two hours studying Spanish," the CUNY study says. "It is highly recommended that Duolingo develops some kind of individual online clock which shows how much time each user spends by date or week. If they spend less than two hours studying for two months, their expectations for improvement cannot be very high." (Duolingo currently has a line graph that tracks how many points you've accumulated in the games over the course of a week.)
Further research is needed, but so far, gamified language apps seem like they're great as either a primer or to hone basic grammar, survival phrases, or themed vocabulary, and the game elements make the material more engaging. And the fact that apps like Duolingo and MindSnacks are so popular and well-received means users are interested in learning about new languages and cultures, which is fantastic.
But even if the game itself is super fun, it all comes down to the individual. If you really want to get that job, travel to that country, or woo that cutie at the bar, self-motivation is the greatest power-up you'll get.
"A positive attitude towards the subject means a greater reception towards learning it," MindSnacks' Pickard says. "Games really help with this."