Martin Wong donated his collection of New York City graffiti art to the Museum of the City of New York (MCNY) back in 1994. Twenty years later, the museum has culled work out of the extensive collection, including pieces from the likes of Daze (Chris Ellis), Keith Haring, Lee (Lee Quiñones), Lady Pink (Sandra Fabara), Futura 2000 (who simply goes by Futura these days) and Sharp (Aaron Goodstone), to create the exhibit "City as Canvas: Graffiti Art from the Martin Wong Collection," which will be on view through August 24 of this year. (Note: The exhibit's run has been extended through September 21.)
While graffiti art has been a hot topic in New York City in recent months, with the unfortunate whitewashing of Long Island City graffiti mecca 5 Pointz last November and Bansky's month-long Big Apple residence the month prior, this exhibit was in the works long before either event. In fact, Sean Corcoran, the curator of prints and photographs at the MCNY, has spent the last four years combing through the late Wong's collection–Wong died in 1999–and talking to many of the artists about their work as well as Wong's passion for graffiti.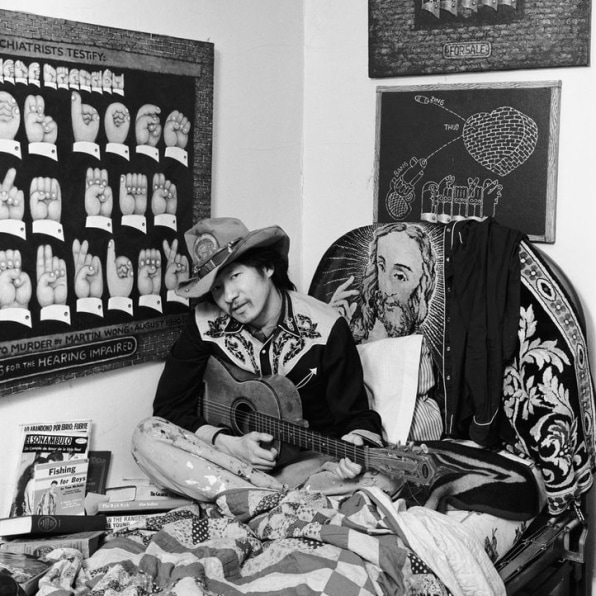 Born in Portland and raised in San Francisco, Wong moved to New York City in 1978 and quickly became a part of the downtown art scene. He was a gifted painter whose subject matter included the burnt-out tenements that were common in the Lower East Side at the time, according to Corcoran, but Wong was equally enthusiastic about collecting the work of others, especially the graffiti artists, many of them teenagers, who had turned New York City into a canvas, painting the city's buildings and subways.
"When he came to New York, and he was working his day job at [art supply store] Pearl Paint, he was meeting a lot of these young graffiti writers when they came in to buy supplies. Of course, back then you would see graffiti on the trains, on the walls, everywhere," Corcoran says. "He found it very interesting and thought there was real craft to what they were doing, and he became friends with them and started buying their work and supporting their work. Eventually, he amassed this pretty large collection of material from the '70s and '80s."
Wong donated his graffiti collection to the MCNY after he was diagnosed with HIV and decided it would be best if he moved back to the West Coast to live with his family. "He really wanted the collection to stay together and to stay in New York because it is so much this city's culture," Corcoran says.
Upon entering the exhibit, which marks the first-ever MCNY exhibit devoted to graffiti, visitors are greeted with an installation of hundreds of cans of spray paint, then it's a walk through graffiti history with more than 100 paintings, works on paper and multimedia pieces to see as well as dozens of black books.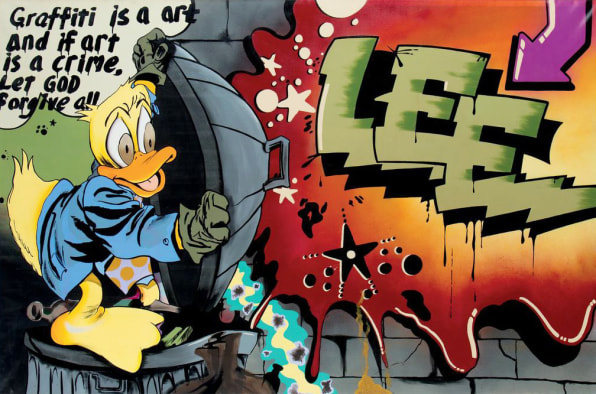 It's not often fans of graffiti art get to take a look inside an artist's black book. "Some people would just go to the trainyard and paint. But there were others that drew in their black books and worked on their outlines and their letter styles," Corcoran says of the sketchbooks, noting, "They would also have their friends draw something in their black book as a gift to them or maybe to show them a style so they could study it. So the black books became a sort of dialogue within the community of friends."
Other highlights of the exhibit include Lee's Howard the Duck, an oil painting he did of the famed mural of the same name that he had painted on a handball court at a Lower East Side school. Lee replicated his mural on canvas especially for Wong. "Martin was so passionate about the mural. Lee told me Martin used to say they really needed to go to the city and get them to excavate this wall and preserve it," Corcoran says. (The excavation never took place, and the mural was destroyed years ago.)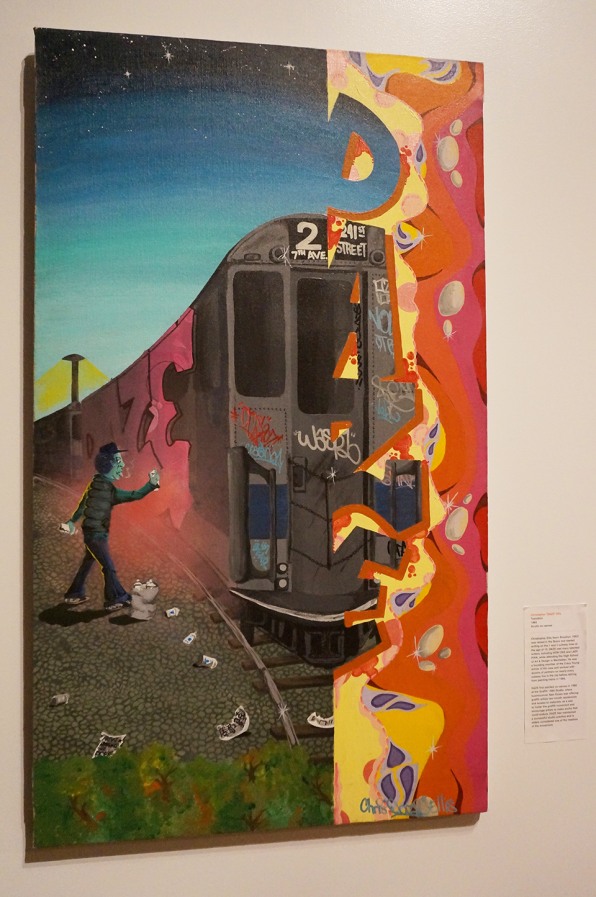 Daze's Transition, another painting on canvas, is also part of "City on Canvas." "It's generally considered one of Martin's favorite paintings in his collection," Corcoran says. "The story behind it is not long after Daze and Martin met, they agreed that they would swap artworks, and I believe that this is one Daze gave to Martin in return for a painting from Martin."
The Death of Graffiti, a brush painting on masonite, is the work of Lady Pink, one of the few women–actually, she was a teenager in the 1980s–who was involved in the New York City graffiti scene in those early days. "This was painted when the MTA and Mayor Koch were really reinvigorating efforts to clean the train system," Corcoran says of the work. "They were cleaning pieces off the trains, and then they were whitewashing the trains. So this was a moment of lamentation for Pink about the possible end of writing on subway trains."
Wong's own work is also featured. He painted several portraits of his graffiti writer friends, including two of Sharp that are part of the exhibit. "Martin, in his own right, is an important artist. In fact, it seems to me that his recognition as an important artist just grows every year," Corcoran says. (Wong's work can be seen in museums ranging from the Metropolitan Museum of Art to the Whitney Museum.)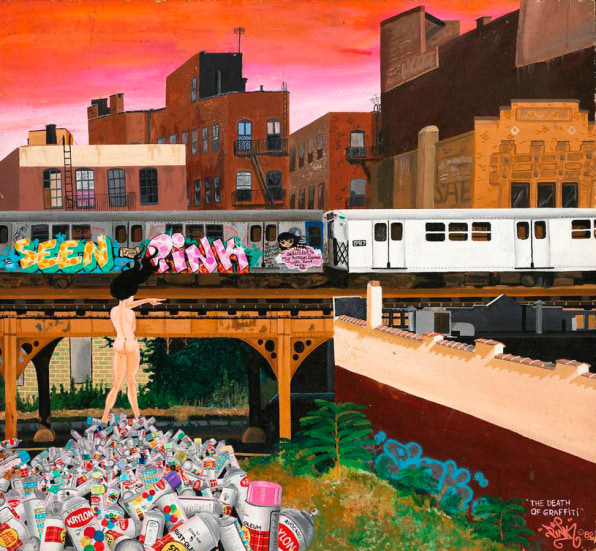 Visitors to "City as Canvas" can also view a 13-minute documentary titled Graf Obsession: The Martin Wong Collection at the Museum of the City of New York. Directed by Charlie Ahearn, best known as the director of the 1983 hip-hop film Wild Style, Graf Obsession was made for the exhibit and features footage of Wong in his apartment surrounded by his beloved works of art and interviews with artists including Daze, Lee, and Sharp.
Ahearn, who was a friend of Wong's, sees him as a visionary. Talking about his massive collection, Ahearn says, "This is the labor of love of someone who had a huge heart and a huge passion, which extended outwards towards many people in the community that he lived in in the Lower East Side but also to the general youth of that era in the early '80s. And that passion reflected an intense devotion and a commitment to the idea that what was happening on the subways and could then be translated into other mediums was the sign of a new art movement, and these people, despite their youth and besides the fact that they were teenagers, were artists with a destiny to change American art. I feel that the fact that he was collecting works–often the first paintings by many of these people–was proof of his idea that this was the DNA of a future art movement."