After teaming up to create a solar-powered, flat-pack refugee tent last year, Ikea and the United Nations High Commissioner for Refugees aren't stopping in their joint efforts to improve conditions inside refugee camps. For every LED light bulb that the Swedish furniture giant sells over the next two months, the Ikea Foundation, the retailer's charitable arm, will donate one euro towards providing solar streetlights, indoor solar lanterns, and clean fuel cooking stoves for refugees.
Lack of light creates an atmosphere of fear in refugee camps. Peter Kessler, a UNHCR spokesman stationed with more than half a million Syrian refugees in Jordan, says this is especially true for women who worry about gender violence. Mothers and daughters are afraid to go to the bathrooms at night. The bigger the camp–like Za'atari, which houses 100,000 people near the Syrian border–the greater their vulnerability.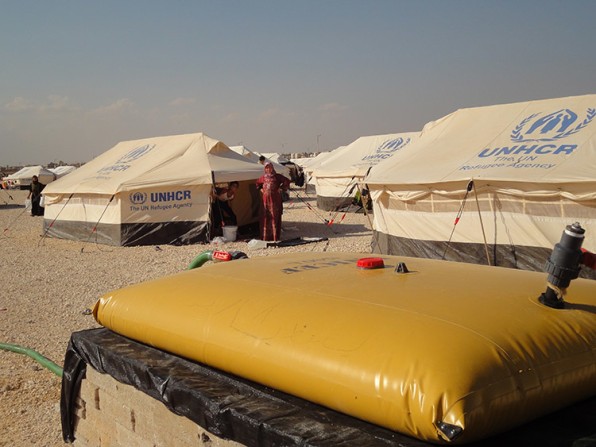 The fears aren't unfounded: Women refugees in Jordan, many of whom originally left Syria fearing rape or assault in the chaos, have reported being forced to exchange sex for aid. They've also reported increasing rates of intimate partner violence. In 2013, Syrian refugee social workers in Jordan recorded 165 cases of gender-based violence, often at the hands of women's husbands or Jordanians.
No light also means no studying after dark. "Imagine if at the end of the evening, you go home to the Middle Ages, where you have no light," Kessler says. "At best you have some candles, but they get blown out. That's what it's like to go into a refugee situation. You're really dropping back into a different era."
The year 2013 marked an especially perilous time for the world's refugees, as 2 million people were forced to flee their homes amid conflict. But Ikea's new initiative with the UNHCR's Innovation Unit builds on four years of partnership, during which time the two organizations were getting comfortable working together.
"We like to do a bit more than just give money," says Jonathan Spampinato, the Ikea Foundation's director of communication and strategy.
In 2009, the UNHCR approached Ikea on the idea of creating workshops that would teach humanitarian groups to more efficiently and quickly ship goods around the world. After that, Ikea's product development team worked with the UNHCR to create all-purpose, easy-to-use utensils for refugees. During the Somali Civil War, Ikea donated $64 million to the UNHCR to build refugee camps, and in 2013, the team developed the radically cheap, well-designed, flat-pack tent.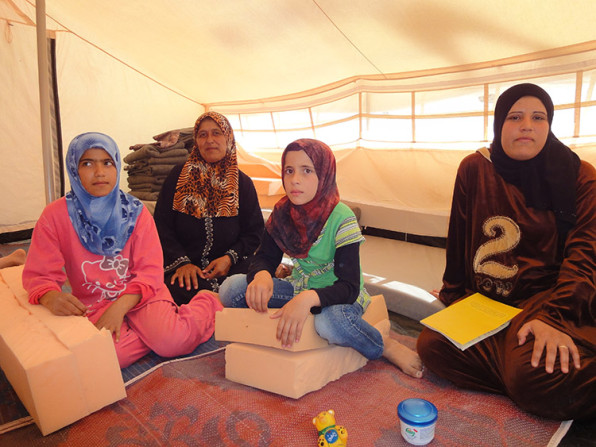 Ikea may be extremely successful, but these aren't small contributions even for such a large company. In 2013, the Ikea Foundation, funded solely from company profits, gave away nearly $137 million, or 3% out of the company's $4.4 billion profit that same year.
"At the Foundation, we have a slightly different approach to partnerships. We like to work long-term, and we like to work with a small number of partners for long-lasting impacts," Spampinato says. "We can do things a lot cheaper because we partner the right way."
The willingness to devote time, money, and energy to the cause owes something to a populist company culture, including its Swedishness, Spampinato adds. "The marriage that this represents between our customers having a better life and refugees having a brighter life really generated enthusiasm," he says.
Of course, the benefits go both ways. Social good makes for good marketing strategies, too. According to one 2013 survey, some 30% of Americans aim to increase the amount of goods and services bought from socially responsible companies. It also just so happens that Ikea aims to shift over to selling purely LED lighting by 2016–and what better way to advertise the switch than a feel-good campaign everyone can get behind?
It doesn't seem like Ikea's foray into "refugee furniture" will disappear any time soon. According to Spampinato, the UNHCR Innovation lab and Ikea now meet roughly twice a year to go over priorities and urgent needs.
Kessler expects that the initiative will create better conditions for UNHCR refugees, especially women and children, immediately. Still, the Syrian refugee crisis is worsening, and dwindling resources and diverted attention make for an uncertain future.
"Right now we do have innovative projects like the Ikea lighting project, but what happens in a year or two when people are focused on another part of the world that's particularly needy, and the 2.4 million refugees from Syria don't have access to kerosene?" he asks. "This is the uncertainty that weighs heavily on people."