In the horror mythos, zombies are the slavering, flesh-hungry undead, but the word "zombie" is also often used to metaphorically describe anyone who is slavishly and unthinkingly obsessed with anything. Yes, then, there are design zombies, and here's what they would look like if they wanted to eat your brains.
Riffing on the discovery that the opening credits of AMC's hit zombocalypse drama The Walking Dead uses one of their images, stock photography service Shutterstock commissioned artist Jake Gehen to make use of its library of more than 3 million images to create four design zombie archetypes.
They're pretty funny. The Vintage Zombie is any designer who drools over "sepia-tone palettes and 'distressed textures' for replicating the American Western style of the 1800s." She looks like the cover of a Jane Austen novel, except for the fact that her nose has sloughed off her decomposing Victorian visage like a glob of cottage cheese. According to Shutterstock, this zombie prefers a T-square to InDesign, digitally recreates letterpress styles, and feels design is empty without ornamental flourishes in layouts.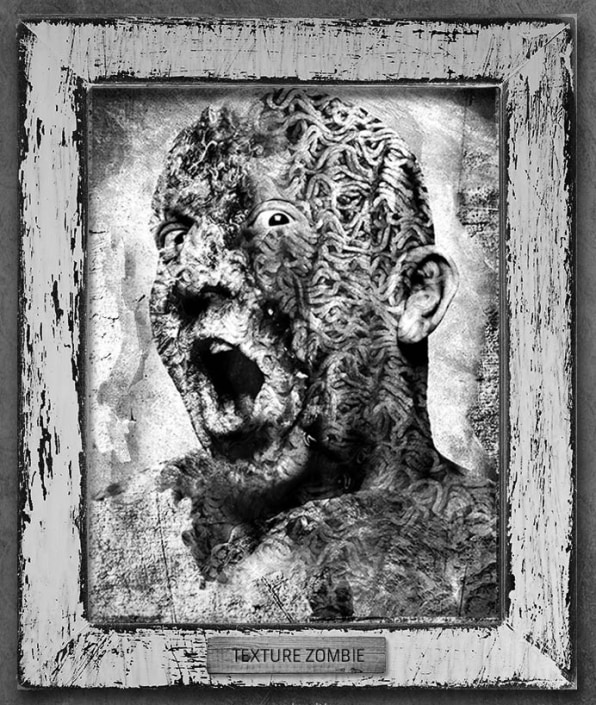 Next up, the Type Zombie. Imagine Tobias Frere-Jones feasting upon a fistful of intestines, and you've got the right idea: this zombie has the curious ability to identify any typeface on sight, and spends just as time making miniscule adjustments to kerning and leading as he does insatiably stuffing chunks of human flesh into the rotten sack of his stomach.
The Texture Zombie is perhaps the most gruesome type of designer. Chained to a desk somewhere in the bowels of the dark gothic castle where Linkin Park album covers are designed, "no canvas is too large to fill for this graphic ghoul. Whether it's with gore or glitz, the texture zombie feels compelled to add elements to every available area, often applying layer on layer to satiate their unnatural artistic appetite."
Finally, there's my favorite, the Minimalism Zombie, whose "less is more" mantra applies even to his own decomposing flesh. He adores white space more than regular zombies enjoy flesh. The Minimalism Zombie owns at least one Mondrian monograph, and if the ravages of death have impacted the pure bloodless canvas of his undead skin, it is quickly repaired with minimalist stitching.
All of Shutterstock's Design Zombies were made by mashing up various stock assets available on their site. I wish there were more than four here, though. I'd really like to see a skeuomorphism zombie tearing into a flat zombie in designer World War Z, wouldn't you?