Facebook has been teasing a Flipboard-style news reader since March 2013. Will it spontaneously combust like Facebook Beacon, Home, Lite, Places, Deals, Email, Real Time Ticker, or Gifts? The odds seem to say yes, but here's what could make News Reader different.
The news reader, rumored to be simply named "Paper", is the pet project of Michael Matas, Facebook designer and developer whose startup Push Pop Press was bought by Facebook in 2011. PPP's legacy was Al Gore's Our Choice, which everyone lauded for its tablet-friendly touchscreen interaction.
Facebook's project history is tumultuous due to the arbitrary changes in the company's engineering-centric culture, as Pando Daily suggests in its teardown of Facebook's Platform failure. While project leads like Mozilla cofounder Blake Ross have had the experience to keep the ship steady, Matas comes into the Facebook game with more external clout than past project leads. Though Matas has the reins on Facebook's betting horse, Matas has the proven track record to walk out of the Facebook spiral if Paper doesn't work out.
Matas got hired at Apple at 19, and also helped Nest during the company's early days, giving him a legendary quality among the Valley in-crowd. When Matas assured his well-wishers then that PPP's ideas and technology will be integrated with Facebook, it actually seemed plausible: Only someone with that kind of pedigree could stand up to Zuckerberg and ship a feature that people actually want.
A History Of Facebook's Flops
Facebook Lite was released in September 2009 to offer social media interaction for low-bandwidth users. The product was overseen by Mozilla co-creator Blake Ross, who was acquihired by Facebook in 2007. Lite was stripped down and sleek in a Twitter-ish way, a noted improvement for users bothered by the noise of sidebars and applications. The feature was shut down eight months later in April 2010 and many of the bandwidth-saving tech and clean aesthetics were integrated in the main site. Blake "Blade" Ross left Facebook in February 2013.
Then there was Facebook Places. Leading the project was Michael Eyal Sharon, who attended NYU's Interactive Telecommunications Program alongside Dennis Crowley, cofounder of Places' rival Foursquare. Facebook introduced Places in August 2010 to let users check in–but only near the venue when using the Facebook smartphone app. The company "killed" Places a year later, but kept its location tagging feature.
Facebook then came full circle with Nearby (now Local Search), a smartphone-only feature for local discovery. Sharon, a Facebook Mobile Product manager, moved around to other projects like the standalone mobile apps Camera and Messenger. The companywide refocus on mobile meant every engineer would be responsible for both desktop and mobile, following Sharon's lead to be less specialized in order to grow synergy between mobile and desktop.
The new emphasis on mobile meant casualties–especially for features that had been standing since 2007, when Facebook was up-and-coming with only 24 million members.
Facebook Markup Language (FBML), for instance, was released in May 2007 as a simplified HTML for everyday users to create application pages. FBML was center to Platform, Facebook's grand strategy for apps to be built within Facebook. Over time, Platform grew troubled as Facebook pushed apps to grow while muting a portion of app notifications in order to nix spam and preserve the user experience.
The outdated FBML had to go. Facebook deprecated it on January 1, 2012, fulfilling its promise to kill FMBL-supported pages on June 1, 2012. Its replacement, iFrames, hosed casual page creators in favor of greater customization options for seasoned developers. iFrames also forced application developers to host content from their own servers instead of Facebook's, but that external hosting allowed developers to use HTML, CSS, and even JavaScript.
Not all buried features should be seen as failures. Facebook Deals, which launched in April 2011 to compete with Groupon-style coupon sites, got the axe four months after launching. If this sounds like a risk-projected decision, look to Deals' lead, Jon Fougner, the Fulbright Scholar with an Economics degree from Yale. Before Facebook, Fougner was an investment banker at Goldman Sachs. Unlike Facebook's typical tinker-as-we-go engineering approach, Deals was killed off quickly, barely a month after it expanded to Canada and Western Europe. While Groupon is still acquiring companies for multimillions and LivingSocial is still solvent despite operating at a net loss, the saturated online coupon market has made growth for both companies difficult, making Facebook's decision to kill Deals appear prescient. Fougner, who had been with Facebook since 2007, is now a New York social media consultant.
Facebook does have one successful endeavor into crowded markets–Messenger, the most popular messaging app in the U.S. (and second behind WhatsApp elsewhere). Its omni-communication abilities make it the biggest success of Facebook's experiments, even if it'll have to fight tooth and nail to claim the data messaging crown as SMS slowly dies.
Facebook's company acquisitions bear mentioning, although of the documented purchases, many haven't emerged and are likely dog food. Of Facebook's acquisitions, only Instagram stands out as a distinct product that exists today.
Matas' contributions to Paper probably won't be dog food for two reasons: One, Paper has big expectations directly from Zuckerberg and VP of Product Chris Cox. Two, Matas' experience with Push Pop Press is exactly the meaningful engagement with news stories that Zuckerberg and Cox want. While other project leads mentioned above have been ideally suited for their products, Zuckerberg and Cox have personally championed Paper's upcoming value so much that Matas' contributions will be in the spotlight.
Can We Learn Anything From The History Of News Feed?
Facebook Paper's goal is ostensibly to give users a reading experience with more meaningful content and fewer garbage posts from friends. Facebook wants a fusion of social interaction and information–a morning paper for the next generation. The current News Feed is a list of activity updates with a relevance algorithm that tries to keep users informed of, well, everything.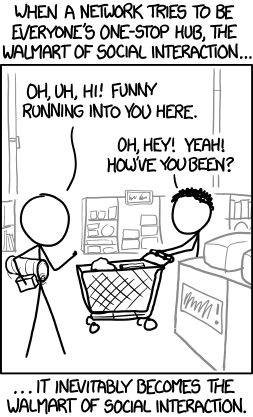 Making a meaningful News Feed is a tall order. Its lifespan is fraught with backlash after new updates have rolled out. The News Feed and Mini-Feed were introduced in September 2006 followed by an immediate apology from Zuckerberg for not building in proper privacy controls. Major redesigns in 2008 and 2009 hid some old features, angering many users.
Facebook's 2011 update solved the clumsy compromise between the Top Stories and Most Recent feeds by combining them into the News Feed we see today. Using algorithms, Facebook sought a balance between friend activity and the higher quality content it wanted to push in order to raise the tide of content quality site-wide. To balance the increase in older, heavier-weighted stories, the 2011 update also introduced the News Ticker in the upper-right corner. The "creeper ticker" got its own share of tinkering back in a March 2013 update that emphasized photos and borrowed features from its mobile version.
The release date for Matas' radical, feed-redefining features is uncertain, but up-to-the-minute tinkering with the News Feed continues. Matas has the reins to a project that's too big to be swept under the rug. While it might euthanize other projects, the News Feed is so crucial that Facebook has always strong-armed its users into accepting News Feed changes.
With his experience and clout, Matas might just be able to keep the Facebook brass from pulling the plug on the new Push Pop-style experience he's bringing to Paper.