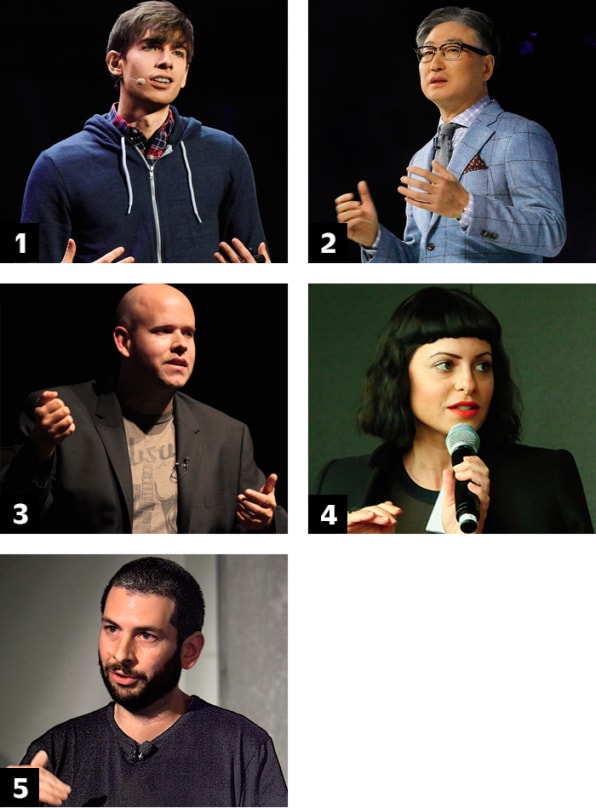 Employees of photo-sharing app Viewfinder were absorbed into the New York–based office of mobile-payments ­company Square (No. 3). Tumblr (No. 50) and back-end app developer Parse (No. 32) were each sold to established tech companies looking for an ­injection of hip (Yahoo and Facebook, respectively). Nest (No. 33) acquired energy-tracking service MyEnergy–and then was itself acquired by Google (this year's No. 1).
Founder
Tumblr
"For me, it's less about, do I like small companies? Do I like big companies? My guiding light, and really our company's mission, focuses on a community that we've found totally underserved out there in the world."
–Innovation Uncensored NY, April 2013
A defiant Uber (No. 6) continued to take heat from city taxi commissions, this time for allegedly cheating drivers out of gratuities. The credit and debit-card numbers of 40 million Target (No. 10) customers were compromised in a holiday-season security breach. Samsung (No. 17) and Apple (No. 13) went to the mattresses again over design-patent violations.
CEO of consumer electronics
Samsung
"For me, design is a major priority because I know it's what will set my business apart."
—Dynamic Duos: Samsung on Global Design Influences, October 2013
Tencent (No. 16) took its social messaging platform outside of China for the first time, while Rovio (No. 26) moved in with a Chinese version of Angry Birds. Oxitec (No. 21) sent its genetically modified mosquitoes to tackle ­dengue fever in Brazil and Malaysia. Spotify (Top 10 Music) went for world domination, launching music streaming in Mexico, Singapore, and Latvia.
CEO
Spotify
"The reasonable man adapts to the world; the unreasonable one ­persists in trying to adapt the world to himself. Therefore, all progress depends on the unreasonable man."
–George Bernard Shaw, on the wall of Ek's Stockholm office; "Let a Billion Streams Bloom,"November 2013
Fab (No. 5) opened its first real-life location in Hamburg, Germany–shortly before laying off approximately a hundred staffers. Fast-fashion e-retailer Nasty Gal (No. 19) announced plans to open its IRL retail location as well, in Los Angeles. And virtual note-taking service Evernote (No. 39) partnered with 3M and Post-it Notes on a line of actual note-taking products.
CEO
Nasty Gal
"I think we haven't even touched the surface of the brand. I think there are a lot of girls who can relate to the ­vision that we already have. I mean, I'm open to anything."
–March 2013
BuzzFeed (No. 18) hired Pulitzer Prize–winning ProPublica editor Mark Schoofs to lead its new investigative unit. Coursera (No. 40), hoping that better UX would raise low completion rates, hired execs away from Facebook and Netflix. Google delivered a body blow to Microsoft (No. 48), stealing engineer Blaise Agüera y Arcas for its machine-learning unit.