If ever there was an argument for investing in improvements to America's crumbling rail service and infrastructure, urban designer Julie Campoli's epic Twitter rant about her journey on Amtrak over the last week might be it.
Her saga began on January 23, as she embarked on a train journey intended to take her across the continent, from Boston to Vancouver, to give a scheduled January 27 lecture at the University of British Columbia.
She originally had high hopes:
But the snags started coming quickly. She tweeted about the first announced delay at 10:38 a.m. on the morning she left, and her intention to live tweet her forthcoming adventure. Two hours later, the train finally left, but stalled again in Albany:
And it stopped again in Buffalo, with a broken horn. There, staff told her that because the engines are more than 50-years-old, it's hard to get replacements when parts break. Eleven hours behind schedule, she crept into Cleveland as the crew served free lunch. Thirteen hours behind schedule, she made it to Sandusky, Ohio.
Then the switches failed because of the cold, with temperatures lower than had ever been seen before on that line. To be fair, Campoli was traveling during an unusually cold and snowy week across much of the country. She wonders whether her story is a lesson about Amtrak or is really about climate change.
By this point in the journey, she was feeling poetic:
She was forced to abort her goal of a cross-country trip through low-carbon travel in order to get to her lecture in time in Vancouver. From train 449, still en route, she reluctantly booked a flight that would take her from Chicago and arrived in Vancouver 34 hours after leaving from Boston. (That's a distance that would take less than three hours to fly and 15 hours to drive in no traffic.)
President Obama has said that in the next 25 years he wants to connect 80% of the country's population on a high-speed rail line. But Amtrak is headed in the wrong direction to achieve that vision. Despite carrying a record 31.6 million passengers in 2013 on more than 300 daily trains (at speeds "up to" 150 mph), Amtrak perennially loses money and operates under deficits that have caused it to defer needed improvements (the Acela corridor, from Boston to D.C. makes money, and is where the trains are the fastest). The latest federal budget entirely omits federal high-speed rail funding.
In the last few days, Campoli, ever optimistic, has been trying out Amtrak while she's still on the West Coast, traveling from Portland to Vancouver again. The amenities proved nicer, with trains manufactured in the last 10 years and assigned seating that made the experience more pleasant. She even arrived early in Seattle, but then her luck ran out again. Just short of the Canadian border headed north, a freight train traveling ahead died and blocked the track. In most of the country, passenger and freight trains share the same rails; freight trains always have the right-of-way.
By then she knew the signs: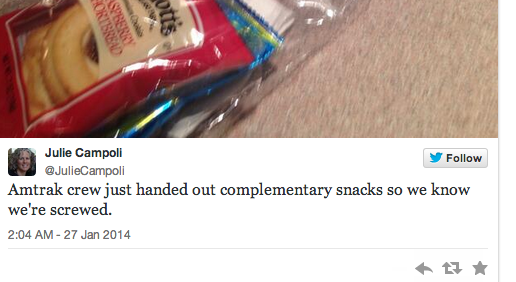 Soon, she was leaving train 516 and boarding a bus that had been sent to the rescue (her second bus rescue in two days). She's not done yet, however, and plans one more trip out of Vancouver later this week. Follow her @juliecampoli if you want to see how she fares.