If you've heard of Green Point, the trendy district in Capetown, South Africa, it's likely you know it as beautiful seaside neighborhood that hosted the 2010 World Cup. A lesser-exposed side of Green Point is its homelessness problem–which, earlier that same year, local police aimed to solve by rounding up homeless people and sending them to the edges of the city.
Two months ago, local copy writer Kayli Vee Levitan and ad agency art director Maximilian Pazak decided to try and do something to lessen the divide between Green Point's elite and its exceptionally poor. The result of their effort, a collaboration between ad agency M&C Saatchi Abel and the Haven Night Shelter Welfare Organisation, a Green Point charity, is a "Street Store" that gives the affluent an easy place to donate and the homeless an opportunity to choose clothes that suit them.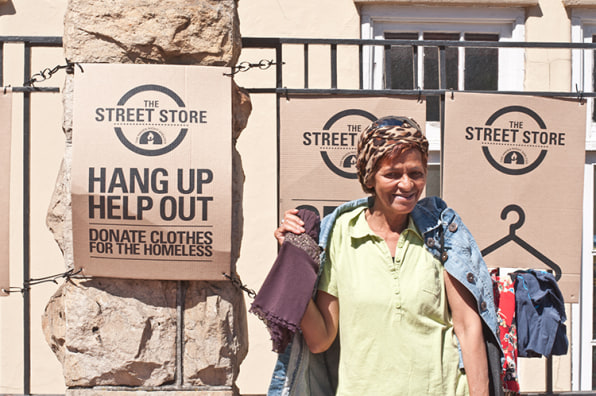 "Often we're told not to give to people, because some say you're perpetuating the problem, you're making homeless people reliant on handouts. At the same time, people are often unsure of where to take their donations," says Vee Levitan. "On the other hand, the receiving process is such a degrading one. [The homeless] just have things thrust at them, whether it fits them or not, whether they like it or not."
When Vee Levitan and Pazak took the idea to their superiors, the ad agency gave the project a green light. They then reached out to the Haven, a shelter located just down the street. Vee Levitan says that her agency typically takes on four or five pro bono clients at a time, but in this instance, the team reversed the entire process. They created the initiative first, then sought out the client with the idea.
Together, the Haven and M&C Saatchi worked on five posters, two of which also function as the hangers and placemats for the clothing, shoes, and accessories.
Two weeks ago, the Street Store launched its first open bazaar. After opening at 6:30 a.m., the team ran out of their 500 plastic bags for packaging the items by noon.
"I'd say that we had 1,000 people come through," Vee Levitan says. "And each person could probably take three items and an accessory."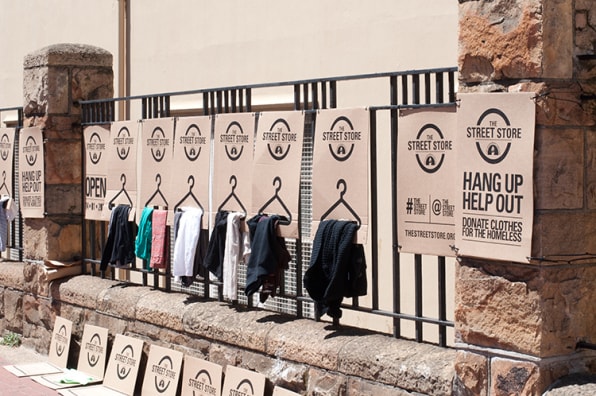 After the first Street Store event closed, Vee Levitan and her team were able to fill up another truck of donated items and send it back to the Haven. "There was a constant influx of tweets and messages," she added. "We were overwhelmed."
Still, some passersby seemed confused by the idea of a hip street shop for the homeless. Vee Levitan received some unwelcome solicitations, too. "There were people coming around saying, 'Could we pay for clothes?' and we said, 'No, these are donations for the homeless,'" Vee Levitan says. "We were very adamant and very strict about that."
The team has also made its designs open source for anyone interested in re-printing them and staging a Street Store anywhere. "We've realized that in order to make a real change, not just in our little road in our little neighborhood, we couldn't just keep it to ourselves. So we're encouraging people to steal the idea," Vee Levitan says.
As of this week, those interested in starting up their own stores can download the designs, but only after signing a pledge to maintain the store's values. That, along with the fact that the creatives remain humble about their ability to "fix" the larger issues that create and perpetuate homelessness, seems like a promising indicator of the new franchise's long-term ethical health.
"We spoke to people over the course of planning, and they said that they had forgotten what it was like to be a part of society, and that many of them had never even had the opportunity before," Vee Levitan says. "We couldn't change their lives forever, but we wanted to bridge the gap."