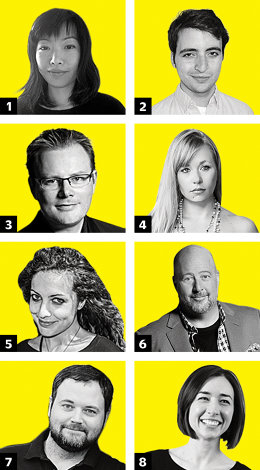 Creator
Meatspac.es
Digital Ocean: "I host all my Meatspace-related stuff on here. It's a cloud-computing provider that's both affordable and fast—a great combination for developers who love hacking."
Garmin Forerunner 210: "I currently use it for tracking my street runs, trail runs, and hiking. It's a great device that has never let me down!"
Director of product outreach
Temboo
Augment: "It's an augmented-reality app that lets you view and manipulate virtual objects in real environments using your phone's camera. You have to see it to believe it."
Litographs: "I love their shirts with vivid designs created from a book's entire text. For each item they sell, they donate a book through the International Book Bank."
Vice president
Design and UX, The Huffington Post

Bolivar Weekend Bag: "These Restrepo leather bags are made by an American couple living in Bogotá and look like they could be a part of Indiana Jones's arsenal."
Jot Script Evernote Stylus: "I'm digging this lightweight stylus for sketching on my iPad. It hasn't quite yet replaced a pen and Mole­skine, but for drawing wireframes, I'm finding that it's beating the dry-erase board."
CEO
Guide
Gödel, Escher, Bach: An Eternal Golden Braid, by Douglas Hofstadter: "If you are curious about the universe and want to see it through the lens (and Venn diagram) of art, math, music, and words, this classic is a must-enjoy."
Hyperbole and a Half: "One of the greatest remedies for stress is laughter. That's why I love the comedic brilliance of Allie Bosh—her characters overflow with expression."
N.Y.C. chapter leader
Girl Develop It
TheNews.im: "This aggregates some of the best content in dev/design news and surfaces it as
a top 10 list. Clean, simple, flat; I love it and keep it open among my typical 10,000 tabs."
Songdrop: "I cohost a Sunday night radio show with a friend, and we use Songdrop to assemble playlists remotely and share videos prior to airing: free and fabulous, like most of my favorite things."
Chef and cocreator, host, and consulting producer
Bizarre Foods With Andrew Zimmern
All Season Greens: "It's a portable hydroponic growing system that turns trays of seeds into edible grass 'mats' of radish greens and sprouts in under a week."
The Blunt Roll: "These handmade aprons are constructed of artisanal denim and leather, are 100% washable, and convert into a knife roll if the user so desires."
Founder and president
Metacloud
Thindish: "It's a great tool for any road warrior trying to adhere to a healthy eating lifestyle—the best app I've ever seen for counting calories as well as making sure you burn them off."
CardMunch: "Never lose business cards again: Load them into your phone by taking a picture. The cards are searchable, and the app links to their LinkedIn profiles automatically."
CEO
Bona Clara
Drive, by Dan Pink: "The book is relevant to building a modern-day direct-selling company, but, honestly, there are great applications for any entrepreneur."
FollowUp.cc: "This supersimple email-reminder service has made my life infinitely easier by helping me stay organized. A must for those with a million things going on who want to stay on top of it all (i.e., all modern-day professionals)."
A version of this article appeared in the March 2014 issue of Fast Company magazine.