On a Monday evening back last May, at the intersection of 2nd Avenue and Lake Street in San Francisco's Richmond district, the earth opened up. A giant sinkhole–about 20 feet across and nearly 10 feet deep–suddenly gaped in the middle of the road. But the culprit wasn't an earthquake or a creature from the deep. It was just an ancient sewer line, finally giving way after more than a century of decay.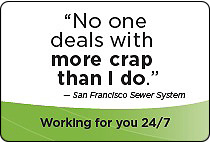 A few months later, some odd advertisements began popping up. A set of unusual slogans suddenly plastered the backs of buses, Facebook and Twitter timelines, and in newspapers across the city, making residents double-take on their morning commutes. The ads read things like No One Deals With More Crap Than I Do and Your #2 Is My #1.
The real punch-line, however, was that these ads came not from a newly minted, investor-backed fertilizer startup, but from the San Francisco Public Utilities Commission (SFPUC), a government agency with a tight budget and an unattractive but vital job to do.
"Without a functioning water and sewer system, you are essentially left with a third-world country," says Tyrone Jue, SFPUC's director of communications. "Parts of our system date back to the Gold Rush. Parts are seismically unreliable. You can see the effects of climate change on our sewer system, with the rising sea level. But [unlike tap water], which is a tangible resource, the [only] experience people have with the sewer system is the flushing of their toilet. Things going down the drain, and they probably don't even think about it."
That disconnect has become a serious issue, because for the past decade, the city of San Francisco has been planning the Sewer System Improvement Program (or SSIP), a 20-year, multi-billion-dollar public works project to update those dated treatment plants (which haven't been updated since the 1950s), ecologically unsound watersheds, and miles and miles of crumbling sewer lines. Two years ago, when a 6.3-magnitude earthquake hit Christchurch, New Zealand, it decimated more than 80% of the major city's water and sewage infrastructure. Seismologists are certain that an earthquake of that caliber will hit San Francisco before 2030, and the city wants to avoid the same fate to its pipes.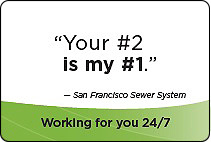 The SSIP hopes to safeguard against such a disaster, and now that the infrastructure project is about to break ground–and cost taxpayers over $2.7 billion dollars, in its initial phase alone–Jue says the SFPUC has needed, more than ever, to communicate the sewer's importance in residents' lives, regardless of how costly its maintenance will be.
"With the sewer system, we've always been playing with the problem of: how do we make a hidden system visible to people?" he explains. "We knew a traditional boring public PSA wouldn't resonate. It hasn't resonated with people. If we wanted to spark interest, conversation, and to drive participation … to rebuild and update this system, we had to take a different approach."
So they began brainstorming. In October, with the help of an external PR firm, the small SFPUC communications team launched a multi-tiered, $65,000 campaign that would combine edgier public service advertising with an engaged social media presence in order to get people to recognize and engage with the sewer's importance. And yes, that meant poop jokes.
"We wanted to leverage conversations that are already happening in our city into people's daily lives, and we knew that the only way we could do that was to not take ourselves so seriously," Jue says. "That's a big challenge when you're coming from a government bureaucracy.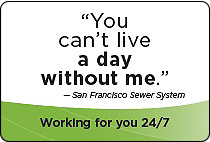 "So we boiled it down to the basics. What's the first thing you think of when you think of the sewer system? Poop and pee. Go there automatically, and people will appreciate it and respond to it better."
And they have. Not only has no one voiced any offense at the poop jokes–Jue admits he was apprehensive, as a leader at a government agency, about blowback from the word "crap"–but people are turning out in record numbers to give their approval.
The commission's ads–which have appeared on bus stops, in and on city buses, in 14 neighborhood papers (in both Chinese and Spanish, as well, to cater to the city's monolingual communities), as well as larger city-wide newspapers like the San Francisco Examiner and the San Francisco Bay Guardian, and on Facebook–are being photographed and shared online. Residents have conversations with the SF Water Twitter and Facebook accounts in exchange for water bottle giveaways. The agency's reach on social media has ballooned, with post subjects from the greenification of the city's eight major watersheds to World Toilet Day accumulating more than 90,000 Twitter and 75,000 Facebook impressions since the campaign began in October.
According to Jue and his team, that's an easy record for the utility commission. (Not bad, either, for a Twitter account that's only existed since July 2012 and currently has about 7,000 followers.) What's more, Jue says attendance at the department's public planning forums now hits 80, and that tours of the city's treatment plants are getting booked months in advance with nearly 30 a month.
The campaign is spreading, too: @SFWater attracts regular conversations with public utilities commissions in other cities like Washington, D.C., and recently the team posted an app created for them, totally unprompted, by a local tech developer, called swir.ly, that maps where the hypothetical contents of a user's toilet flush might end up. The chatter kicked up around the renovations is upping the stakes for public utilities and civic engagement in an irreverent digital era.
Of course, all this may seem well and good for a city with a vibrant economy and an annual budget of roughly $8 billion. But what about the 73,000 other water systems in the U.S. that, according to the EPA, will require $384 billion in renovations over the next two decades? Surely smaller cities couldn't scrounge up anywhere near the same advertising funds. But Jue says the budget is hardly what's making his team's campaign successful.
"It's about how you approach the problem, not about how much money you have," he says. "The advertising campaign, yes, it costs money. [But] it's a choice every agency has to make, whether you're small or large. You engage with people in different manners. If all you can do is send out public notices for construction projects, you can change the messaging on those notices to connect to your audience. People want that transparency and openness out of their government; it creates community. If you're not in front of it, you're missing out on it totally."