If there's one thing true about the International Consumer Electronics Show (CES) in Las Vegas, it's that there's no shortage of people who think they have a groundbreaking idea. With a mind-numbing array of wearable technology, bendable screens, and "Internet of things"-type devices at the show this year, it can be debated just how much any one product truly breaks ground.
The TellSpec laser scanner appears, at least in its demo form, to have potential. The device is a raman spectrometer that uses an algorithm to calculate what's in your food. You point the laser at a potato chip for instance, and the accompanying app on your smartphone gives you a read-out of the ingredients.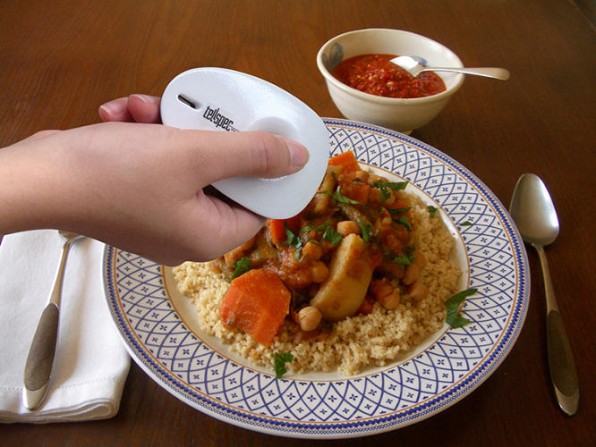 TellSpec founder Isabel Hoffman gave me a demonstration of the device in action during CES. She turned on a prototype, which isn't yet as slim or pretty as the hoped-for final product, and pointed the laser at chips, bread, and various snack foods. 
I, not a particularly big fan of processed foods, was anxious to see if the device could easily point out the man-made goo that some companies put in their products. It did this in less than 30 seconds with one chip-like snack food she scanned. After pointing her laser, a list of ingredients popped up on the TellSpec app.
Seeing that something called "tartarzine" was listed, I was able to click through to a detailed wiki-like page explaining that this is in fact Yellow No. 5. Based on some of the information the app provided me on tartarzine, I'm leaning away from eating it in the future.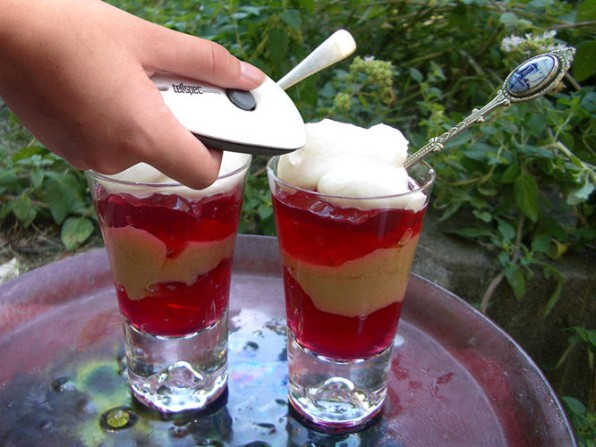 There were a few caveats. Although the device can point out allergens, she says it's not as accurate as it may someday be, and isn't a cure all for them.
"Right now the algorithm works very well tabulating carbohydrates, proteins, fats, and calories," she said. "But we are very concerned with the allergies that we may not track down enough parts per million yet."
Hoffman says when the device is released there will be an allergy disclaimer that comes along with it. The team hopes to add in more functionality over time in that area.
"We can't go out there and say 'this is for allergies.' We are positioning ourselves for diabetes, weight loss, pre-diabetes, and obesity," she said. "For allergies, you should do whatever you are currently doing to protect yourself from those things."
One of the more interesting ideas that comes into play here is the database of food and ingredient information that Hoffman and her team are building for the device. There are already 3,000 foods in the database, a number Hoffman says will get larger as new foods are entered in by new users.
Raman spectrometers, which essentially shoot lasers at objects and evaluate their chemical composition, used to be big, bulky instruments that sat in laboratories. It's now entirely possible to make a handheld version. Getting it to a small size and making it look nice is going to take some time though.
Hoffman's product raised more than $380,000 on Indiegogo at the end of last year. Now the company has to take some big steps towards getting the device on store shelves. She says they hope to deliver a prototype to beta testers by April. The team hopes that interaction will expand the size of their food and ingredient database, which could someday be lucrative.
"Bookstores like Barnes and Noble could have a section appropriate for this device," Hoffman says. She also points to Williams Sonoma as well as smartphone retailers like Verizon, Apple, and AT&T as places where the device might fit into the product profile.
In the meantime, TellSpec must sign a deal with a manufacturer to shrink the size of the device and mass produce it. Then, it could be ready to deliver to store shelves by Christmas of this year. The company just received $1 million in seed funding, which should help it on its way.