The United Nations predicts that roughly 60% of the world's population will live in cities by the year 2030. Hopefully, the 5.1 billion of us negotiating tight urban spaces by then will have figured out a better way to get around.
Questioning which new, bold modes of transportation will succeed in the near future is the focus of a new exhibit at the Boston Society of Architects' gallery space, a show entitled, "Rights of Way: Mobility and the City" that runs through May of this year. Inspired by Audi's Urban Future Initiative, curators James Graham and Meredith Miller (both principal architects at MILLIGRAM-office) were tasked with selecting promising proposals that dreamt up transportation in the year 2030. They chose an array of solutions, from those dealing with the Boston-Washington corridor to a fantastic reimagining of Shenzhen, China.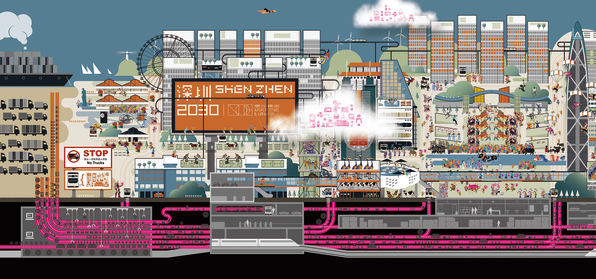 While several ideas focused on new wheeled gadgets, others looked at revamping city infrastructure altogether. But some of the most valuable ideas in the show didn't necessarily have the flashiest elements, the curators say. Instead, they demonstrated a willingness to incorporate existing mobility networks into larger, formal plans, tackled social inequality, or allowed for transportation innovation from the ground up.
"Access to mobility is access to opportunity, and without that access then we perpetrate massive inequalities," explains Graham. "What interests us is a robust network that serves a variety of different constituencies."
Check out some of the most successful concepts below.
Not all future transportation needs will be solved by a shiny new MagLev train or an army of Segway-skateboards. Some of our existing technologies work pretty well, too. Consider the bicycle, one of the most efficient machines on the planet.
Yet, as denser living puts more cyclists, pedestrians, and cars in contest with one another for space, sometimes more informal solutions are called for. Graham and Miller call these "mobility prosthetics," and highlight LightLane as one of them.
As a set of lasers and LED lights that project your own personal bike lane from under the seat as you ride, LightLane, and other designs like it, allow the individual to snatch some freedom and safety from existing infrastructure.
It might sound counterintuitive, but some research suggests that separating modes of transportation actually does more harm than good to the people using them. In Europe, "shared spaces" actually strip paths of traffic markings and lights, then allow walkers and drivers to negotiate their routes on their own.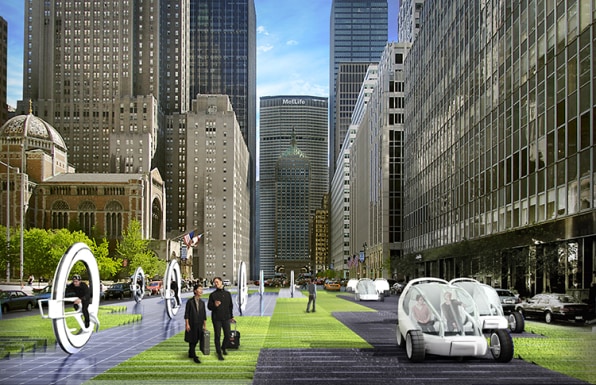 Similar to the idea that shared spaces create more consideration and consciousness for other people using them, Boston architecture firm Höweler + Yoon designed something called a "Tripanel" as part of their larger vision for the Boston-Washington corridor, or "Boswash." The Tripanel features a surface that switches among grass, asphalt, and photovoltaic cells, assuming vehicles of the future can be charged as they move.
Keeping with that space-sharing model, Höweler + Yoon also suggested "Sharestays," a new model of keeping house in which apartments are rented out by time spent at home. As for the I-95 corridor itself, the architecture firm drafted up the idea of a "bundle," or layered highway for various modes of transportation.
The Pearl River Delta, a 15,200-square-mile area in southeastern China that encompasses a network of rapidly booming cities like Shenzhen, is one of the most densely populated in the world. It's also one of the most polluted.
With Shenzhen's population growth also came the highways, the cars, and those cars' exhaust pipes. But where choking smog shuts down schools and fails air quality standards on days that make up 20% of the year, Chinese officials are tasked with solving a growing public health crisis. That's why, when NODE Architecture & Urbanism took a look at redefining the city in 2030, its plans put transportation below ground, freeing up a whole city above to more housing and public space.
"I would say that one of the ways that we need to think differently is not to assume there's any kind of singular solution that will solve mobility issues," explains Miller. "But I think that the successful proposals in this show demonstrate that it requires a more integrated approach."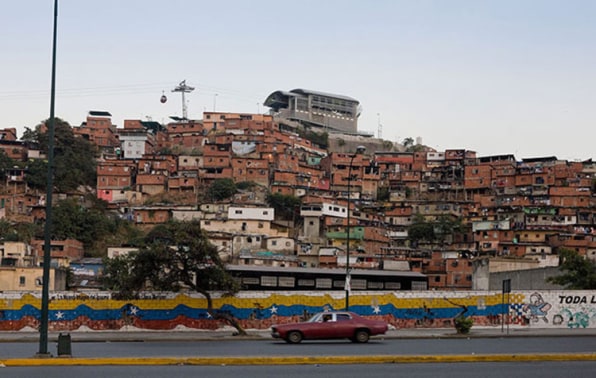 One of the integrated approaches she highlights is a plan from Urban-Think Tank, a design practice that proposed a cable car system for Caracas, Venezuela. Instead of building totally new infrastructure in the city center, Urban-Think Tank's plan suggested connecting the informal, hillside barrios of working-class migrants to Caracas' public transport system by gondola. The first, serving the San Agustin barrio, launched in 2010, and the city now plans to expand the service.
"Many of these urban futures tend to imply a kind of top-down structure, which is when architects and urbanists design larger frameworks for how people are going to use the city," Graham says. "But one thing that we found in our research is that the flow often moves in the other direction, when people in the city adapt to it and use it to their desires."
As both curators point out, shiny new urban planning fantasies often morph into completely unplanned networks, or spawn new, creative modes of travel altogether. Both Miller and Graham stress flexibility and openness as an all-important planning concept, rather than designing a city within an inch of its life.
"We have some really fantastic visions of how the city might look like in 2030, but we're also interested in what's going on right now, a kind of transgressive future for 2014," Graham says.