New year, new Internet: 'tis the season for tech news site launches. In the last couple of months, the already crowded space has welcomed The Information, Yahoo's new tech site, AllThingsD successor Re/code, and this week Model View Culture, which also has a print component. Each has a different take on tech news, but they all have one thing in common: They think the dozens of tech blogs and news sites out there don't offer complete coverage. "Technology news needs a reboot," wrote The Information founder Jessica Lessin upon the launch of her site, a statement echoed by each of those other publications. And guess who is here to save us from the so-called aggregators and PR regurgitaters.
To varying degrees, these new media companies deliver on that promise. But one organization sees itself as a distinct departure from the rest of the landscape. "Most of the existing tech media is white male dominated in a sense that it's funded by white male VCs, they tend to write about companies that white men have started, and ultimately produce financial benefits and network effects for white men," Model View Culture's co-founder Shanley Kane told Fast Company. "So, we don't feel the need to create content or publish content for that market."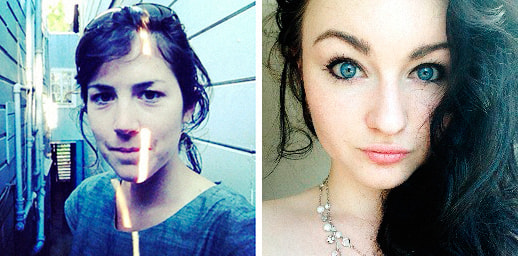 Rather, Model View Culture hopes to serve underrepresented communities, writing about and featuring the voices of women and minorities. Indeed the first issue, which came out Tuesday, features zero white-male bylines and articles written from feminist and minority perspectives.
"Most of the mainstream technology outlets are not particularly focused on diverse communities in tech and they don't particularly highlight the work of those groups or what is important and relevant to those groups," added Kane, noting her publication's distinct core values. Her assessment of the tech media landscape holds some truth. Women who do write on technology sites can face extreme harassment and particular discouragement when writing about feminist issues. I got the most insulting commentary when attempting to cover sexism in Silicon Valley.
Still, it's not exactly fair to say there are zero voices calling out the troubling power dynamics. Major blogs and websites have published stories about sexism and the "myth of meritocracy" And then, of course, there is Valleywag, Gawker's Silicon Valley watcher, which spends its days calling out the industry for exorbitance, hypocrisy, and scandal. That site, however, has been criticized for focusing on the wrong issues.
But while articles on sexism and diversity (or lack thereof) appear every so often, scattered between press release rewrites and breathless coverage of the latest social sharing app, not one of these platforms solely dedicates its coverage to those topics. "A lot of the existing tech media is sort of very tabloidy," said Kane. "It's very much sort of an uncritical hype machine for the startups that are in the Valley and for the VCs."
That's where Model View Culture comes in, starting with the name, which is an homage to Model View Controller, a common pattern used in software development, Amelia Greenhall, the publication's other founder, explained to Fast Company. "The name, Model View Culture, plays with the idea of examining the structures behind the technology establishment, and with the idea of culture as a, or even the, driving force shaping technology and technical production," she said.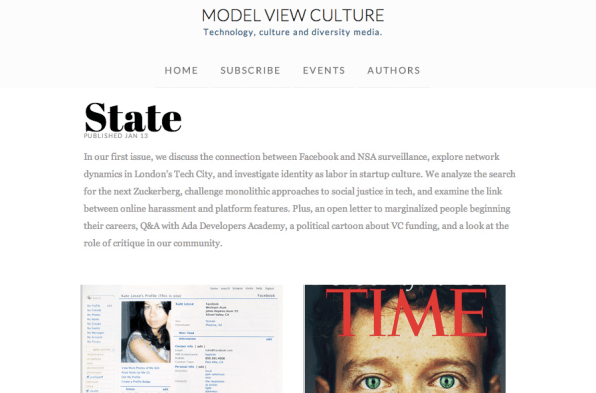 That means going beyond reporting on particular cases of discrimination, but discussing the forces that permit that behavior. "I think what we bring to the tech media space is a more critical, a more thoughtful perspective and one that is tied to feminism, social justice, and anti-oppression," added Kane. Along those lines the first issue examines the link between online harassment and platform features, a particularly apt piece considering last week's discussion of the harassment female journalists and writers face online, which can also materialize offline, prompted by this Pacific Standard article.
Both Kane and Greenhall come from within the Valley structures that their publication critiques. They both quit their jobs to work on Model View full time about three months ago. But before that, Kane worked at a few "high-growth startups" in the infrastructure space and Greenhall worked as a UX/UI designer and data scientist, among other things. She also founded Double Union, a feminist hacker space in San Francisco. Both of them had written about their experiences as female coders for various outlets; Greenhall also publishes an independent literary journal.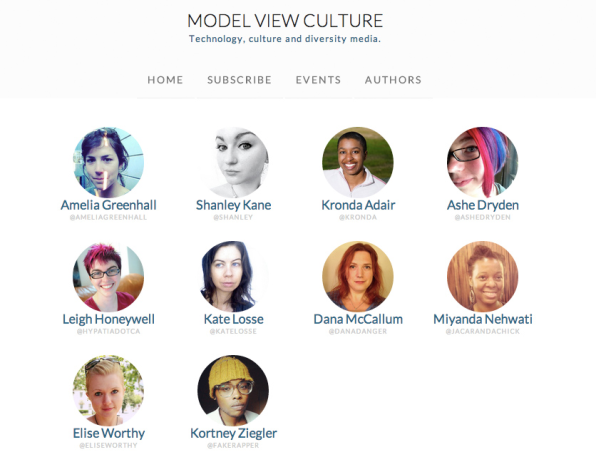 The two decided to elevate writing from a side project to a full-time gig hoping that it would have a bigger impact on the community. When asked what exactly they seek to change, Kane rattled off a series of statistics about women and minorities in Silicon Valley. "The number of CS degrees awarded to women has dropped from 37% in 1984 to only 12% … Women only receive 4.2% of VC funding … 87% of founders are white and less than 1% are black … Women raise 70% less money than men do."
Describing the structures behind these figures will raise the level of "critical consciousness" and, theoretically, as more people understand and think about these topics they will act. If the recent comments by YCombinator founder Paul Graham act as a yardstick, the industry has a long way to go in the way it talks and thinks about the gender gap. (When asked, Kane and Greenhall had no comment on his specific statements.)
But perhaps the most concrete way Model View is working to change the dynamic is by paying all of its writers, allowing those with less privilege to have their voices heard. And, despite eschewing VC money to ensure that the editorial perspective isn't tied to corporate interests, it doesn't sound like that model will be too hard to sustain: the magazine is already profitable through selling print copies. Individual print subscriptions for the series of four 64-page books go for $60 and "organizational subscriptions" for companies hoping to enlighten their workforces cost $180. In the future, however, Kane indicated they would sell advertising and also hope to run a conference by the end of the year.
While Model View might have a unique take on tech-related journalism, it isn't the only organization out there challenging the establishment. Kane was eager to mention their inspirations, including organizations like Black Girls Code and Transhack, a hackathon for trans technologists. "Over the past year we've seen a lot of these organizations do amazing work and we've seen the community be very supportive of them," said Kane. "We all help support each other; that has been absolutely paramount to us starting."