The Museum of Modern Art has the architecture world, and the art world, in a tizzy. The museum recently released plans, by Diller Scofidio + Renfro, for a major expansion of its midtown Manhattan space that includes razing its architecturally significant neighbor, the Museum of Folk Art, to make way for a glassy redesign that opens almost the entire ground floor of MoMA to the public. The plans have gotten little love.
At Vulture, art critic Jerry Saltz lamented: "I have seen the best modern museum of my generation destroyed by madness." The new design, he argues, isn't about art at all. You can't hang a portrait on so much glass, and the expansion focuses on new performance and social spaces rather than additional square footage for the museum's growing collection. Saltz writes of "spaces designed primarily so people can look at other people looking at other people looking at people."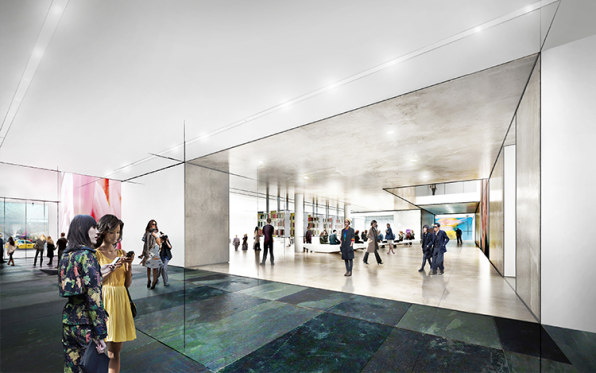 Saltz isn't wrong. This expansion is about people, who, it may turn out, go to the museum to see and be seen, rather than peruse the art galleries. Glenn Lowry, MoMA's director, opened his statement on the expansion with mention of all the reasons besides art that museums exist:
Great art museums not only contain exemplary works of art, they are also places where–in a single visit–surprise, learning, and reflection come together in a liberating set of experiences. They link contemplation and conversation, quiet and excitement.
The key word here is experience. The vision Lowry espouses is one that museums all over the country aspire to cultivate: the museum as a third place, that coveted spot outside of home or work where people congregate and socialize, like a coffee shop or a pub. By and large, these places are informal, inexpensive, and comfortable–characteristics that art museums have not traditionally embodied. "Museums were in some ways the secular equivalent of cathedrals," says Elizabeth Merritt, director of the American Alliance of Museum's Center for the Future of Museums. "Nobody was trying to make you comfortable. Museums can't survive the occasional uncomfortable visit." As a business, the museum needs to bring people in, and keep them coming back, whether or not they've already seen the latest exhibition.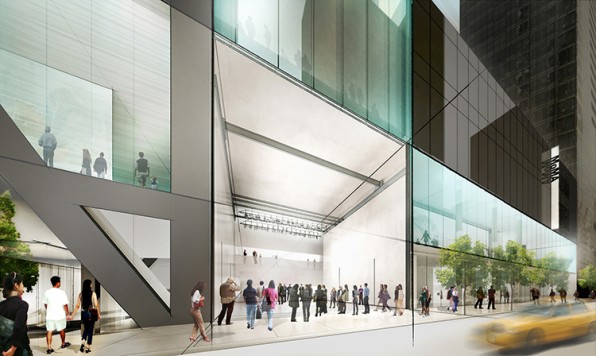 "Using more innovative programming strategies to bring people into the museum environment, whether or not they tour the galleries–even if they grab a cup of coffee or something to eat somewhere on the museum property–that notion of making the museum more open and inviting is certainly an aspirational trend," explains Garry Golden, a futurist who has consulted with several museums.
Museums are increasingly interested in curating the user experience as much as their art collection. "Museums today are places for gathering, for interaction, for conversation," Doreen Bolger, director of the Baltimore Museum of Art, said in an interview with a Maryland NPR affiliate last fall. "It's a place to come with a friend, a family member, a companion—or to look for one. It's a much more social experience than it was before."
That's the sort of museum this MoMA expansion seems to be creating. In the new plans, most of the museum's ground floor would be open to the non-ticketed public, including a recently opened sculpture garden. Theoretically, people could wander in and hang out without ever buying a ticket. That's the point: to lower the barrier to access.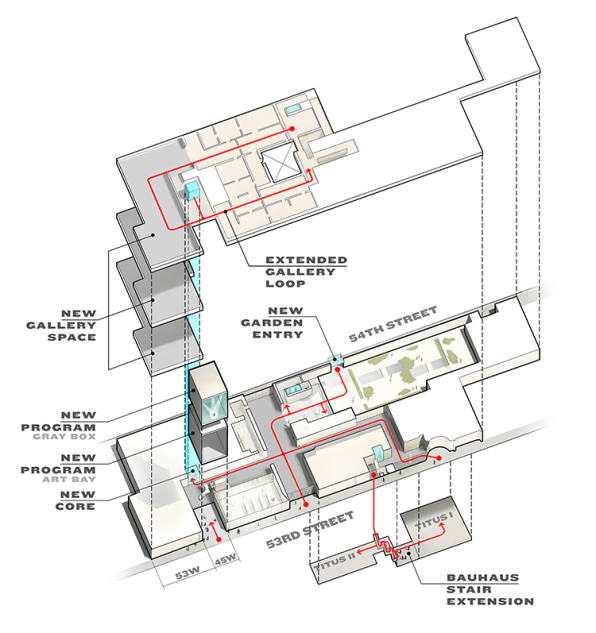 According to the National Endowment for the Arts Survey of Public Participation in the Arts, only 21% of the U.S. population visited an art museum or gallery in 2012 (down from 22.7% in 2008). Those museum-goers tended to be white, educated, and wealthy. Increasingly, museums have ditched admission charges or membership fees in an effort to attract more visitors. After the Dallas Museum of Art implemented a free membership program in 2013, 42,000 people signed up, many of whom, the museum's deputy director noted, had never been to the museum.
"The third space is about building trust and relationships with people who haven't come to museums," Golden told Co.Design. "There's nothing that can really replace that visceral response to being in a museum environment as a selling point."
For many institutions, the lost revenue from selling tickets hardly impacts the bottom line: Admissions, as the Los Angeles Times noted earlier this year, only make up about 5% of most museum's annual budget. In 2007, MoMA's James Gara told New York magazine that admissions were one of the worst ways for the museum to make money. Becoming a more accessible public gathering spot can be a vital aspect of a museum's business model. Expansive galleries, while they may do the art justice, don't always bring in the crowds, as Merritt points out: "Sometimes making people think of you as their place involves having a sense of humor and meeting them at a human scale, rather than just focusing on things that are aspirational and perhaps sometimes intimidating."
Encouraging the community to use spaces within the museum for free can eventually support the museum's traditional goals. Those who would have never thought to visit before might drop by for an event or to eat lunch on the museum's lawn. Their interest might be piqued by a promotional poster in the lobby, and they might decide to come back as a paying customer. When the museum markets itself as open, accessible and free, private funding from donors invested in that mission can roll in–the Baltimore Museum of Art saw significant increases in upper-level donations after it implemented its free admission policy. When California's Santa Cruz Museum of Art and History began to focus heavily on community engagement and building the museum as a third place, over a period of two years its memberships went up 50%, and its grant revenue increased from $25,000 to $400,000 a year.
You could argue that the museum as third place doesn't need to over-promote the organization's artistic holdings and could focus, instead, on expanding the notion of what a museum could be–whether that's a community social space or an exhibitor of Internet cat videos. "There are people who see museums evolving as places of lifelong learning and social learning environments, and see third places as the best way to rebrand museums,"Golden says.
So Saltz may be right and the MoMA he knew and loved may be dead. The museum's expansion may focus less on making space for art and more on making an inviting place for an increasing number of people. Yes, museums have begun to market themselves as "experiences" rather than just collections of fine art. But does moving towards a more accessible, expansive vision of a museum experience mean destroying the institution? Or, does it simply mean expanding the museum's reach beyond art critics?