There's a certain allure with early Google employees. While the tech community can point to Craig Silverstein as the search giant's first hire or Marissa Mayer as employee No. 20, the same can't be said of the company's kitchen, which in keeping up with Google's insatiable hunger also experienced a growth spurt of its own.
When Nate Keller joined Google as a sous chef in 2003, he was employee No. 10 in the kitchen, and the Mountain View, Calif. company was about 500 people strong. By the time he left his post as executive chef in 2008, he was overseeing a staff of 675 who were whipping together 35,000 meals a day.
Since his Google days, Keller has remained in the Bay Area, and it's apparent he, too, has a case of entrepreneurialism. When he struck out on his own, he founded Gastronaut, which offered a Google-esque food program on a smaller scale for startups–"catering geared toward techies" is how he describes it. He also had a stint developing a food program for children's camps across the country, and earlier this year, Keller came on board as founding executive chef for food-delivery startup Sprig, which launched December in San Francisco.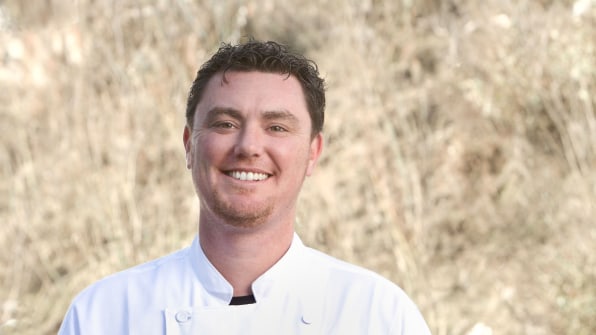 Though he's still feeding Bay Area techies, Sprig is a new beast to Keller. "I used Google as a basic testing ground for seeing what people like to eat, how they ate on a daily basis," Keller tells Fast Company. "I got instant feedback from people. They could tell me on the spot, 'Oh my god, that was amazing,' or 'Don't ever make that again.'"
There, he had free reign to experiment with local, organic, and sustainable ingredients; a $12 million budget; and thousands of willing tasters. At Sprig, the company's kitchen is a shared 2,000-square-foot commercial facility in the industrial Potrero Hill neighborhood. The user base is small, and its primary goal is to prepare nutritious dinners that are scalable, can hold up well throughout the delivery process, and arrive hot within 15 minutes–all at $10 a meal.
"Inevitably, it's a very challenging process," Keller says. "I don't think this is three Michelin-star food, but it's affordable, and the goal is to get it to quality that's consistent."
It's no small feat, but Keller has some tricks for accomplishing this. Instead of a traditional eggplant parmesan, he skips the breading and fryer and opts for marinading and grilling. For meat, he's fond of sous-vide, a French technique for cooking food in a temperature-controlled water bath, for dishes like pork tenderloin and beef stroganoff. This achieves that juicy, perfectly pink center without concerns of food borne illnesses because of the prolonged cooking time. Keller also works closely with the company's culinary advisor and in-house sous-vide expert, Kyle Connaughton, consulting chef at Chipotle and former head of the three-Michelin-starred Fat Duck in the U.K. Finally, instead of leaving food in the oven where it's likely to dry out, the prepared meals are heated when orders come in.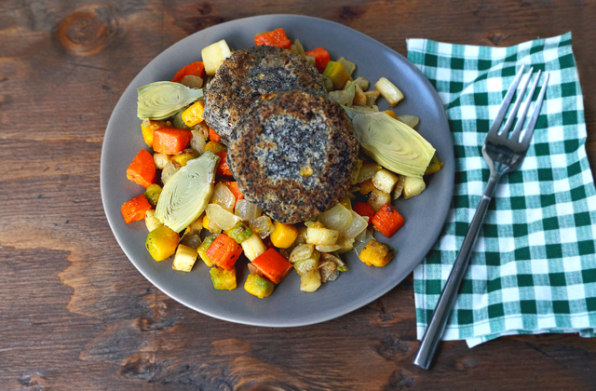 Learning to think outside the box came from his time at Google. "It was a training ground to look at those certain dishes that you'd normally cook one way and be able to manipulate the process a little bit so you can make it with the same quality and same flavor profile slightly differently," says Keller. And because Google had "very much a can-do attitude," he says working there was like attending "an entrepreneurs' boot camp."
"Not everything works, but you really don't know until you try to figure it out," he says.
Keller's love of cooking began as a child, and that passion was instilled by his mom, who as a single parent emphasized the importance of home-cooked meals. He remembers acting as her sous chef as early as six years old and says he got his first deep fryer when he was nine. "I just cooked all the time," he says. Once, he played a kitchen version of Cyrano, preparing a romantic dinner to help a high school friend impress his girlfriend. "I said, 'Take this out of the oven in 10 minutes,' and then jumped out the back fence," he recalls.
After graduating from high school, Keller spent some time searching for himself and found it while working as a dishwasher in a New Orleans restaurant. With the encouragement of his mom, he enrolled at the Culinary Institute of America in Hyde Park, New York, working in New York City for a while before moving back to his hometown, Sacramento, where he was a sous chef at a small restaurant. Eventually, a friend–the same one who took credit for his romantic dinner–turned him onto a growing tech company called Google. Talk about karma.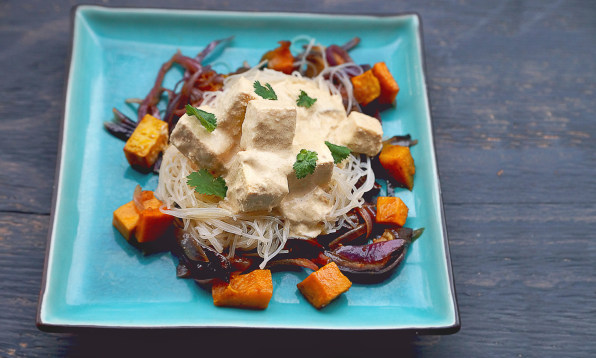 There, he had "unlimited resources and budget," and was at one point opening up a new cafe on campus every six weeks. One of those was Cafe 150, named so because it sourced ingredients within a 150-mile radius of Mountain View. Keller says Google helped drive the local movement due to the sheer volume of food it was ordering–upwards of $1 million a month in chicken alone. Veritable Vegetable is a producer that Google tapped when Keller was there, and its director of sales Karen Salinger says "the local sustainable movement has been growing in the Bay Area for a multiple of reasons." Certainly, it didn't hurt that Google's food program was attracting media attention, helping "drive some growth in the Bay Area," she adds.
Sprig's also been working at breakneck speed. After closing a $1.2 million round in July, the company ramped up within three months for a soft launch in certain San Francisco neighborhoods. Though startup life is notoriously stressful, Keller appreciates the regular hours–even if they run from 7 a.m. to 7 p.m.–compared with the restaurant business. And he says his food can reach people faster and at a larger scale than if he ran his own restaurant.
"In short, we want to provide everyone in the world with a way to get healthy meals in a convenient and affordable way," Keller says. "Everyone should be able to eat a great meal made with real ingredients, and we won't stop until we've made that possible for anyone who wants it."
While Keller firmly believes in the company's mission to feed busy professionals quality food that doesn't break the bank, there's some irony to the whole situation. At the end of a long day, Keller would love nothing more than to use an app to summon a hot meal, but having recently moved to Oakland, he falls outside Sprig's delivery range.