From Jawbones and FitBits to Google Glass, it's clear we've become very comfortable with tracking ourselves. We're even ready to slap devices on to our babies, pets, and cars to keep tabs on their every move, too. If patents are any predictor, soon we'll even be quantifying our moods via our breasts and hair pieces.
The age of the quantified self is here. Now business is buying in.
Companies from Hitachi to Walt Disney World resort are using wearable tech to track staff and improve collaboration and customer service, according to a report by management researcher H. James Wilson.
"It's definitely an incredible revolution that is going to happen in workplace measurement," says Harikesh Nair, associate professor of marketing at Stanford's Graduate School of Business. It's a positive thing, he says, because companies already do a good job collecting transaction data to boost sales and customer loyalty, but have little insight on how employees interact with each other and what makes them successful.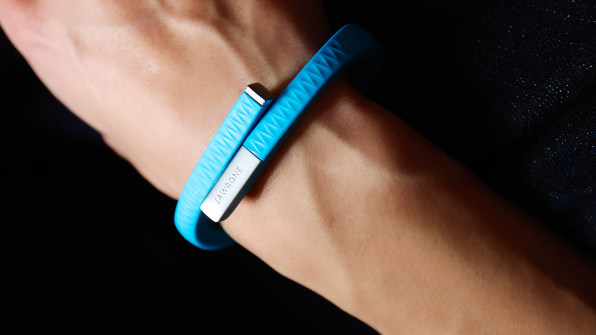 One company that is trying wearable devices to effect positive change among its sales associates is the Container Store. Using Theatro's 1.5 oz. voice driven enterprise wearable, the Container Store is able to tap in-store WiFi to track sales staff to increase responsiveness and productivity dispensing the need for headsets or walkie talkies. Beyond that, Theatro's device can provide headquarters, regional and individual store management with access to performance data such as how they communicate with each other and with shoppers and where they spend the most time.
Theatro says that companies that have used the devices have shown 5% to 10% productivity gains and 3% to 5% top line revenue increases. A reason for these gains may be how easy the tech is to use. Theatro's CEO Chris Todd says "Like any other tool people use in the work place, they key is it must make the employees job easier, be simple to operate and make them more productive."  He maintains that the simplicity of the wearable passes an important litmus test. "Store management and employees will buy into it as it makes for a better day-to-day work experience," explains Todd.
That may be fine at the retail level, but Jay Rao isn't quite sold. "Innovation that spurs organic growth is the most difficult challenge that large firms are facing in the last 15+ years," the professor of innovation and strategy at Babson points out. "Innovation is knowledge work. Unfortunately, knowledge work cannot be treated or captured the way we have with manual work." Rao observes that Frederick Taylor's scientific ways of measuring manual productivity are more than 100 years old. "A knowledge worker is much more focused on understanding the task, continuously learning, teaching others and innovating," he says. All things that are much more difficult to quantify.
Though he sees the potential challenges, too, Nair notes in the case of the Hitachi and other large organizations, different divisions can get siloed. "Their teams don't interact," he says, "And true innovation happens in teams." Rao agrees. "Organic growth which is the result of innovation is still the result of a lot of collaboration within large enterprises," he says. What some do instead is trying to force networking and collaboration among employees and then measure it.
"Where are we heading with these sophisticated dog tags?" Rao asks. He's observed enterprises labeling employees as knowledge spreaders or bottlenecks, loners or connectors, influencers or followers.
Michael Kaplan, CEO and founder of SoftPMO believes wearable tech will be useful for workers looking for business coaching. "Suppose you take a workplace personality inventory and the data indicates that you are uncooperative or consistently unpleasant," he says. You can adjust your goal to improve your attitude with others while getting real time feedback for your behavior. The device would be used to measure and evaluate progress toward the behavior goal, he suggests.
Though the individual would choose to use the device themselves, Kaplan believes ome data probably should be shared with their supervisor. "Performance reviews focus on strengths and weaknesses, so it will benefit the employee to share this information," he says.
The potential challenge with that use is that employees may only do what they're supposed to to hit certain metrics, says Dave Hofmann, area chair of organizational behavior at UNC's Kenan-Flagler Business School.
"It's the law of unintended consequences," says Hofmann. Once management places too much on aspects of certain metrics people will try to hit it–which may or not be successful in the long run, he says. Using the example of a call center wanted to get representatives off customer calls more quickly, Hofmann says that staff will likely strive to keep the call short, but they may not be solving the customer's problems.
To solve the challenge–and to get buy in for being observed so closely–Hofmann says the company culture must be based on trust. "My fear is that of you don't have that foundation of trust, management will have insights 'from the mountain' and workers may say [they are gathering data] just to fire people."
If a company really wants to monitor its employees with wearable tech, management needs to present a clear and compelling value. Then, make sure that staff are able to weigh in on the decision.
"Conversations around the metrics need to be very developmental," he advises. Telling the employees that the data will provide an opportunity to help improve service and not to punish or fire them is key. In the end, Hofmann admits: "It's complicated to get this right."