Phin Barnes's office is like a Hidden Pictures Puzzle. The more you look around, the more you notice. Neon-speckled sneakers are tucked into shelves and on side tables, a series of Venture Capital for Dummies books are stacked under another side table, and decorative lanterns from Fab are used in lieu of desk lamps. Further discussion with Barnes reveals that every piece of the non-aggressively hip decor in his otherwise standard office space has a distinct purpose.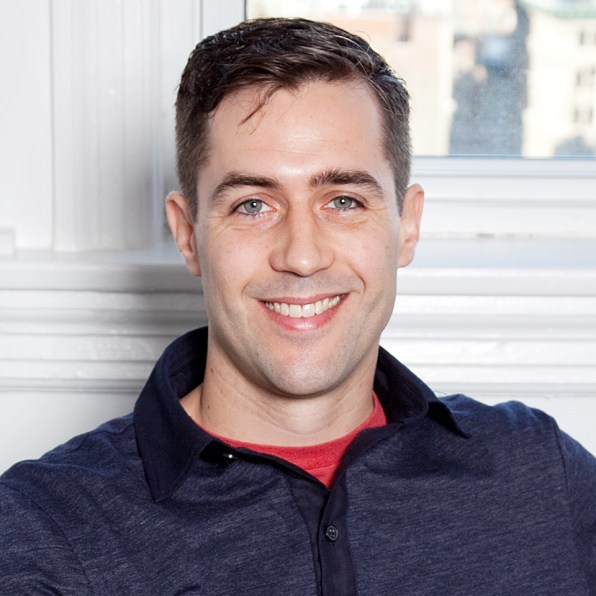 "The idea is to create a living room sense," Barnes, a partner at First Round Capital, explained as we sat in what could pass for a showroom at cheap chic retailer CB2, which supplied much of the furniture in his Union Square office. (The decidedly handsomer gray chair with wood trim is from upscale retailer ABC Home. "But it was totally on sale," assures Barnes, hoping to eschew being labeled as the kind of venture capitalist that spends exorbitant amounts of money on office furnishings.) Even without the disclaimer, wearing jeans and a slightly damp polo shirt, he comes off as surprisingly down to earth.
If Barnes's office were a living room, it would fit right into a Williamsburg apartment, which is where Barnes lives. A Pandora playlist based on hip-hop plus the Black Keys or Kings of Leon "Down South" plays quietly enough not to distract, from white speakers that fade into the wall.
For a room so contrived, it feels inviting, which is exactly what Barnes wants. "Everything is set up for [entrepreneurs] to be comfortable," he told Fast Company.
As a former entrepreneur–Barnes founded Yourself Fitness, the first workout game for Xbox and PlayStation, and was the second employee at basketball sneaker giant And1–Barnes experienced plenty of painful pitch meetings. Traditionally, founders are tasked with selling their business idea and/or dreams to a disinterested potential investor. The VC often arrives late to an uninviting conference room, where nervous founders are expected present their life's passion via PowerPoint presentation. "It was very much a 'Who are you and what are you doing?' type meeting, rather than a very engaging conversation where you felt comfortable," Barnes explained.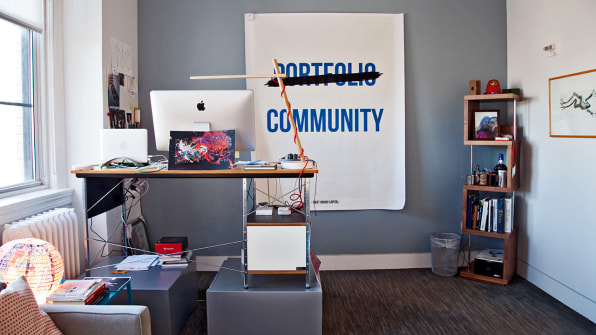 Barnes wants to change that experience, and not just because he feels for startup founders. He doesn't think that formal setups yield very good results on his side of things. In pitch meetings, the stakes are certainly higher for entrepreneurs. But Barnes also benefits from creating a more comfortable and open environment: "You're looking for what is that unique insight, that point of view, that thing that no one else sees," he explained. "If you can create a conversation where that can really come out, and can give them the comfort to put as much of themselves out on the table as possible, you learn a lot more about them."
A Wharton graduate, Barnes describes the relationship between startups and VCs in terms of economics. Contrary to conventional wisdom, both parties are on the sell side. Budding businesses want VCs to buy into their vision, an incredibly difficult task; Barnes estimates that he invests in one out of every 150 companies. But because of increased transparency and capital in the venture world, investors have to sell their services to entrepreneurs as well. "The best founders always have lots of choice in who they take money from," explained Barnes. And even mediocre businesses can find funding via Kickstarter, AngelList, or their many clones, if not a big-name VC firm.
It is, therefore, in everyone's best interest to evolve the "UX of VC," as Barnes calls it.
Barnes's first goal was to make the entire office his personal space. So, instead of limiting the intimate to his desk, displaying one or two family photos on its surface, Barnes scattered personal items throughout the room. "I think it sort of puts people at ease when you say, 'This is me,' rather than, 'That's me over there [behind the desk], but we're going to talk over here,'" he says. The face of the glass coffee table has three pictures of his toddler, and two pieces of her artwork hang from his desk. And he keeps bourbon–his drink of choice–at the ready on his bookshelf.
Not all of the items in the room reflect his personality; others serve as conversation starters. Upon arrival, one person might notice the pictures of the baby and ask Barnes about his kids, or they might look at the VC for Dummies books and ask if he seriously uses those. (He doesn't: "It's art," he said.)
Barnes continues to engineer the experience as the conversation moves on from pleasantries to business. The room has three clocks: a schoolroom wall clock, an hourglass clock on the window sill, and a digital clock hidden behind the bourbon and hot sauce. "I found, for founders, especially in a situation where you're nervous, when a VC would check their watch or look at their phone it was really nerve-wracking. It sort of threw me off," he explained. Yet, as a VC with limited time and multiple daily meetings, Barnes needs to keep the conversation moving. His solution: "I've put in multiple clocks so I can glance the time without people noticing. I've found it helps a ton." The digital clock beeps every half hour, so Barnes can never look at a clock and still know the time.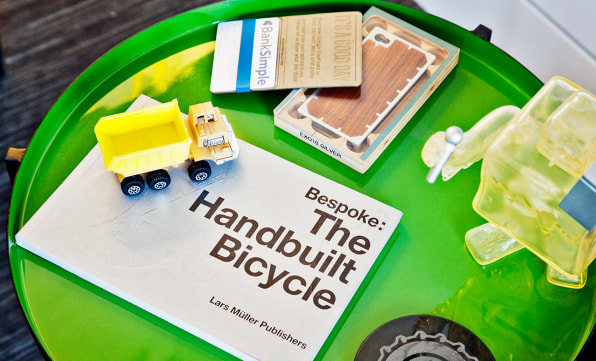 The most important aspect of the experience, however, has nothing to do with the ambience. For most investors, the bulk of their job is saying no. "That sucks, it's a terrible job," said Barnes. Instead, he views each and every meeting–even with companies he eventually turns down–as an opportunity to make an impact. "If a founder can leave a meeting and feel like I've asked them things they haven't thought of before or just slightly change their perspective on what they're doing, I think that's a win," he said.
To get to that point, Barnes does quite a bit of preparation beforehand. Instead of wasting the first 10 minutes of a 45-minute window reminding himself why he cares about a company, he can get right into talking business. Because he has a set of questions, ready to ask, the conversation jumps around, getting founders to break out of their PowerPoint decks, rather than running through slides.
To measure if entrepreneurs had a productive experience, at the end of each meeting, Barnes sends out an anonymous evaluation survey. The form asks various questions about his preparedness and how he can improve. Much like the companies he invests in, Barnes views these interactions not just as a business opportunity, but as a service. "The meeting you deliver is a product," he explained. "Every time you do it you can iterate on it."