Fisher-Price's latest product is a bouncy seat for babies that is designed to put an iPad a foot away from a newborn's face. This has parents, doctors and child advocates hopping mad: An Internet petition to remove the Apptivity Seat from market has already garnered more than 5,000 signatures. Reached for comment, Fisher-Price says they don't understand why people are freaking out.
On sale for $80 at the Fisher-Price website, the Newborn-to-Toddler Apptivity Seat for iPad is described by Fisher-Price as a "grow-with-me seat for baby that's soothing, entertaining and has a touch of technology, too." Like conventional bouncy seats, the Apptivity Seat puts some hanging toys and a mirror–designed to help children develop facial recognitions skills, as well as teach them a sense of self–within the child's easy reach. But there' s a twist: the Apptivity Seat allows parents to replace that mirror with an iPad.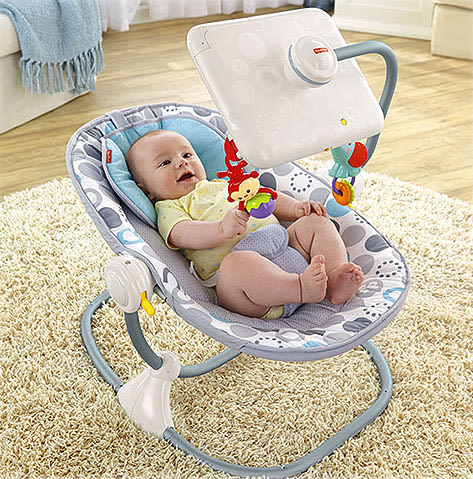 That's what has people raging. "There's no evidence that babies benefit from screen time and some evidence that it might be harmful," says the Campaign for a Commercial-Free Childhood (CCFC), a Boston-based nonprofit devoted to campaigning against the commercialization of childhood who launched the online petition against the Apptivity Seat.
Fisher-Price claims on its website that babies who use the Apptivity Seat in parallel with various Fisher-Price iPad apps will benefit from the experience. According to Fisher-Price, these apps feature "soft, soothing sounds and nature scenes, black-and-white images, and high-contrast patterns that help develop eye-tracking skills."
That is highly suspect, according to the CCFC. "The only thing babies will learn is to keep their eyes on a screen–instead of tracking what's going on around them," CCFC writes on its website. And it could be harmful in other ways, too. The American Academy of Pediatrics (AAP) advises that children under the age of two should avoid being exposed to any kind of electronic screen altogether.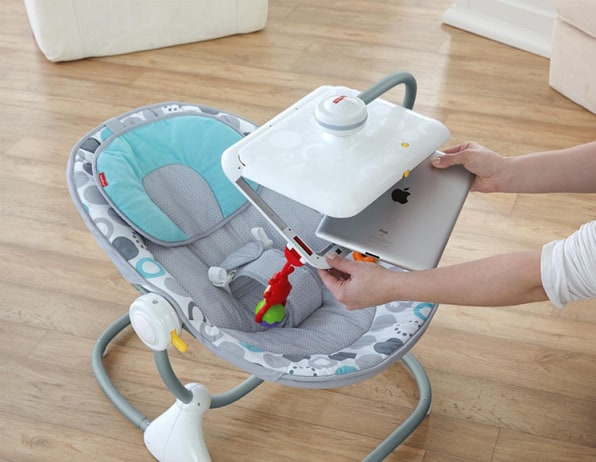 "A child's brain develops rapidly during these first years, and young children learn best by interacting with people, not screens," the AAP says on their website. They further caution that studies have shown excessive use of multimedia devices by children to lead to a host of issues, including attention problems, difficulty at school, obesity, and more.
Given all this, it's easy to see why Fisher-Price's latest product is generating such controversy. When we reached out to the company for comment, Fisher-Price's parent company Mattel characterized the seat as a "niche" product that is the victim of an Internet smear campaign.
For more than eighty years, Fisher-Price has taken great pride in providing thoughtful features and solutions for parents that we've identified through research. We know parents have different needs, which is why we strive to offer them a variety of choices for baby products, like infant seats, so they can choose the one that best suits their lifestyle.

We want to clarify that we do not position the Apptivity Seat, or any of our other infant seats, as educational products for children. It is unfortunate that factual omissions about the product, such as the time-out feature that only allows for 10 minutes of activity with our app before requiring a manual reset, and parent reviews from those who have purchased the product that show strong parent involvement and support, have not been accurately characterized in recent reports.

The Apptivity Seat is a niche product that is only available online. Though we knew the product was not for everyone – we have over a dozen seats from which parents can choose – we wanted to offer it as yet another option for those parents who want to the added feature of engaging in age-appropriate content with their children.
From a company devoted to the needs and concerns of new parents, their response fails to address the critiques being leveled at the new seat. Consider this:
• Fisher-Price says the Apptivity Seat is not positioned as an educational product, yet it is so positioned, right down to claiming that the Fisher-Price apps can aid a newborn as he or she develops new skills. And why does the issue of how the product is marketed matter if it's potentially dangerous for a baby's development?
• Fisher-Price complains that critics have made "factual omissions" about the Apptivity Seat, such as failing to report that there is a "time-out feature that only allows for 10 minutes of activity with our app before requiring a manual reset." Yet the AAP recommends against children under the age of two being exposed to an electronic screen for any amount of time.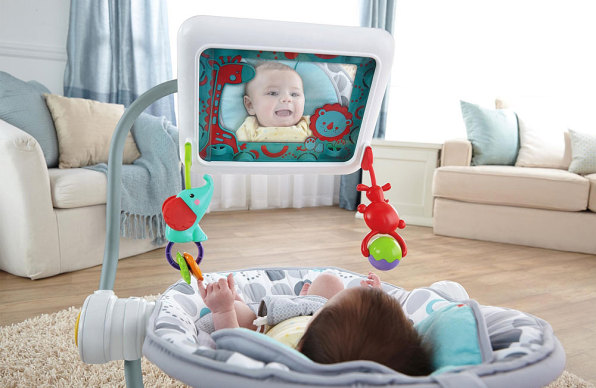 • Fisher-Price characterizes the product as being an "option" that parents can choose if it "best suits their lifestyle." What parents' lifestyle is best suited to potentially stunting their newborn's well-being?
• Fisher-Price further claims no one is talking about the Apptivity Seat's great reviews, but where are they? The single review of the product on Fisher-Price's own site is 100% negative. It sits at a slightly more positive 1.5 star rating on Amazon.
Any child born today is going to be a digital media consumer. We're surrounded by screens, and that's okay. It is the role of designers to figure out ways to incorporate those screens and guide our media consumption in ways that are earnest, healthy, and smart. Regardless of whether or not you think, as a parent, that it's okay for your newborn to look at an electronic screen, this is a design problem that maybe Fisher-Price could be solving more elegantly than by making baby's first iPad stand.