At 6:35 p.m. Wednesday night, seven hours after our story went live, a spokesperson for Taco Bell from Taylor Strategy, a "brand counselor and public relations partner," sent the following message:
We truly appreciate you sharing the positive memory of one of the brand's friends and advocates, Todd Mills, and wanted to provide you with more clarification on Taco Bell's relationship with Todd as there are various inaccuracies being reported.

We ask that you clarify the relationship between Taco Bell and Todd; an official statement from the brand is below as well.

"We know this is a tragic time for Todd's family. He was a huge Taco Bell fan. He was passionate about the Doritos Locos Taco, and although he did not invent it, he founded a Facebook page to drum up support. In light of his passion, we invited him to be one of the first to try it. He became a true friend of the brand, so when we learned of his ill health, we made a $1,000 donation towards his medical expenses. We will miss Todd very much and our hearts are with his family and friends in this difficult time."

Thank you in advance for taking the time to do this.
The key sentence of this corporate communication in the wake of Mills's death is this one: "He was passionate about the Doritos Locos Taco, and although he did not invent it, he founded a Facebook page to drum up support."
Mills launched his Facebook page, "Taco Shells made from Doritos Movement," on August 18, 2009, several years before the announcement of the Doritos Locos Taco. In a recent story for Fast Company Austin Carr reported that Taco Bell CEO Greg Creed started thinking about a way to celebrate the company's impending 50th-year anniversary in "early 2009." "I said, '[let's] reinvent the crunchy taco,'" Creed recalled.
No one acted in earnest on the idea at Taco Bell until April 2009. A team assembled for an all-day ideation session at Taco Bell headquarters. One of those ideas was a drawing from someone at Doritos-maker Frito-Lay. "It was basically an image [of this taco] on a piece of paper, with a written description," Taco Bell brand marketing director Stephanie Perdue said in our May 1, 2013 story (she helped Creed write the original team brief). "It was like, 'Holy crap!' Nobody had ever done this before: turning a Dorito into a taco shell. It was just mind-blowing at the idea stage."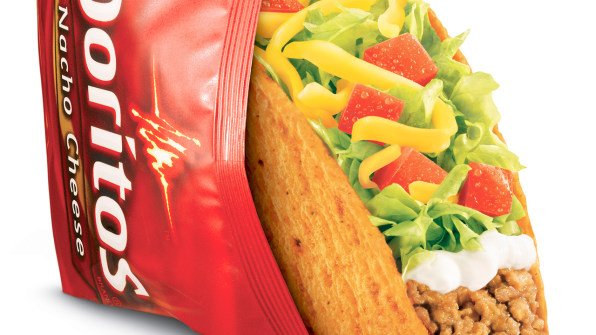 It's unclear who or what inspired the drawing that was submitted by Frito-Lay at that Taco Bell brainstorm in 2009. But Frito-Lay was in touch with Mills that same year. On
August 22, 2009, Mills posted on his Facebook page, "Taco Shells made from Doritos Movement received its first letter from the Frito-Lay company today."
According to USA Today, "Their response was, "Thanks, but no thanks."
Meanwhile, Taco Bell took the idea and ran with it. Their dev team, Creed told Fast Company, "basically went out to Home Depot to buy a paint-spray gun, and then sprayed [Doritos] flavoring onto our existing yellow corn tacos…. It was pretty funny watching people from behind glass spraying our tacos with a paint gun. But it was enough for us to know conceptually that we had a big idea."
Which leads us to this part of Taco Bell's statement on Wednesday evening about Todd Mills and the Taco Bell Doritos Locos Taco: "In light of his passion, we invited him to be one of the first to try it."
Taco Bell was far from showing anything to anyone from the public in 2009, when Mills floated his Doritos-meets-Taco-Bell idea. Throughout 2010 and 2011, Taco Bell's company's teams continued to tinker with some of the very basic complications involved in creating a shell that had the right flavor and crunch and could even be handled. "There were some [prototypes] where we would barely even touch them and the shell would break," Taco Bell's food innovation expert Steve Gomez told Fast Company for our May 1 story.
Taco Bell's first contact with Mills came on July 3, 2011, when their official account commented on yet another post on his Facebook page. In February 2012, they flew him out to California to try the Doritos Locos Taco. Mills got a tour of the test kitchens, a chat with CEO Greg Creed, and posted a picture of himself with the caption. "Totally worth the trip…. The Doritos Locos Taco (DLT) was as good as I knew it would be. Crazy Good."
Todd Mills did not execute his vision for a Doritos-flavored taco shell; he campaigned for someone else, like Doritos-maker Frito Lay, to manufacture it.
Mills's longtime friend Jimmy Looney told Fast Company,
"Todd was a Doritos fan and got the idea after watching a Taco Bell commercial with his wife. Even Todd was uncertain if he was the only one to come up with the idea. He was just happy to be involved in making it happen. He never asked for anything, and was happy that TB donated $1,000 toward his medical bills and sent him a handwritten letter when he became ill."
Without a more detailed timeline, we can't say for certain whether or not Mills sent Frito-Lay an idea for cheesy Doritos-flavored taco shells before or after someone at Frito-Lay presented the same idea to Taco Bell. Nor can we say for sure that one thing led to another. (We've reached out to Frito-Lay and will update this post if we hear back.)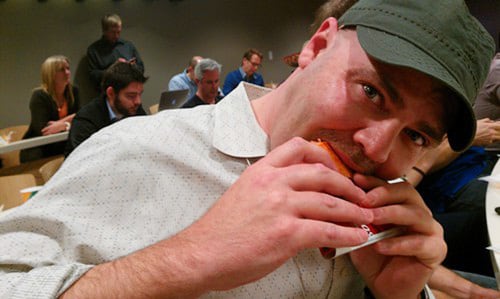 Plus, there's a pretty big gulf between an idea and an invention. There's an even bigger gap between an idea and an innovation, which involves creating a market for an invention. Years of hard work came between the idea and the billion-dollar product we know and binge-consume today. But, even according to their own original narrative, the origin of the Doritos-taco mashup is not as simple as Taco Bell's recent "clarification" would suggest.
As the story of a man who loved cheesy shells spreads far and wide, Mills's friends and family, and even strangers, are beginning to comment online that perhaps Frito-Lay and/or Taco Bell should be more forthcoming with support.
So far, Taco Bell has deemed Mills's passionate brand advocacy worthy of a $1,000 goodwill donation. The Taco Bell Doritos Locos Taco officially launched in early 2012, at least two and a half years after Mills started spreading his zesty message. Sales have passed $1 billion.