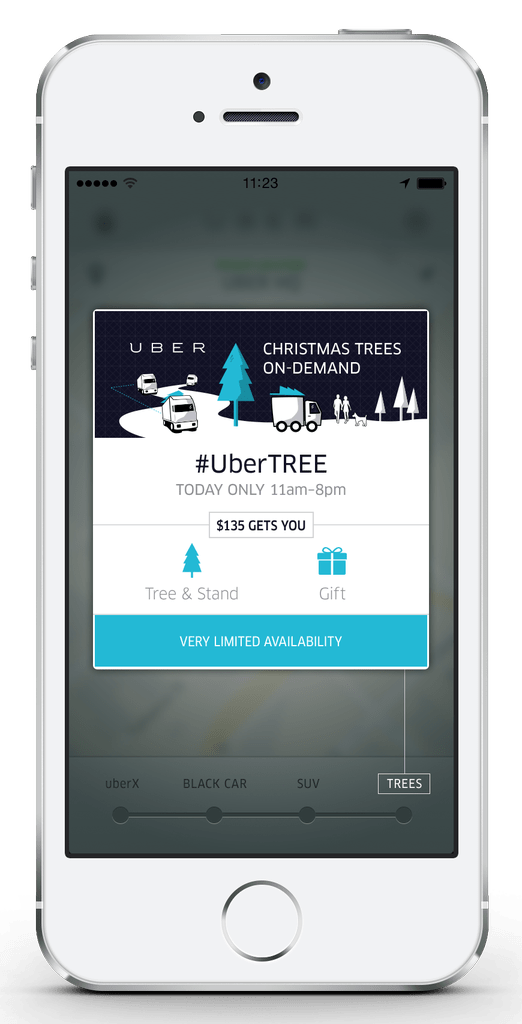 After ice cream, kittens, and $3,000 on-demand helicopter rides to the Hamptons, Uber, that car-hailing app turned deliverer-of-crazy-things will deliver a real Christmas tree to your house on Thursday, December 5. Uber has partnered with the Home Depot to get the trees.
If you're lucky enough to live in any of these 10 cities, you can download the Uber app on your smartphone and choose the "UberTREE" option between 11 a.m. and 8 p.m. to have your tree delivered to your door "within minutes." We're going out on a limb and guessing that could stretch to a few hours depending on the demand.
The tree delivery will set you back $135. Considering the average cost of a real Christmas tree in 2012 was $40, this may seem like a steep price. But hey, the tree comes with a stand, and an "Uber gift," which Uber tells Fast Company is an Uber-branded scarf. The cost is charged directly to your Uber-linked credit or debit card.