In the mountains that make up the division between Laos and Thailand, some 30,000 subsistence farmers survive by planting rice on steep, terraced slopes in teams. But one member of the planting team usually takes the brunt of the physical burden, spending long hours bent at the waist, throwing rice into holes struck by team members ahead.
"Those, typically, are the women getting kicked in the face by their compatriots just ahead," explains Alex Moseson, director of Drexel University's Sustainable Engineering and Entrepreneurship (SEED) lab. That's why, after listening to villagers tell him about inefficiency in this type of agriculture, he set about collaborating with them to design a new kind of planter. Now, after several iterations and tests, Moseson and his team of students have won $100,000 in funding from the Bill and Melinda Gates Foundation in order to mass-produce the tool on the ground in Thailand.
Where men would take branches with iron tips and plunge them into the ground to create holes for rice seedlings, followed by women with handfuls of rice, the new planter rolls all the actions into one. Upright, a person can strike the ground and deliver a grain of rice delivered by tube in a single, swift action. Most importantly, the material used to make the planters, PVC pipe, is widely available, even in the relatively secluded mountains.
Moseson, who first met the villagers of Bo Klua during his travels in 2009, had already developed a similar weeding tool–a PVC spear with an aiming rod–with his students after returning on trips in recent years. His team has also worked on water purification tools and manuals that the villagers have adapted and translated into Thai.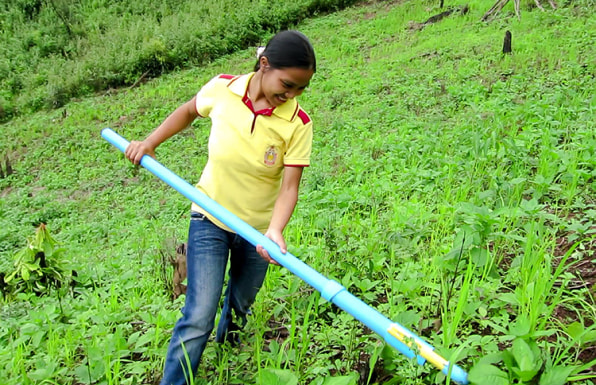 "We're not talking about the big rice paddies you typically picture with the growing of rice," he explains. "This is really a mountainside that used to be a forest. It was slashed and burned, and then they plant the rice in that cleared fields. When we talk about weeds, we talk about a forest desperately trying to grow back."
After years of interviews and town hall meetings, Moseson went about tweaking the traditional planting methods, but kept the essence of the original planting motion. "Something that's been refined over 700 years usually has a good reason for so being," Moseson said. "So it was that striking motion that we kept."
Fewer weeds and easier planting could promise better crop yields, but that remains to be seen. The third and current version of the planter also still has some features to be smoothed over. Sometimes mud can clog the planter, and rice delivery isn't as consistent as Moseson would like. That's why the first part of the Gates' Grand Challenges Explorations grant will fund another redesign of the planter, and next, Moseson and his team will create a regional center to mass-produce the goods.
"We don't see ourselves as the smart, rich outsiders that are swooping in," Moseson said, stressing the notion of "technology seeding," a principle of sustainable development he developed with the aid of Drexel professor James Tangorra in 2011. "We see ourselves as partners in this, not just with the end-users, but all the other stake-holders involved."