American Hustle is likely the only major motion picture in history to open with a comb-over scene: Christian Bale's vain con artist Irving Rosenfeld prepares for the biggest scam of his life by meticulously gluing a few strands of hair onto his nearly bald scalp.
It's the first of many funny/sad moments in which characters–including Irving's glamorous partner in crime (Amy Adams), his tempestuous Long Island wife (Jennifer Lawrence), New Jersey politician (Jeremy Renner), and a hot-curling FBI agent (Bradley Cooper)–play with appearance to pump up a fake reality.
David O. Russell's disco-era movie, based on the real-life 1978 ABSCAM sting operation in the conviction of seven U.S. congressmen, required an over-the-top aesthetic, explains costume designer Michael Wilkinson. "These characters live large. They're flawed but they burn bright."
Building on Wilkinson's slick outfits, detailed in the slide show above, hair stylist Katherine Gordon used old high school year books, Studio 54 archives, and 19th-century "Gibson Girls" as references to develop a neurosis-appropriate hair-do for each American Hustle character.
"When you're figuring out the hair for a character, you'd better have a backstory to tell the director," Gordon says. "You're inventing a person. It's the hair, it's the wardrobe, it's what's on the page–everything has to go together to be believable for a film."
Gordon, whose credits include Mad Men and Ocean's 11, explains how she worked with hot rollers, wigs and filmmaker Russell to create hot mess hair extravaganzas for the preening anti-heroes of American Hustle, opening December 13.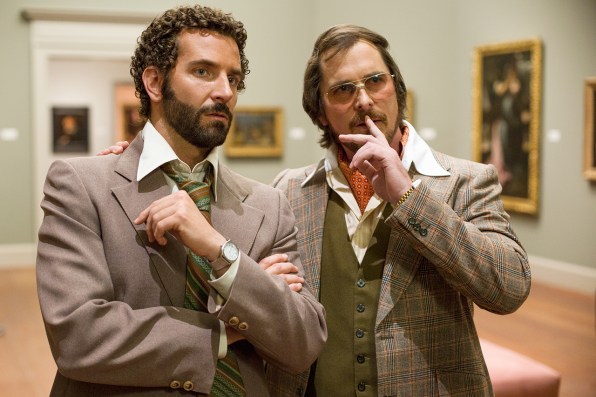 First impressions count for con man Irving Rosenfeld so Gordon decided Christian Bale's character should "stuff" his comb-over with an extra patch of hair to create an awesome-in-his-own-mind hairstyle. "Back in the day, men didn't shave their heads like they do today. Irv is a groovy guy and he wants more hair on his head, so that's how I came up with this crazy idea for what he could do to get more hair."
She says, "The comb-over was technically one of the hardest hair cuts I've ever done because Christian has so much hair in real life and it grows back very quickly. There was no bald cap or anything. Over two days, he and figured it out and we decided to leave that front piece of hair, which we named 'The Island.' It would never stay there without the glue. Never."
"Amy's character Sydney is all about fashion," says Gordon. "She wanted to change everything about herself and become this other person." Enter the perm.
Popularized by celebrities like Barbra Streisand and Cher, frizzy hair sprouted from the heads of chic Manhattanites during the disco Era. Gordon says, "I used a lot of stuff from Studio 54, where you'd get art people, politicians, Diane von Furstenberg. This was the hey day of Studio 54, so that was the look."
Gordon used tiny curling irons each morning to corkscrew Adams's naturally straight tresses. "It's very time consuming. If I saw anybody with a free hand, I'd be like, 'I got two irons plugged in, pick up an iron and follow me because we're in a hurry."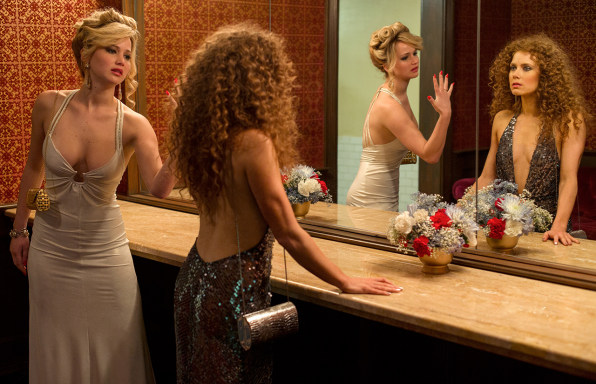 Jennifer Lawrence, wigged in real blonde locks to portray Irving's mood-swinging wife Rosalyn, embodied mainstream suburban glamor. Gordon explains, "Rosalyn is a housewife from Long Island, she watches TV, she does her nails and likes them long, she looks through fashion magazine. She's very different from Amy's character, who works in the art world."
Gordon needed to incorporate Russell's input. "David wanted Jennifer's hair up and he wanted her hair in her face," Gordon says."I looked at fashion pages and knitting magazines from the '70s and realized Jennifer should have what I call a modified Gibson."
The style, combining loose bangs and a swept up in back, takes its name from turn-of-the-century "Gibson Girls." Lawrence told Gordon she wanted to be blonde for the film, but had to keep her own hair clipped short and dyed dark brown for The Hunger Games: Catching fire , so Gordon designed a wig made of human hair. "Too often blonde wigs on camera look like wigs to me, but Stacey Butterworth did a gorgeous job making it."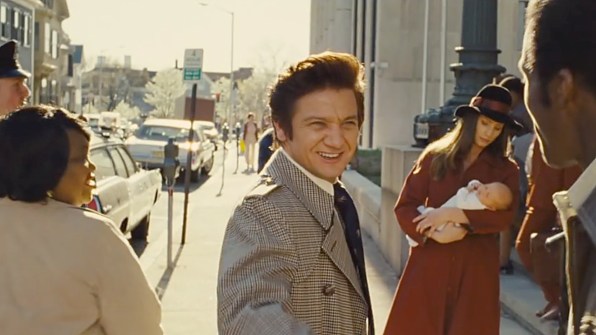 Portraying brassy Atlantic City politician Carmine Polito, Jeremy Renner sports the type of high-rise bouffant made famous by Mafia boss John Gotti. Gordon had a different reference in mind. "It's rockabilly," she says. "Rockabilly hair fits Jeremy's character because politicians are like actors: they've got to have some personality. Carmine is the the Speaker of the House, everybody's coming to listen to him."
Hair stylist Michelle Johnson spent 45 minutes each morning sculpting Renner's extra-fine hair into a helmet-like coif. Gordon says, "To get his hair to stay up like that for a 17-hour shooting day, you need to blow it in with gel, then use a curling iron and pull it back out to get maximum lift, then run your hands through it, then spray. Otherwise Jeremy's hair would collapse."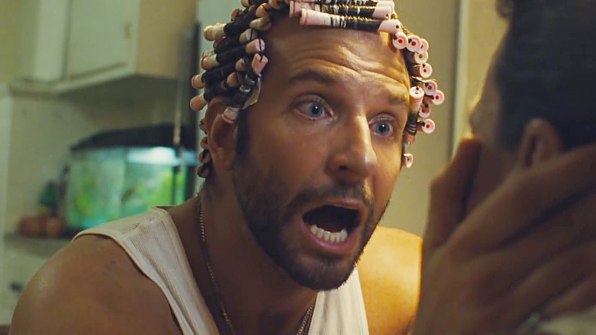 Like the con artists he supervises in American Hustle Bradley Cooper's FBI agent Richie DiMaso strives to re-make himself as an exciting wheeler-dealer. Cooper initiated the idea that Richie should have curly hair (styled for the movie by Lori McCoy-Bell). From there, Cooper explains. "Bradley and David took it to the next step and tied it into the theme of the movie: What if his hair isn't really curly? What if he curls it? That's one of the little hustles that all these characters do to survive."