You may not know the name James George, but you probably recognize his art. Working out of Golan Levin's lab at Carnegie Mellon alongside Jonathan Minard, he created some of the most stunning digital portraiture of our era–which then became a documentary–using little more than a Microsoft Kinect and a stock dSLR camera.
Recently, George was invited to become Microsoft Research's first ever artist-in-residence. And so for the past three months, he's had full access to Redmond's staff and technologies to create whatever he'd like for Studio 99, a creative space within Microsoft that was created about a year ago to inspire the merging of art and research within the company's most experimental arm.
"I had a moment a week in where I felt like a kid in a candy store," George tells Co.Design, "that feeling of overwhelming happiness of all the possibility, and also the knowledge that if I ate all of the candy, I'd feel sick."
What he created were three pieces using Microsoft technologies in inspired ways. The first is called Grip, a two-column video display capturing a pair of people in various 3-D poses, choreographed by Alice Gosti. George was inspired by a photography rig found inside the lab of Microsoft researcher Charles Loop. The rig combines the images from eight 2-D cameras to build a torso-length 3-D silhouette in real time. With a little coaxing, Loop agreed to help George build a rig that was five times bigger and capable of tracking two full-sized humans.
The result is essentially a 3-D version of human shadows. It's haunting, subtly architectural, and unabashedly digital.
"It feels like seeing yourself for the first time," George says of the work. "We're always defining ourselves through portraiture that reflects the technology at the time. We're continuing to excavate and define what the future might look like."
A second project, called Wall Queries, takes the images that Bing produces in response to a query and turns them into a massive, 9'x30′ mural. Everything in this mural is the result of typing the word "square" into the search engine. The images are organized partly by color, and partly by an algorithm George developed to help the final piece look more natural than your standard regimented image grid. (George actually arranged the squares by hand at first, leaning from his own aesthetic preferences, before programming a quantifiable ruleset for this algorithm.)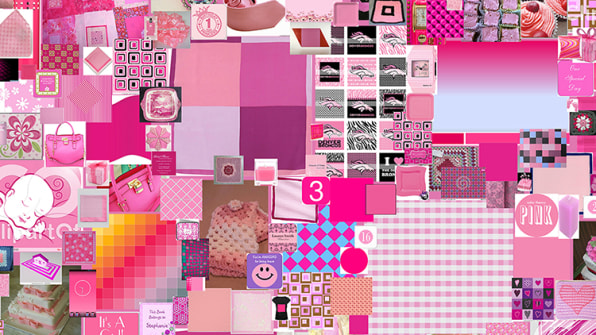 "Standing far from it, you see these washes of color, and then you get closer, and it's complete chaos, as if the Internet threw up on the wall," George says.
"I would like people to reach the point of also considering what's not in the image," he adds. "The inferences and biases of people building search algorithms are excluding things. There are levels of interpretation going on, and that's a level of awareness we need to have."
George's third project makes an even bigger statement on the companies–and the brands–behind the Internet. Again, using images generated in Bing, George makes a composite of people who've had companies like Microsoft, Dell, or Intel inked on their body. This fusion of technology and flesh elicits an immediate, visceral reaction.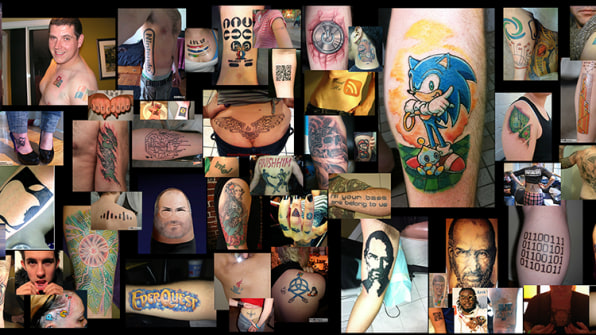 "I think your immediate response is that person is going to live longer than the relevance of that brand," George says. "One of the best images, a guy pointing to his stomach that reads 'Myspace, a place for friends.' It was obviously taken with a digital camera from around that era."
Good thing, George says, that Microsoft has a "sense of humor about everything." In fact, that sensibility is exactly what enables something like an artist-in-residence program in the first place–which will in turn help Microsoft foster an internal culture of creativity needed to compete in today's liberal-arts-centric world of tech.
Microsoft senior research designer Asta Roseway says that she was thrilled with James's interaction with Charles and the Bing team. "He's revealed a way for them to look at their work through a new lens," she says. "We were using James as our guinea pig because we wanted to understand how someone like him functions in an environment like this. But I think we're really really open to bringing in different types. We could bring a fashion designer in and look at the question of wearables, or a poet to come in and look at the question of language analysis."
Microsoft says it is now toying with expanding Studio 99's artist-in-residence program following this successful first run.