Is there life after Dead?
TNT's noir-themed Mob City–which begins December 4–might just have registered as just another new show were it not for the fact that it marks writer-director Frank Darabont's first return to TV after his surprising 2011 dismissal from AMC's The Walking Dead, after it broke ratings records and ignited a zombie craze.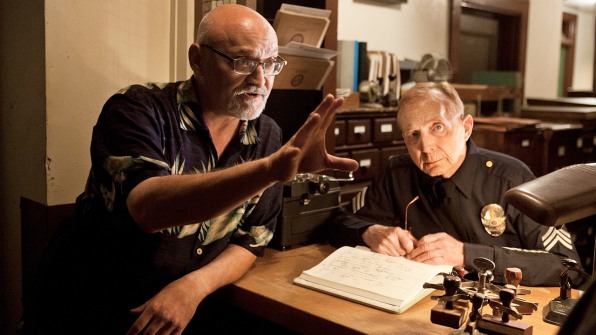 TNT–best known for Falling Skies and The Closer–is hoping for a similar touchstone with Mob City: from introducing an unfamiliar genre to TV, through flawed but compelling characters, to period stories that resonate with modern themes. It's a strategy that taps into a brand that its programming chief calls "smart popcorn"–broadly appealing entertainment that makes you think.
"For some, broad commercial appeal and creative complexity are mutually exclusive, but they're not," says Michael Wright, president and head of programming for TNT, TBS, and TCM. "The hardest thing to do is both at the same time. That's the target at TNT. We don't always hit it–but that's what we aim for."
TNT will roll out two episodes each Wednesday for three weeks to capitalize on December's pre-holiday programming doldrums. Meanwhile, sister network TCM will air a December 3 line-up of classic gangster films. "Noir is hard to sell on television," says Wright. "People who don't know the genre hear the word 'noir,' and think of a dark, sad, self-serious, depressing treatise. But most of it is wildly entertaining. Ours is an exciting ride, but at the same time will explore some pretty interesting themes."
Like those in Walking Dead, many Mob City characters walk a fine line between hero and villain, in a 1940s landscape of corrupt politicians and police, mobsters, and femme fatales. Basing the series on the 2009 book L.A. Noir by John Buntin, chronicling the real-life battle between Los Angeles Police Chief William Parker and gangster Mickey Cohen, Darabont embellished with additional research, creative license, and iconic location shots: Griffith Park, Union Station, Baldwin Hills oil fields, and Universal Studios' Hennessey Street–the backdrop of numerous noir B pictures.
"The book is a jumping off point, because I really wanted to live up to the promise of what a noir show would deliver"–historical facts served up in smart pulpy treatment, says Darabont. "So there's a tremendous amount of invention."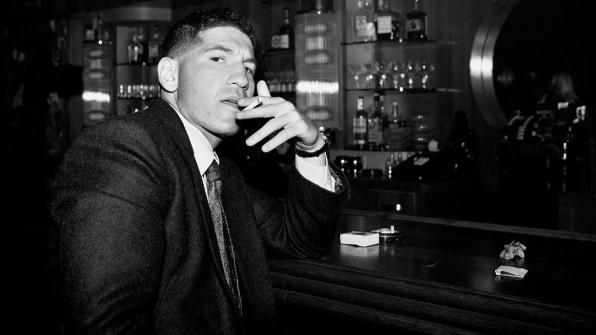 In fact, the lead character of Detective Joe Teague–played by Jon Bernthal, reuniting with fellow Walking Dead alum Jeffrey DeMunn–sprang from Darabont's imagination.
"When Frank brought The Walking Dead to the world, it was very much an effort to bring a genre piece to television that had never really been done before, and sell this genre to a mass audience through great storytelling and compelling characters," says Bernthal. "And I really feel that's what we're doing here."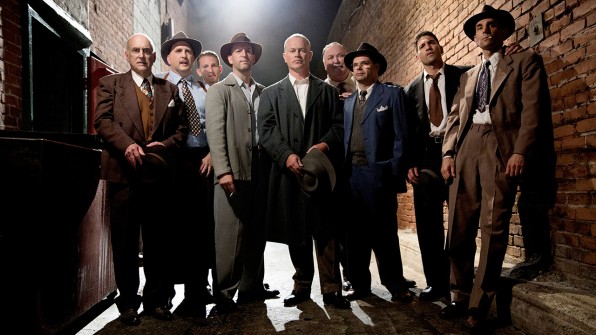 Darabont put his cast through noir boot camp–starting them off with classic flicks like The Third Man, Double Indemnity, and Sunset Boulevard, and lesser-known fair, like Union Station.
"How do you take something of that style back then, keep and honor it, and yet not be a caricature?" says Robert Knepper, who plays Sid Rothman. "The clothes are great. You put the clothes on, you suddenly start to feel the character. But you start to say these great words, Frank's words, and the barometer is always there to make it relevant for now, but don't make it modern. So it's always this delicate balance."
"Anytime you work with a writer-director, this story has already taken place in his head," adds Bernthal. "There's a common ground we had to find with my character, so that some of it came from me, and some of it came from him. But when you're dealing with someone like Frank, you really want to get it right and honor him. He knows exactly what he wants, and that's always a great thing in a director."
During the course of this production, technology caught up to that vision.
"I love shooting with film," says Darabont. "We shot the pilot on super 16 as I did on Walking Dead. And then, in the time that had passed since we shot the pilot and we were gearing up to do this, I tested the digital world again, and–this is going to turn into a plug for the Red camera–I realized that all my arguments against it were going away. I'm one of the last holdouts, but I've made the switch over [to digital] and it's been a fantastic thing."