Could a former law firm or accounting office be the perfect place to send out of town guests for a night? The architecture collective Pink Cloud thinks so, and is on a quest to transform vacant skyscrapers into pop-up hotels.
The idea started in Midtown Manhattan last year, at a time when landlords were struggling to fill entire floors of office buildings. Commercial tenants were leaving the area because of the struggling economy and because many buildings in the area looked outdated. But at the same time, more and more tourists were coming to New York and looking for places to stay. Pink Cloud's brainchild: a modular set of pop-up hotel spaces that could be easily installed and taken away.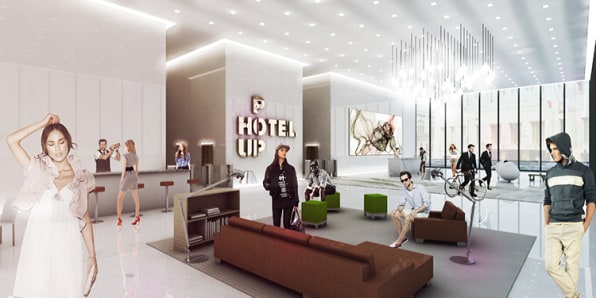 The conceptual design won first prize in the Radical Innovations in Hospitality contest this year. Now, though vacancy rates in Midtown have gone down, Pink Cloud wants to bring the idea to other struggling buildings and neighborhoods.
The pop-up hotel is designed to be built from a kit of parts neatly packed in boxes that are perfectly sized to fit on a standard pallet and just the right height to go on an elevator. Inside the color-coded boxes is everything needed to build different types of hotel rooms, dining areas, reception areas, and even event spaces. Someone running a pop-up hotel can customize and order the components needed from a menu of options and quickly set up an entire space.
The architects say that the result is the kind of place they'd like to stay themselves.
"We have always been inspired by unconventional uses of space and architecture, which often result in incredibly unique experiences, like the "Museum Sleepovers" at the Metropolitan Museum of Art, or "Subway Dining" in London," said Leon Lai, one of Pink Cloud's founders. "At the same time, as young frequent travelers, we are constantly looking for unique places to stay and perhaps meet other like-minded travelers like ourselves."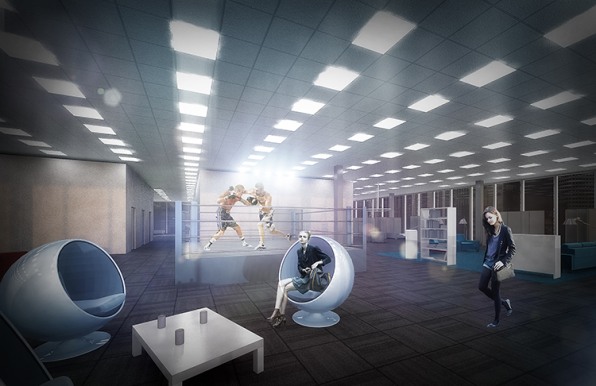 The design is intended to promote community as much as be a place to park one's body for the night. "We are fighting the existing notion that a hotel needs to mean privacy, it's almost dehumanizing. For a lot of visitors to New York, you go out during the day and have fun, playing at being a real New Yorker, you buy the T-shirt that says 'I Love New York,' stuff like that, but every morning, and evening, you go right back into your 18'x15′ box with a fan coil unit and attached economy bathroom," said Sam Olsen, also from Pink Cloud.
"We think that there's a line that people enjoy flirting with when they're on vacation–where they're a native, part of the community versus just a voyeur, or a on a day-pass to an alternate reality. Our design humanizes the experience, it promotes social engagement and human contact, while still giving people the opportunity for solace and rejuvenation," Olsen said.
Any city with vacant buildings and adventurous visitors could be a good fit for the project, the team says, and it's not limited to hotels. "A vacant warehouse in a different city could be transformed into something completely different," Lai says. "Cities like Hong Kong, London, Seoul would be great testing grounds for this proposal." Eventually, they say, the model could possibly be used for housing as well.
In New York, though the original buildings they had considered may no longer be a good fit, there are still other possibilities as businesses move into new spaces like the new World Trade Center complex and the West Side Yards. "We're seeing a trend where some really great looking post-war and International Style buildings that have already been modernized two or three times and just can't compete to keep major tenants in their buildings," Olsen says. "They are still incredible buildings, but they just don't have all the amenities that major law firms or banks are looking for."
Now the challenge is finding the right partners. "Building owners like to see business models that are really mature, with low risk," Olsen said. The team has figured out the logistical details–they say it's all legal, and they've figured out how to handle technical challenges like plumbing. But they just need someone with the right vision to take a chance on the first pop-up hotel.