In 1995, with his wholesale pastry business on the rise, Pascal Rigo, a French expat in California, was interviewed by a group of French journalists. They asked him what the future would be for his business, and Rigo pointed to Starbucks. Though already 24 years old, and rapidly expanding, it had yet to open its first international location.
"I told them that I was amazed at what Starbucks was doing with a simple product," recalls Rigo, "how you could scale a great coffee experience in the U.S." Who knows, he ventured to suggest, maybe Rigo's own business would grow large enough to work directly with Starbucks one day. "And then it did happen," he says now. "They called."
It happened in December 2011. By then, Rigo's La Boulange bakery was a staple of the Bay Area. Starbucks's M&A department called up Rigo, and soon he was sitting down with Starbucks CEO Howard Schultz himself. Rigo cooked at his home for Schultz. "It was one of the most memorable evenings of my life," recalls Rigo. He was sold–literally. In the summer of 2012, headlines announced that Starbucks would acquire the parent company of La Boulange for $100 million. "We are bakers, too," said Schultz in a statement.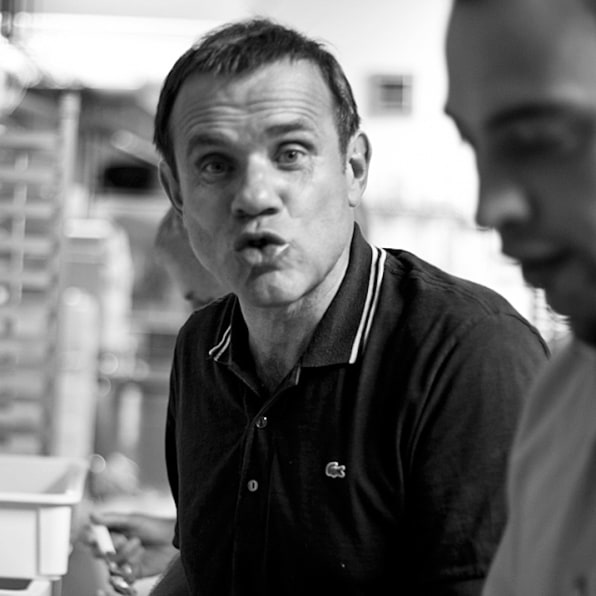 But Rome wasn't built in a day, and neither was the transformation of Starbucks's dining experience. Indeed, since joining the company last year, Rigo has had his work cut out for him, as he explains to Fast Company.
Rigo had his first day at Starbucks on July 4th, 2012; by January and February of this year, he had begun to roll out La Boulange products to certain Starbucks locations. He lists a few of the innovations that La Boulange products offer for Starbucks. There's the "laminate dough," or the layered dough found in a fine croissant, and the expansion into savory croissants. There are the small, individual sized apple cakes that become caramelized when warmed.
One of the biggest innovations, though, is a new effort to source food locally. Though massive chains like Starbucks typically aspire to a uniform experience across the country, Rigo has decided that to bring true quality to Starbucks food, it's actually essential to begin thinking in terms of regions. Therefore the apple cakes on the East Coast have their apples sourced from New York State, while those from the West Coast have their apples sourced from Washington State. "We made a very early decision that we will have a products that will be different everywhere in the country," says Rigo. The chocolate croissant you get in L.A. (with chocolate sourced from Colombia) won't taste exactly like the chocolate croissant you get in New York (with chocolate was sourced from Africa). But that's the point: because each croissant will taste better than the one you would have gotten had Starbucks insisted they be identical.
Making decisions like these is a massive task, often requiring transformations in the supply chain. Rigo tells the story of approaching a man who ran a croissant factory that spewed out 40,000 croissants per hour, most bound for Starbucks competitors. Rigo and his staff pitched the man on a different vision for his facility: a slower-moving line with more employees taking greater care, bringing the output rate to 10,000 pieces per hour. "He doesn't have to push all the time to get a mediocre product at a low price," says Rigo. "Now he knows that somebody in this market wants a quality product." Though labor costs rise, Rigo says that Starbucks still manages to keep the end price down, by using its scale to get a good rate from suppliers. "We're embracing people in the journey of getting quality food at scale," he says.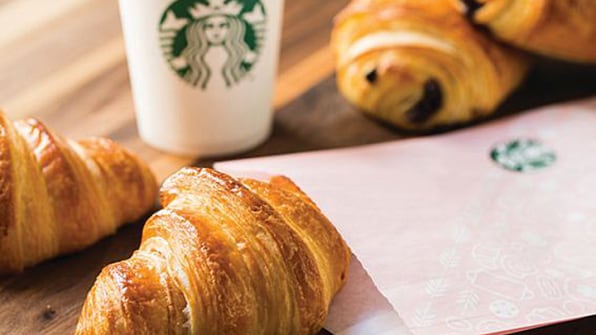 Still, the process isn't seamless. One reason you haven't heard a huge marketing push about how Starbucks has ditched its old food in favor of the new is because it's still rolling out the new menu. Rigo's baked goods are currently available in under half of Starbucks's North America stores, some 3,600 of them. The remainder should see Rigo's goodies by summer of next year, and Starbucks will presumably be better about trumpeting these improvements once they've spread across the board. "With marketing, it's been a bit difficult to jump in," Rigo concedes. "We need to be respectful of the food we brought to the customer before."
Once the new baked goods are widely available, Rigo will turn his attention to the rest of the Starbucks menu. He's already testing new breakfast concepts; a premium line of breakfast sandwiches should be launched nationally in the summer of 2014. After breakfast will come, suitably, lunch.
Many innovations are being pioneered in a growing research-and-development facility in San Francisco, says Rigo. What was once a 40,000-square-foot production facility for La Boulange has since been transformed into a sort of bakers' science lab on behalf of Starbucks; an adjacent 30,000-square-foot space has since been acquired and will be wrapped into the R&D lab next year. "It's an place to train our co-manufacturers"–like that man in Arizona–"where all bakers across the country are welcome to come, test products, spend as many days as they want with us, either working on products we're making now or products in the pipeline. It's a lively place where we talk, we eat, we experiment with new technology, and with different ways to cook." The superlatives keep coming: "The more I talk to you, the more I pinch myself–it's so exciting," Rigo gushes.
Rigo's the first to admit, however, that when it comes to making good food, even a master can stumble. During that fateful, energetic meeting when Howard Schultz first visited Rigo to discuss an acquisition, Rigo was cooking a halibut for his future boss. Only he got so wrapped up in the conversation, he overcooked it. "I completely forgot the fish was in the oven," he laughs.
Apparently it wasn't a deal-breaker–and you should be tasting more of the fruits of the new partnership in your local Starbucks soon.