By now, the release date of Lady Gaga's new album ARTPOP, you might already be sick of the cover image, designed by artist Jeff Koons. There it is, on billboards, in magazines, and on every website ever.
Or maybe you can't get enough of the Koons sculpture of the naked Mother Monster: clutching her breasts, legs splayed around a blue gazing ball, Botticelli's "Venus" collaged into the background, blatantly equating that ancient sex goddess with this modern one (and that ancient master artist with Koons).
Says Gaga of her partnership with Koons, "We bring ARTculture into POP in a reverse Warholian expedition." In her ARTPOP single "Applause," Gaga sings, "One second I'm a Koons, then suddenly the Koons is me." Did the pair succeed in their pop-ifying of high art? Do they share a real artistic genius, or merely a gift for self-merchandising? Co.Design turned to designers of classic album covers for their expert opinions on the Gaga-Koons collaboration.
The inimitable Stefan Sagmeister has created album covers for the Talking Heads, Brian Eno, and The Rolling Stones, and was a frequent artistic collaborator with Lou Reed. Nate Duval, master of band posters, has a client list that includes Wilco, Spoon, The Flight of the Conchords and Explosions in the Sky. Paula Scher has won four Grammys for her record designs, which include Boston's self-titled debut (you know the one).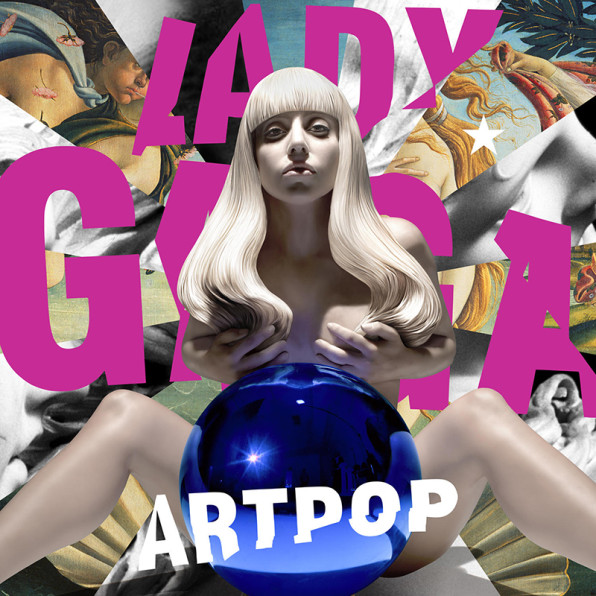 Co.Design: Do you think this Gaga and Koons collaboration is successful in its attempt to merge high art with pop culture? How might you have designed it differently?
Stefan Sagmeister: I am intrigued by the visual of the Lady herself. It is iconic and a good departure from past Gaga incarnations. Love the blue ball and hate the type. This would have been so much stronger without any typography.
Paula Scher: I LOVE the cover. It's hilarious, sensual, and beautiful. Just like Lady Gaga.
Nate Duval: It sort of looks hastily pieced together in Photoshop. Personally, I would have focused more on the statue, which does look intriguing, in a more realistic high-fashion photo shoot setting, aiming for a larger focus on an artificial/natural juxtaposition. Seeing the hand of the artist and layout work done digitally sort of softened the blow of the striking and thought-provoking image of Stephanie cast in plastic.
Co.Design: In an effort to get people to actually buy the physical album instead of just downloading it, the first half-million physical copies sold won't have a flat image cover. Instead, "Lady Gaga" will be pasted on, in hot pink metallic foil, and the word ARTPOP will appear in silver. Does this have potential to turn into a collector's item?
SS: That depends 100% on the quality of the music. If the album is epoch-making and genre-changing, then yes, this will become an icon. If it is, as I suspect without having heard it all, one more pop record, then it will not. We shall see.
In general, files, unlike vinyl and CDs, are not scratchable and therefore do not need to be packaged. This is why album covers lost their meaning–and the reason we have not designed one in a long time. The Koons-Gaga collaboration temporarily reverses this. It makes the packaging matter a little bit. The fact that we are talking about this can't be bad for her album.
ND: I think the foil version will look even more disjointed and be even less effective than the flat version. I think it will come off like some of the classic No Limit hip-hop covers of the '90s, where the type was constructed out of diamonds and gold.
Glitter and tricks don't always make something better, which I think is a funny sentiment that our fair Lady would probably agree with, too. A classic high-fashion shoot of the Gaga statue, with contoured embossing giving it a three-dimensional look, would have added to the level of realism and would have been a cool way to use an extra printing technique.