In what was supposed to be the Super Bowl of the new online music ecosystem, YouTube dropped the ball. Sunday's YouTube Music Awards were widely panned for being awkward and low on viewership. While Google's video giant dusts itself off and prepares for its next major foray into digital music, there's an opportunity for somebody else to pick up the ball and run with it: Yahoo. Yes, Yahoo.
Live entertainment events are still relevant and extremely profitable. The problem is that music awards shows like The Grammys and MTV's Video Music Awards aren't as exciting as they were pre-Internet. Still, people continue to discover music through them, which is why this year's Country Music Awards (CMA) will be connected through Shazam, making songs and performers easier to identify. The industry could use a modern successor to the VMAs, and by all accounts YouTube's awards show should have been it, given the site's massive role in online music. But according to the L.A. Times, Sunday's show saw a mere 155,000 live viewers (on a site that gets one billion uniques per month).
This is where Yahoo comes in. Why? One word: Tumblr. The Yahoo-owned microblogging service is a dark horse in the music space, just like YouTube or even Twitter. People love talking about and sharing music across non-traditional music platforms and Tumblr is the perfect candidate to take the lead, especially given YouTube's recent misstep. With somewhere around 90 million visitors, Tumblr is smaller than YouTube, but Yahoo is said to have north of 800 million active monthly users (not counting Tumblr), which is now more than Google.
Yahoo wants to be in the content business. That's what its $1.2 billion acquisition of Tumblr is all about. That's also why it overhauled Flickr, giving the photo-sharing site a new lease on life. The company has also purchased exclusive video rights to SNL and made deals with World Wrestling Entertainment, CBS, and others. More recently, they lured tech critic David Pogue away from the New York Times to launch a new consumer-focused site. The list goes on.
With its focus on content intensifying, Yahoo is ripe to make a move into the music space, a shift that's become increasingly fashionable among tech giants as of late. Launching Music.Tumblr.com was a small step in harnessing the power music-related content on the site offers, but it was only a first step. If any site is qualified to launch a new music event, it's Tumblr. Its community and personality–including quirky live-GIF'ing of live TV events–would fit in perfectly with the music industry.
What made YouTube the perfect candidate to host a music awards show is the same thing that makes Tumblr a worthy successor. It's the music discovery that the platform provides, even though that's not its main goal. YouTube gives people a half-legal way to find almost any song imaginable, and increasingly so does Tumblr. Animated GIFs, songs, lyrics, reviews, and pictures are all shared–and then reblogged–over and over again.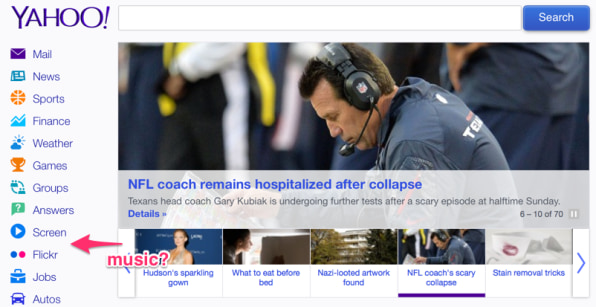 A music event could be a success for Tumblr, but a bigger win for Yahoo. Why does Yahoo need a music event? Because it's still not capitalizing on music like it's trying to in other areas. Yahoo Screen is a recent attempt to bring video content together on the site. Yahoo's sports offerings including fantasy football are extremely popular, but music is a forgotten subject for Yahoo. Having a dedicated music hub for music on Yahoo would allow the company to sell more ads against a popular topic and grow in a category that's been historically filled with a younger age demographic, something ad buyers love.
Live events have become a huge success for Twitter. In fact, the rumors are that the company has decided to align the failed #music app with its TV strategy in order to capitalize on its growth among TV viewers. Twitter's a social gathering place during live TV, but interestingly enough, Tumblr also has leverage in that area. Yahoo should consider, not changing Tumblr to focus more on music, but simply leveraging its massive audience and the engaged users that are already there.
Google had its chance to birth a new music event that should have caught fire, but it didn't. Yahoo, however unlikely, has most of the pieces in place to offer a worthy competing event.