While Carly Zakin and Danielle Weisberg were rising through the ranks at NBC over the past five years, the self-proclaimed news junkies had a constant stream of female friends turning to them to ask about the day's current events.
"Our friends would come to us on a daily basis and say, 'I've been so crazy, give me what happened in the world' or, 'I have a job interview tomorrow, give me two smart things to say,'" Zakin says.
Realizing there was no relatable, easily digestible source of news for busy, working women, Zakin and Weisberg, both 27, quit their day jobs and sent out the first edition of theSkimm, a free, daily newsletter that goes out at 5:59 a.m. each morning with Reader's Digest-sized versions of the day's most important stories. Each writeup in theSkimm, which is entirely written and edited by the duo, features a brief synopsis of the news, some background and analysis, and the takeaway, or (you guessed it) theSkimm. The goal is to leave even the busiest readers just-informed enough that they can feel confident bringing up the latest Healthcare.gov snafu or NSA scandal during cocktail hour.
An excerpt from a recent edition of theSkimm reads in the familiar, relatable tone Zakin and Weisberg have worked hard to channel in their writeups: "The U.S. is having a hard time in the relationship department lately. Germany is the latest country to be mad at the U.S. over trust issues. And yes, it has to do with Edward Snowden."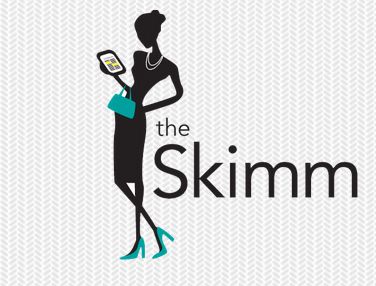 theSkimm's logo, which features the silhouette of a chic woman bedecked in pearls and pumps, clutching her smartphone, is emblematic of the reader it's trying to reach, who Weisberg describes as the kind of young woman who is a leader, "whether in paychecks or degrees." Zakin and Weisberg know these women are "an advertiser's dream, influencing hundreds of millions in spending each year," but they also know their "crazy-busy lifestyles" make it difficult to command their attention, especially when it comes to the news.
Which is exactly why theSkimm targets readers where they're already spending their time: their phones.
"We looked at what they were doing every day and they weren't tuning into the nightly news or opening the newspaper. When we look at what we do first thing in the morning, it's rolling over and checking our phones," Weisberg says of theSkimm's core reader. "A user wrote in saying their favorite thing about us is that our business plan doesn't compete with brunch."
Zakin and Weisberg hit 100,000 subscribers "very early on" after they began theSkimm last July, and say they've since seen "exponential growth," largely through word-of-mouth advertising. The two won't provide current subscriber numbers, but say around 50% will open theSkimm daily, compared to the industry average for newsletters of 7% to 12%. Earlier this week, theSkimm announced $1 million in funding from Homebrew, the venture capital fund run by Hunter Walk and Satya Patel, two former YouTube, Google, and Twitter employees (who are both male readers). The money will allow Zakin and Weisberg to scale their user base while maintaining their signature voice, which they insist–chick-lit-inspired logo aside–remains gender-neutral, meaning you won't find makeup or diet tips on theSkimm.
"The most important thing for us is that the news is not gender specific. It's not," Zakin says. "But we absolutely know who we write for every day, and who we have in mind."
The pair are also planning to use the funding to hire a couple of news staffers who will bring some balance to their editorial process, which currently begins around 4 p.m. and continues through the night and as they write and edit, in shifts, until they reach the final version they send in the morning. (Being roommates helps.)
The women swear they make time to take dinner breaks, sleep a proper number of hours, and have a bit of a social life, but Zakin admits: "It's like having a newborn baby."