Two years ago, when Bubbli got $2 million to build the next big thing in photos, Instagram had not yet sold to Facebook and SnapChat was working out of a living room. The not-yet existent app had impressed with a demo at TED, landing itself a writeup in the New York Times, among other media outlets, including Fast Company. Now, the spherical photo sharing app debuts in a space filled with lots of versions on the same social-photo theme. So is Bubbli an aptly named pinnacle of a social photo bubble about to burst, or something else?
In the venture capital world, when an app does well, it triggers a slew of "me-too" investment in similar ideas. "[Investors] missed a bigger opportunity, [and still] want a piece of a newly established market," Bain Capital Ventures' Matt Harris recently told the Wall Street Journal. In the fall of 2011, that had started to happen with photo apps after Instagram raised $7 million in February. Bubbli is one of a handful of apps that has since snagged some of that frenzy money. (See also: Color, Mobli, and Hipstamatic.)
Now, years into development, the app emerges in a very different market than when it received the initial investment. The social photo bubble has already started to hiss. Just this week, Everpix, "the world's best photo startup" according to one tech blog, announced its own demise. Bubbli might have arrived too late.
The founders, Terrence McArdle and Ben Newhouse, however, would argue that Bubbli is neither a photo nor a sharing app. First of all, bubbles–360-degree images of a scene–are bubbles, not photos. "You've certainly heard the expression photos don't do this justice," McArdle told Fast Company. "Our bubbles, we think, are the thing that fit the bill for when you're really trying to capture and share space." Bubbli's creators hope the term evolves into a specific documentary type: We'll have photos, videos, and bubbles.
The Bubbli experience feels different enough than viewing an Instagram or a Vine to warrant its own vernacular. Rather than a snapshot of a moment, or six seconds worth of moments, a bubble offers a view finder into a space. Rotating the phone up, down, and around gives a global perspective of a place, like standing inside a bubble with scenic wallpaper.
Newhouse likens the experience to memory. "If you think of your favorite memory, it's probably, like, Christmas morning when you're five. You're probably standing in that space with your parents on the couch. That's really a sphere, it's not rectangular. You don't imagine a rectangular photo," he said. Viewing a bubble, then, provides the same visceral experience as remembering.
That distinction might help Bubbli stand out in a sea of image-sharing apps, which seem to shutter as often as they materialize. If the app creates a different experience, it has a chance of catching on with users. "To really succeed, an app would have to be an entirely new medium or way of distributing or sharing photos," Weston Gaddy, a principal at Bain Capital, told Fast Company.
The founders think they have also created a new "medium" as well. They don't see Bubbli as a "social" platform. In its current form, the app hooks up to Facebook and users can follow friends, or "friends," just like Instagram. While that sure sounds like Instagram for bubbles, the app allows for sharing outside of the system, too. Users can embed their bubbles all around the Internet–a feature Instagram just added this year. Giving the entire Internet access will allow people to decide Bubbli's purpose.
"If we pigeonhole ourselves early, we might miss the big home run," explained Newhouse. "The best way to shoot across all cylinders is to go consumer and have them help direct us where we focus our energies for businesses."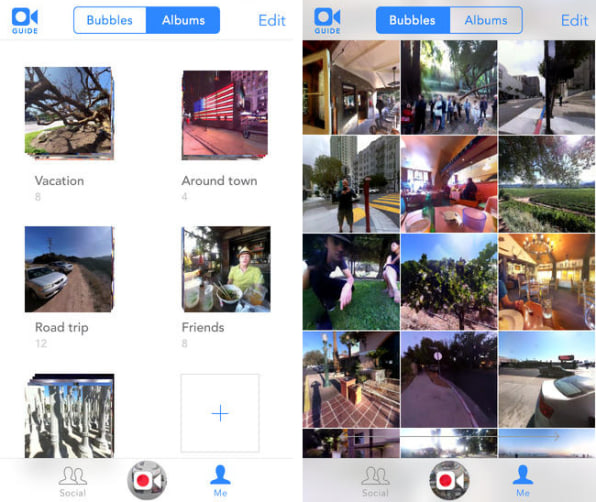 So far, the most obvious angle seems to look a lot like photo sharing between friends. The high quality of the images makes Bubbli a perfect gateway into beautiful natural spaces, like national parks, where McArdle came up with the idea. He wanted to create a way to capture "unphotographical" parts of the park. Indeed, looking at the sample bubbles from Yosemite, they feel more complete than an Instagram. When they're done well, at least.
Experience sharing apps need low barrier to entry for users, says Gaddy. Video apps haven't caught on for that reason, for example. Bubbli could go that way, and the founders know that: "Instagram is successful because it really focuses on ease of use," said Newhouse. "That's something we've tried to do given how hard this medium inherently is."
The creators claim they made the process easier than, say, putting together a panoramic photo. "If they can just go at a slow enough pace and just paint an environment, we'll take care of the rest," said McArdle, before boasting that he has made a bubble in a mere 15 seconds. But, it's more cumbersome than that: You have to rotate the phone with your wrists while walking around in a circle. It's not an easy skill, nor is it subtle. To ease the process, the app includes a series of instructional movies.
It's hard to envision millions of people sending each other bubbles. But that might not matter. Newhouse sounded very excited that a Parks and Recreation department wanted to integrate bubbles into their website. He also mentioned journalism, design, and real estate as possible businesses that would use his creation. Bubbli's best hope is to emerge as neither a social or a photo app, since we already have enough of those.