Viddy's new CEO, JJ Aguhob, has his work cut out for him. But today, in an attempt to shed the social video app's tattered image, Aguhob announced that Viddy was rebranding as Supernova and launching two new apps.
One, Clique version 2.0, is a quirky group photo-sharing app that I find to be somewhat of a mixed bag. But the other, Epic, is a clever and fun video-sharing app that could breathe new life into the beleaguered startup.
Aguhob feels Epic has what it takes to stand out in the over-saturated social market. The app allows users to capture short video clips (usually four to eight seconds) of content and display them in slow motion without sound. It sounds random, but it's surprisingly fun. The brief clips, dramatically slowed down, have a cinematic quality–they're not the erratic, jittery videos we're used to seeing on other services. And because the slow-motion effects exaggerate the length of the clip, Epic content feel less like video and more like time-lapsed images. "It's a really quick capture–it almost feels like you're taking a photo," Aguhob says. "It's more about the beauty of the visuals."
He points to an example of his dog playing with another puppy. In the clip, the scruffy duo barrel around a couch. "You can see the fat moving–you can see their hair!" Aguhob beams. "It's mesmerizing."
When Viddy launched several years ago, the app, which enables users to add Instagram-style filters to short clips, was a promising entry to the social space. The startup attracted a frenzy of VC attention and backing from celebrity users. It rocketed in popularity thanks in part to Facebook's open graph, which drove significant traffic to the mobile service.
But then things took an abrupt and unfortunate turn: Facebook turned off Viddy's graph access; Instagram and Twitter's Vine became popular video-sharing competitors; and Viddy's growth slowed, reportedly leading to the departure of cofounders Brett O'Brien and Chris Ovitz, as well as the return of a substantial amount of venture capital it had raised to investors.
Aguhob says the startup isn't giving up on Viddy just yet–he delivers very well-rehearsed answers when asked about the company's troubles–but it's clear the focus is now on these two new services.
The difficulty in launching a new social product is that it typically requires discovering some untapped and often unexpected je ne sais quoi. Sharing applications don't usually get off the ground simply for enabling users to exchange media; rather, it takes a certain measure of magic (and luck) to surprise and delight users and set an app apart from competitors. It's partly why Instagram, with its stripped-down filter features, took off; why Snapchat's ephemeral photo-sharing caught on; and why newcomers like Frontback, which stitches selfies together with forward-facing shots, is gaining steam. (It's also arguably the reason why Twitter keeps its now arbitrary 140-character limit and Path its 150-friend maximum.)
Like any social media service, the success of Epic's soundless, slow-motion video capture will depend on the creativity of the community. The examples Aguhob showed me were fun. And users could love making slow-motion clips or maybe they'll find them to be just a short-lived novelty.
Regardless, Epic's features do highlight issues with other video-sharing services, such as Vine and Instagram. Whereas Epic enables users to easily create a video that looks, well, epic, creating beautiful videos on rival services has been a pain. Instagram, for example, has always aimed to enable users to share images fast and beautifully. But that mission hasn't translated so seamlessly to Instagram video, despite some impressive features the startup has implemented. "Video, at least the amateurish footage I shot, is the antithesis of that fantasy," wrote the New York Times's Jenna Wortham in her very smart critique of Instagram video. "Video is imperfect. It's a lot harder to craft a perfect video of your outdoor picnic, of waves crashing at the beach. It takes a lot more thought to turn the everyday quotidian into the spectacular, regardless of the dozen filters, editing effects and smoothing software that Instagram's new video feature offers."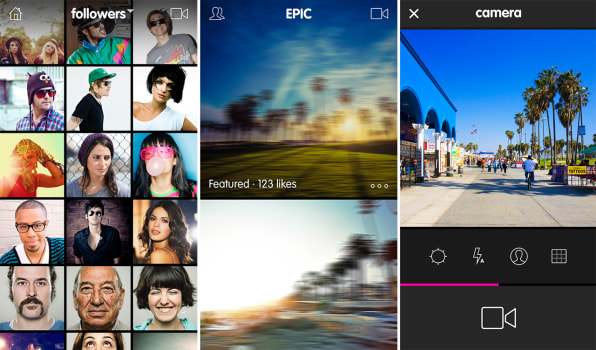 Worse, many video services feature sound and looping, another (potentially annoying) element users must consider. Sound captured on mobile devices is often low quality and grating. And with looped content, the sound often only works to make video feel more choppy.
Aguhob's team did consumer research and learned that "the younger demographic is not comfortable with video sound." What's more, the startup found that by slowing down the video, it allowed for more elegant captures and smoother transitions. In other words, more beautiful content.
Still, the arbitrary restrictions might limit the potential of Epic–it's not likely to become a powerful tool for, say, spreading news, like Twitter and Instagram have become. And because the feature is so simple, it won't be difficult for Instagram and Vine to add their own slow-motion effects, rendering Epic's differentiation moot.
Aguhob argues that Epic's sole, ultra-specific slow-motion feature will set it apart from other services, which are perhaps encumbered by too many editing widgets. And because only the iPhone 5S camera can capture slow-motion video (which can't yet be easily exported to sharing services like Instagram), Aguhob believes Epic will make the feature more universal, since the app works on iOS 6 and on devices as old as the iPhone 4.
Plus, Aguhob reminds, Viddy still boasts 40 million users–a strong base that he says will help seed Epic's network.