So you're teetering on the edge of starting your own business and you're looking for advice. Here is mine: Go get yourself a mountain bike.
Sounds weird, I know, but after risking life and limb, pouring heart and soul into both activities, I've found there's not that much difference between the two.
Take this photo–five smiling souls, basking in the accomplishment of a long day out riding in the elements with a capital E.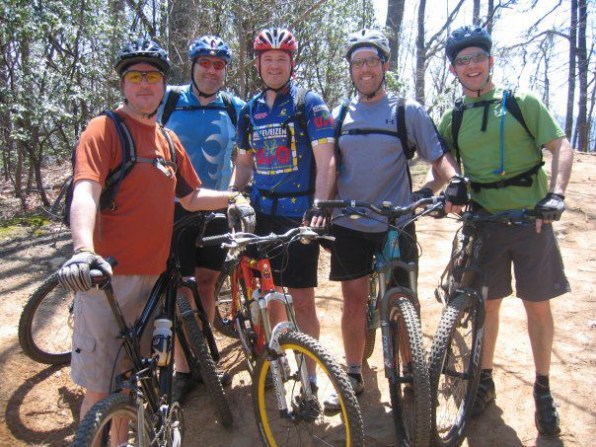 It's the same with startups. A group of us are sitting around in our casual dress, in our open floor plan at the newly remolded, ultra-hip American Underground @Main, an office space designed specifically for startups in downtown Durham, North Carolina. People walk by; look in the plate glass windows and think, Gee that looks like fun.
But just like the biking photo, there's so much this picture DOESN'T show. Think five-mile climbs, sheer drops, trails that threaten to slide right out from under and send you sprawling. Startups, like mountain biking, are a lot harder than they look.
Yes, we're smiling in the picture. We're smiling from sheer relief.
I don't mean to discourage you. Being the fourth person hired to start up a new division for a Fortune 500 company–and then grow it to $125 million in less than three years, acquire a $400 million publicly traded company, and ultimately see our division become a billion dollar business–was one of the most exhilarating experiences of my life.
But do be prepared for the long hours, constant juggling, and fatigue that come with being your own boss and your own staff, all at the same time. The climb is long and hard. That's another lesson you'll learn in both startups and mountain biking. Success will not be instant. You commit for a long, grueling haul.
And there will be times when you think you don't have it in you. Falling hurts–so does failing. I've suffered broken bones, separated shoulders, and concussions. I've also had to layoff great people and good friends. But in mountain biking and startups you have to get up, dust off, and ride again.
It's all about the wind in your face–momentum is everything. That's the last of my truisms about startups and mountain biking: Ride the momentum–I've learned that momentum on a mountain bike can carry you across almost any obstacle encountered on the trail. The same is true in startups. Focus every day on acquiring new customers and growing revenue. Revenue momentum can carry you through almost any startup challenge.
So far, I've survived three venture-backed startups (and three exits) and I'm now in my third self-funded startup. The broken bones have healed for the most part.
But the trail still rises and falls dramatically. There are days when it seems impossibly steep. Others, when I'm almost coasting downhill with the parking lot and a cold beer in sight.
That's business as usual in the world of startups. Hang on for dear life and enjoy the ride
—David Rose is an entrepreneur, music lover, tech enthusiast, mountain biker and CEO at PRSONAS. He lives with his (very patient) wife and two children in an old farm house just outside Chapel Hill, North Carolina. Follow David on Twitter at @davidbrose.