An alarming fallout from the school closings sweeping the U.S. is empty–functionally abandoned–buildings. Lots of them. More than 1,900 public schools closed in this country during 2010-2011 (which is the most recent data from the National Center for Education Statistics). Another 1,800-plus closed the school year before. What's to become of these shuttered facilities, many of them anchors of their neighborhood, veritable town squares gone dark?
Instead of letting them sit vacant for decades until demographics change and budgets are restored and they're needed again as schools (which is often the response from school districts and cities), why not reactivate them–now–as "for lease" community assets before they become stewards of urban decay. A team of us in Dallas brainstormed that idea into fruition this past summer.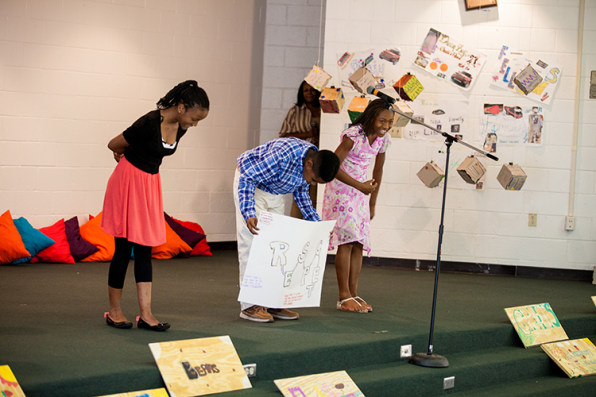 Troubled but inspired by the closing of 11 schools in the Dallas Independent School District (ISD), we developed a process for repurposing closed schools not just in Dallas, but anywhere, and made our pilot intervention at the shuttered N.W. Harllee Elementary School in south Dallas. We reinvented and reopened that school (albeit for just six weeks) as the Summer Leadership Academy @ Harllee Elementary and saw 50 teenagers graduate from a program that taught them life and career skills.
"Activate"–motion–was key to what we did here. The goal was not to get it perfect, but to get it done. Harllee closed its doors in May 2012. The leadership academy opened them again in July 2013. Our process: grassroots activism.
Within a month of the January 2012 announcement that schools would be closed, a small group of architects and designers from Gensler's Dallas office came together to brainstorm solutions, all of us committed to the belief that architecture is not just about building buildings. It's about the impact buildings have on the community. It's about place making–and this was an opportunity to jump in and help our city re-establish vibrant places where holes in the urban fabric had opened.
After researching each of the 11 closed schools, we chose Harllee Elementary for our pilot intervention, because it offered a dynamic trio: political support (Mayor Mike Rawlings is pushing hard for investment in south Dallas); the right facility (Harllee is a historic building); and the right community engagement. The Golden Gate Missionary Baptist Church was an enthusiastic ticket into the community. Not just a church, it's a pillar of this neighborhood with a long legacy of pastors as community leaders.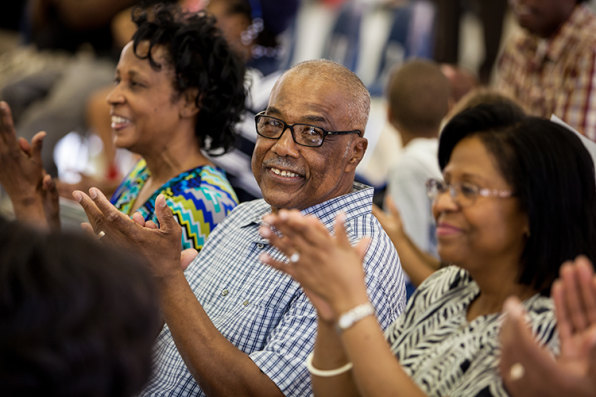 We were able to quickly join forces with the church. Our vision for reopening the school fit its mission of improving the neighborhood. We had the resources to get this done; the church could summon up the community support. We all had to summon up significant money.
We had to be well funded to be taken seriously by the city and school district leadership. There would be no handouts, no free use of the Harllee facility. And so, we quickly reached out to other nonprofits and community organizations to help raise seed money. Among them: buildingcommunity WORKSHOP, Two-Wins Foundation, and American Care Foundation. Over the course of 10 months, we raised $30,000. The church's nonprofit arm–Golden SEEDS Foundation–was responsible for half of that fundraising.
Others made contributions as well. Dallas Housing Authority provided free lunches to the kids during the academy. Texas A&M University-Commerce provided buses and campus tours for the kids. The city of Dallas Park and Recreation Department provided resources and furniture. Golden SEEDS gave not only financial support but staff resources and breakfast for the students. And my firm, Gensler, contributed pro-bono staff time to make it all happen.
About the same time we were building the relationship with the church, we sought a similar "meeting of minds" with the school district and city–obviously, an important hurdle. We needed to secure the use of the Harllee school building. We "sold" our idea first to Dallas ISD board president Lew Blackburn, who then worked behind the scenes on our behalf and helped assemble a larger meeting with city staff (legal, real estate, and security staff) to iron out the logistics and terms. Everyone at the city and school district was terrific. They wanted to see this happen.
The idea of a summer leadership academy was specific to Harllee and its community. It was the outcome of meetings with residents of The Bottoms (as the neighborhood is known), who told us they wanted a program for their 13- to 17-year-old children (kids too young for jobs, too old for summer camp). They wanted a program that would build up their teenagers, teaching them lessons in leadership and developing their creativity, teamwork, and even fitness. A focus on education/college and careers would be woven throughout.
It took us roughly nine months from the start of those neighborhood meetings to create the academy and reopen Harllee, and throughout that entire process, we kept things grassroots and personal–and moving. The core committee (which numbered just eight people) had weekly meetings at the church. The curriculum was developed during this time, again a grassroots effort from the core team, which also secured the four teachers we hired–and paid–to run the program professionally.
We had 25 students for each of the two, two-week sessions that constituted the academy. All of them paid $30 to be there (levied to garner their commitment) or got scholarship money, which was available for those who could not pay. The kids saw a school that looked very much like their beloved Harllee with the addition of a colorful (pop-up and reusable) entry portal that the Gensler crew created along with new signage announcing the academy and some classroom props.
In one of those rare "lightning strikes" moments, everyone–the kids, the neighborhood, the school district, the city council–was surprised and thrilled with what happened here. There will be a Second Annual Summer Leadership Academy @ Harllee next year–again, a short-term usage for the school; the goal would be to add programming to keep the building open year-round. And city council members in other districts where schools have been closed are being asked by their constituents to likewise reopen "their school."
Let the place-making begin.
Ted Kollaja is a Principal with Gensler, a global design firm