Welcome to another installment of Fast Company's Leadership Album of the Week, in which we make a pathetic (but inspired!) attempt at misinterpreting famous song lyrics for the benefit of your productivity.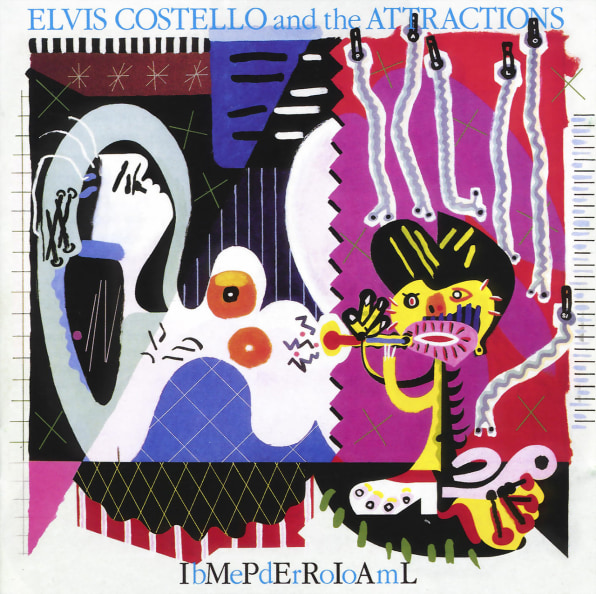 Last time, we took a survival-filled look at Destiny Child's resilient, 21st-century (2001, baby!) smash hit Survivor. If that's not enough, don't forget that we've already gone from glam rock to grunge. The lessons, like the lyrics, are timeless–so feel free to hop around.
Today we explore the work of Elvis Costello. Imperial Bedroom may have been released in 1982 (that's more than 30 years ago, mind you), but Mr. Costello is still making headlines today–most recently with his collaboration with the Roots entitled Wise Up Ghost (and Other Songs).
Now, before we get started, a few things to remember:
1. Play the video.
2. Understand that we take lyrics completely out of context the value of our insights.
3. Repeat.
I've got a feeling
I'm going to get a lot of grief
Once this seemed so appealing
Now I am beyond belief
We start the album with a case of bad decisions. It certainly sounds like Mr. Costello has some regrets. To not follow in his example, let's talk about the right way to make choices.
Decision fatigue seems to be the mental equivalent of "hanger," that dreaded combination of hunger and anger. As decision after decision depletes your willpower, New York Times writer John Tierney says, you'll eventually do one of two dumb things:

Act impulsively: Since you have no energy to think about consequences.

Do nothing: Since you have no energy to agonize.

In this way, if we don't learn to manage our energy, we won't be able to manage our decisions.
And, of course, it always helps to ask yourself:How do I make tough decisions?
Almost blue
Almost doing things we used to do
There's a girl here and she's almost you
Almost all the things that your eyes once promised
I see in hers too
Now your eyes are red from crying

Almost blue
Flirting with this disaster became me
It named me as the fool who only aimed to be

Almost blue
It's almost touching it will almost do
There's a part of me that's always true . . . always
Not all good things come to an end now it is only a chosen few
I've seen such an unhappy couple

Almost me
Almost you
Almost blue
Believe it or not, the lyrics above make up the entirety of the song. And, because Costello's lyrics can be so complex–so much that they make it difficult to misinterpret effectively–we're going to focus on the length.
If you need to make a big impact (you know, kind of like "Almost Blue"), you're going to want to keep it short. Especially in your emails:
The key is understanding if we're trying to get our recipient to take some sort of action from the prompt that we give them. If so, that action–and its motivation–needs to be as clear as possible, delivered as cleanly as possible.

Since people are both busy and lazy, they're "more likely to respond to information requests–whether important or trivial–if they're easy to address," as Quartz recently reported. And even if a message is important, if it's too complex, it won't get a response.

What we need to do, then, is be like Steve Jobs, David Karp, and Toyota head Akio Toyoda and appreciate the user experience of our five-sentence products.

That way, our messages will get read–and replied to.
The biggest wheels of industry
Retire sharp and short
And the after-dinner overtures
Are nothing but an afterthought
Somebody's creeping in the kitchen
There's a reputation to be made
Whose nerves are always on a knife's edge
Who's up late polishing the blade
Is the song about a political scandal? A murder? A personal story? Who knows (shh, someone knows), so let's talk about a man out of time!
Silence is golden
Money talks diamonds and ermine
There's a word in Spanish, Italian, and German
In sign language, Morse code, semaphore, and gibberish
Have you forgotten how to say it
In your Pidgin English?
As it turns out, silence really is golden in business.
Take the meeting, for example: most of them are distracted, egotistical, or pointless. We talk too much, and only listen to the person who appears to know more than everybody else–not the person who actually does.
So maybe we should learn how to take silent meetings?
The gentle, participatory nature of silent Skype fits perfectly with our group's desired approach to social change. The typed method accommodates people who are more comfortable reflecting before speaking, while those who prefer speaking off the cuff still have an equal chance to share.

The soft nature of silent Skype also makes it easier for new team members to step in as valuable participants in meetings. For example, a new person can take on the Chair's role almost immediately. Leading our text-based meetings is far less intimidating than doing so in person, since there is very little need to mediate the conversation. Inexperienced Chairs can see how others have done it by simply looking through past transcripts.
Think about it. In a "silent meeting" you can just plug in your headphones and listen to music all day.
How about some Velvet Underground?