We should no longer spend time and money embracing what's new.
In fact, we shouldn't even look at change as a transition. Rather, we need to find ways to embrace change as a catalyst for growth. Four forces are key drivers of change in the digital world. Embracing them is key to our success as businesses, and key to our ability to compete as brands. Let's explore them.
Contextual technology and seamless, always-on interactions are paving the way to a brave-new world of real-life digital experiences, where "real" and "digital" are one. The very notion of digital context is quite dramatically disrupting the landscape. KPCB's Internet Trends 2013 reports that growth in time spent on Internet and mobile marketing is outpacing ad spend in those same channels (as seen below).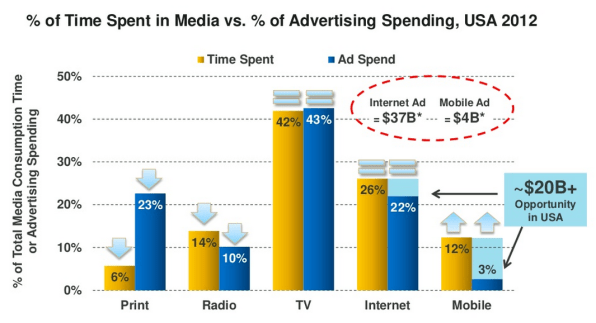 KPCB identifies a potential $20 billion opportunity from that gap alone. Interestingly, contextual channels, led by mobile, are the only ones concerned. What is really happening? "Multi-context" experiences are disrupting digital advertising and targeting must evolve. As mobile usage grows exponentially, connected devices are truly challenging advertisers to understand how and when to connect with consumers.
Key to embracing experience as force of change is the need to create contexts our consumers can opt into or even live within. A few forward-looking trends (below) point to a future where personal data drives deep experiential value, and seamlessness is an expectation.

Handshake, a personal data marketplace, is an early believer in an open, permission-based model for monetizing personal data. iBeacon, a new technology most recently explored by the MLB at CitiField Stadium, has the power to bring micro-location and location-based digital experiences to a new level.
Also key is the notion that there are growing amounts of digital information that come to augment and improve our real-life experiences. Very soon, this information will be vital to us. Our world will be digitally remastered. Consumers will come to fully expect the virtual within the physical in a variety of ways illustrated below.
While brands used to promote presence via SEO and media, the challenge now is to infiltrate the real world with valuable digital content.
The last and probably the most important aspect of experience is that destinations are being replaced by massively networked information. Technology, social networks and communities have fueled consumer creation. This crowdsourced data has already given us a glimpse of what's ahead, as seen below.
One of the most exciting things in this changing landscape is that reach is largely network driven. This is fundamentally changing the way we think about content distribution.
Our digital imprints are everywhere and more revealing than ever. Brands will tackle a critical challenge and tap into a giant opportunity: acting on rich and dynamic consumer intelligence.
Social media, especially the public kind, grants us the opportunity to understand our customers, even when they're not around. Our businesses may be closed, but digital works 24/7. We'll leave the big data revolution discussion for another post and simply present a few powerful trends (below).

Top of mind for marketers these days is the art (and science) of "right-time" content. Behind numerous Oreo #blackout style attempts lies a pressing need to blend real-time data and creativity to stay relevant to our consumers. This will soon be table stakes, not innovation.
What could soon take center stage and revolutionize targeting as we once knew it is neuromarketing. Detecting patterns in digital and social behavior derived from data "signals" will soon be how we drive results. In fact, Facebook has recently "gone soft" on its Edgerank algorithm, instead focusing on a future where deep Artificial Intelligence will learn to understand user behavior within a probably creepy level of accuracy.
Attention is an old currency. Audiences just don't have it anymore. Behavior is the new black. Digital engagement must drive behavior or it simply won't matter.
As we increasingly need to catch our consumers along their digital journey, or even lead them along ourselves, behavior and motivation become a critical piece of the engagement puzzle. Monetizing desire through gaming metaphors is a powerful yet underrated way to drive business results. As digital becomes ubiquitous and gaming more mature, the physical world as a digital playground is just one of the exciting things we can look forward to (more below).

Real-world gaming, as well as evolved gamification engines will blur the lines between business and pleasure. Digital communities that are based on real-world gaming metaphors (think Nike Running) will take on much larger proportions than traditional communities. Macro-communities will be a lucrative and disruptive business, driving results at the surface while driving change at the core.
It's the end of the world as we know it. Brands stand with the people, in a world where "macro-shifts" are occurring through "micro-movements."
Digital has changed the way we live, work, play, love, hate, protest, and more. It has become a catalyst for social change and action. It has driven an unprecedented ability for companies to be born and to grow, for people to connect and accomplish. We can really do absolutely anything together. Here are just a few (see below).

Brands and companies need to carve themselves a place in a connected society and embed themselves in its new ways. Crowdsourced innovation, venture funding, social change or social capital are some of the ways to truly be a part of change.
Experience, intelligence, behavior, and culture. Four ways to think of giving your digital strategy what it needs to succeed. Create contexts, love data, monetize desire, and be part of digital movements.