A game for every occasion is the premise behind Tiny Games–a mobile app that reinvents the Victorian parlor game while challenging current gaming convention with its promise of fun social games for users to play when they're out and about in the real world.
The app, launched in the App Store this week by London-based game design studio Hide & Seek, comprises hundreds of games–250 have been developed so far, with more to come–each optimized by location, number of players, and players' mood.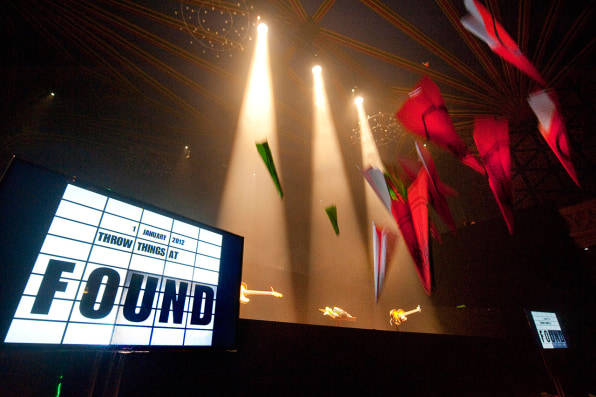 "Fire up the app and indicate where you are, who you're with, and answer a few questions about how you are feeling and you receive recommendations linked to your specific location," says Hide & Seek founding director Alex Fleetwood.
Some require players to have access to certain real world props–knives, forks, and spoons if you're standing in the kitchen, for example–while some simply provide the user with a game idea.
Others, meanwhile, require a spinner, timer, shape, or random word generator–all of which are available within the app. All, however, are simple and quick, he adds: "It's all about bringing the ease of access we've grown familiar with in the digital world to real world play."
The idea for Tiny Games came from the six-year-old game studio's founding principle: "inventing new kinds of play."
Hide & Seek's aim is to challenge the conventional definition of video games and the notion that they should be all about escaping into a fantasy world. And its work since launch was revolved around how, as gaming grows more mainstream and players more sophisticated and diverse, game culture impacts on the real world.
Until recently this meant working on diverse array of projects for commercial partners and clients. The studio's output–typically, to support third party, real world products or events–has ranged from live urban games to treasure hunts to Facebook applications.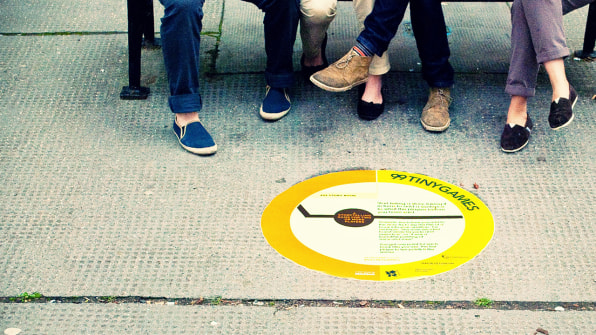 Past projects include Dreams of Your Life–an interactive online experience to support Film4's acclaimed 2011 drama-documentary Dreams of a Life.
However the studio has long wanted to create its own IP in order to retain creative control and build and develop a one-to-one relationship with its own game-playing audience.
"The idea for Tiny Games came from this and a specific challenge we set ourselves a while back to see how much game you could put into a single Tweet," Fleetwood explains.
The first step was a project to produce 10 location-specific games for play by visitors to London's Southbank commissioned by the Southbank arts center in 2011. Brief instructions for social games such as People Pooh Sticks–an adaptation of Winnie the Pooh's favorite, played from a high-up vantage point looking down onto pedestrians passing by beneath–were outlined briefly on vinyl posters.
Then, a year later, Hide & Seek was commissioned by the Mayor of London's office to create an extended version for the 2012 festival that preceded London 2012 by installing Tiny Games across each of the capital's 33 boroughs. Earlier this year, the studio raised additional funding–and established a an initial thousand-plus test market–through a Kickstarter campaign to enable a full-scale consumer launch.
"With the Southbank and Mayor's office projects we were able to prove our concept and, also, our ability to create enough games–which to begin with we did question," he adds. "But once we got into the swing of it we found it really hard to stop."
Designing Tiny Games is truly a team effort with all 12 members of Hide & Seek's full-time staff centrally logging ideas for new games on an on-going basis. From these and others proposed by third-party games design talent such as Jane McGonigal and Bernie De Koven, the strongest are identified, developed into concepts then tested in what Fleetwood calls "an endless content strategy."
Ease of play and simplicity of instructions are key qualifications for a game to meet the Tiny Games brief. As are games that, rather than taking someone away from the present, employ the screen as a surface players share for play that occurs in the real world.
Also important, though, is a strategic element: "It's less about answering right or wrong to win, more about setting a challenge people must think about to do better," Fleetwood adds.
Though the core Tiny Games app will be made available for free along with one location-based content pack–games to play at Home–additional content packs such as games for the Park, Bar, or Kitchen will be sold.
"Given the idea is all about helping people have fun being in a particular location, there is also potential to generate extra revenue through sponsorship," Fleetwood acknowledges. "But the first step is to establish the Tiny Games platform."
Moving forward, Hide & Seek hopes to develop Tiny Games further with additional games–some of which will involve a networked multiplayer experience and make more use of smartphone motion, camera, and video functions–and through third-party creative partnerships.
Following a recent tie-up with Sesame Workshop, Hide & Seek developed a young children's version, Family Play, which launched last month.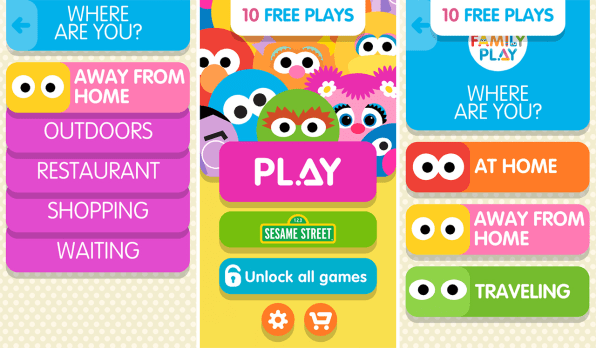 Tiny Games is available from the App Store from October 24.