In an age when you can reliably network with just about anyone, anywhere in the world, Hunter Weeks made the connection of a lifetime very much offline. It was at an old folks' home in Great Falls, Montana.
A director and producer of documentaries, Weeks had just wrapped his fourth film Ride the Divide, about the world's most difficult mountain-bike race, and was working at a creative agency part time until the next burst of inspiration came along. Gathering information for a retrospective of the state's denizens, Weeks came across an article about Walter Breuning. At age 113, Breuning "wasn't just oldest person in Montana," Weeks says, still shaking his head in disbelief, "He turned out to be the oldest man in the world. I was hoping he was still alive."
Weeks hurried to make the three-hour drive to make Breuning's acquaintance because the elder gentleman is part of an elite group of individuals known as supercentenarians, that is, people born in the 19th and early 20th century. The Gerontology Research Group estimates there are fewer than 400 people alive in the world today who are older than 110. Less than 10 of those were born in or before 1899.
When Weeks sat down with Breuning, he discovered that the 113-year-old not only was willing to chat, but that he could easily recall events that happened a century ago. "I was drawn into the stories he told and how with it he was at that age," recalls Weeks. The conversation stuck with Weeks long after he drove back home. "I kept thinking back to that moment of spending time with this guy connected to the 1800s. He had really neat ideas about politics and living life right, those important basic things we kind of know, but when you hear it from someone around that long it hits you a little differently."
In the days following, Weeks told several friends about his encounter. One person in particular pushed Weeks to stop talking and get to work. "We were falling in love and we talked about our lives and what we were going to do," Weeks explains. His wife-to-be Sarah Hall provided the confidence and the encouragement to go out and find more supercentenarians and collect their experiences into a documentary.
"It's always interesting how the next one happens," Weeks says of the way he gets the inspiration for each project. His relationship with Hall also inspired the way he would capture the experience in the film. As the couple discussed their personal values and ways they would like to live their lives in partnership, Weeks says, "The story incorporates our life and coming together and juxtaposes it with their end of life."
Part documentary, part time machine, and part travelogue, the film, called simply Walter, took the couple from Montana to Georgia, Cuba to Italy, meeting the elders and their extended families while gathering tidbits of wisdom and a collection of reminiscences that put current events into historical context.
"I was 33 at the time," he explains, "Walter was 33 when the stock market crashed and the Great Depression began." Weeks says Breuning's recollections of the poverty faced by so many people during the 1930s made news accounts of the recent recession look less dire by comparison.
The perspective Weeks gained from meeting each elder was something he tried to incorporate into the film, especially because the one burning question nearly everyone has about longevity ("How can I live that long?") didn't really have an easy answer.
"I would ask them 'Are you excited to be this old?' and they'd tell me they couldn't understand why they were still living," says Weeks, chuckling at the memory. But their stories did have common threads of simple wisdom. "They were always finding the positive things about life. They were curious and still interested in learning. They continued to work and give back to their community; that was very important to each of them."
Besse Cooper, who died last year at age 116, always knew she wanted to be a teacher and make a larger contribution to the world. Growing up working hard on a small farm taught her to be self-sufficient, says Weeks, but also to cherish family and neighbors. Weeks says that Cooper–who could barely stay awake during a Guinness Book of World Records ceremony in her honor–was most animated around her grandson. "It shows [how powerful] it can be to have a will to be useful."
Likewise, visiting Juana Bautista in Cuba was like stepping back in time, says Weeks. "You could see her happiness in the support of her huge family," he says, even though their dwelling had mud walls and wood fire stove, and not much else.
"It made you realize we all deserve that, but we are not allowing ourselves to have [that simplicity]. It is too easy for us to get confused online about politics and globalization. You've got to use those [digital] tools, but you also have to pull yourself back. It's the small things that matter," says Weeks.
Community matters now, too. Toggling to and fro between the tales of the elders' gentler eras and the speed of the online world was a balancing act, but one Weeks is grateful for. He turned to Kickstarter to fund the film and give it a shot at qualifying for an Academy Award. It was Weeks's second foray onto the crowdfunding site (both films hit their respective funding goals). He's donated to 19 projects himself. After making Walter, Weeks says he's trying to find a way to give a little more. "I gave another filmmaker [a bigger contribution], but that is just money," he says. After contributing, Weeks says he continued to talk up their campaign, trying to get others involved.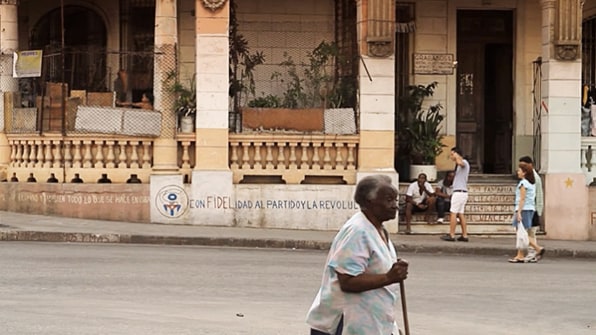 "It's really cool to have so much support," he says of his own project, which had more than 460 people chipping in to make sure Walter had a chance to have a conventional release. Still he says, "so much of your film's story actually happens after it releases." With social media and crowdfunding, Weeks believes that creators have to be friends with their fans. When Fast Company caught up with Weeks, he was connecting with fans and building his professional network at a film festival in Bend, Oregon. While Hollywood will probably always remain a nerve center for the movies, Weeks says, "This festival had 99 filmmakers all hungry for how to connect with audience and find money to keep making films." Between the web connections and live events, Weeks says "the fan base stays with you and they also want to contribute to that process."
Unfortunately, Breuning didn't live long enough to see himself on the big screen. He passed away shortly after Weeks filmed him. One thing that's still resonating with Weeks is the irony that we as a society are looking at age in a very "old fashioned way." He points out, "They didn't overthink it. They just said, 'What can I do today to make this day special?'"