Imagine a future in which cities are no longer grown from the ground up with poured concrete. Factories spit out bathrooms, kitchens, and whole apartment floors to be stacked and sealed into dazzling towers. Faster, more environmentally efficient, and affordable housing is a given, and megacities more closely resemble tightly assembled airplane engines than accidents of density and sprawl.
Nowhere is this scenario more promising than in Brooklyn's Navy Yard, an industrial park where one factory is churning out extremely precise, 450- to 950-square-foot apartments that will click and seal together to form the largest modular high-rise building in the world. At 32 stories of stacked modular apartments, developer Forest City Ratner's "B2" building will surpass in height the 24-story student dorm erected in Wolverhampton, England, in 2009, then hailed as the tallest modular building of its kind. This past month, Co.Exist got a look inside at the reportedly faster and more efficient building process that could shape the cities we live in for years to come.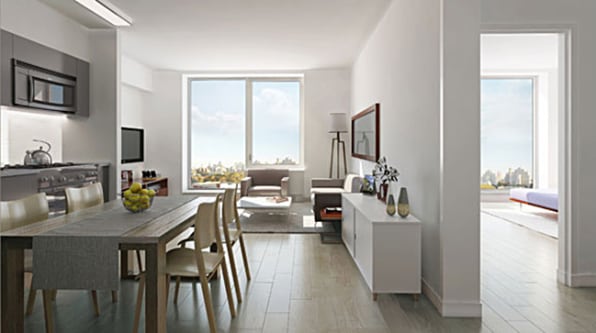 Inside Building 293, a massive, cadet blue shipping container of a warehouse, teams of 10 to 15 union workers are prefabricating one floor at a time. When completed, a finished module will include a kitchen stocked with new appliances and a full bathroom. In fact, the only unfinished elements after the "mods" are trucked two miles over to Dean Street will be the plumbing connections, which plumbers can simply snap together from a kit packed inside the walls. Everything else, including hallways, stairs, and five phases of modular construction from the inside out to the façade, will be done at the factory.
Modular assembly is often compared to the kind of line assembly popularized by Henry Ford's T-Birds, but B2 is actually being constructed by a different process altogether. Instead of individual workers putting together piecemeal parts, FCS Modular and its Swedish partner Skanska decided on using a system called "group technology workcells," in which multidisciplinary groups of cross-trained tradesmen work on different parts of the floor simultaneously. It's the same way airplane engines are constructed, Roger Krulak, a senior vice president at Forest City Ratner (FCR), explains.
"A bathroom, for example, takes a lot longer to do than a living room. So if you tried to build them in a line, every time you had something like a kitchen come by, it would slow down," Krulak says.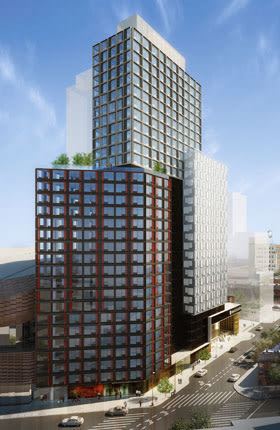 Because of innovations like these, FCR claims to have "cracked the code" to modular building on a new scale. The company says that B2 will be built in 18 months, or two-thirds the time it would take for conventional construction. Stacking the mods onsite, like one might build a Lego tower, will happen on a speedy rolling basis: As metal chassis come into the factory, finished mods go out by truck, and are lowered behind the Barclays Center onto the new structure by crane. The group has also pledged that its prefab process will save money and reduce the construction waste that occurs when building from the ground up by 70% to 90%.
Ashley Cotton, another FCR executive, then repeated a mantra I would hear multiple times before the tour was over, and from several of New York City's modular pioneers not involved in the B2 project: "It's not product innovation," she said. "It's process innovation."
Modular building is not new. After World War II, the cheapness and efficiency of prefab construction appealed to architects rolling out low-height schools, hospitals, and government buildings. But it's only been in recent years that a fascination and appreciation for modular has hit the mainstream, and developers have become interested in bringing the form to new heights.
"I think there's this slow turning away from something called 'starchitechture,' architects used to increase the notoriety and sensational effect," Jim Garrison, an architecture professor at the Pratt Institute, and one of New York City's foremost authorities on modular building, says. "To the extent that modular represents a more rational, frugal approach to things, then yeah, it has a greater appeal."
Others say that modular has reached an apex of innovation out of necessity. "What happens is that you simply reach a tipping point at which a whole confluence of influences make something look more desirable," Tom O'Hara, director of business development at Capsys, a longstanding modular architecture firm building company at the Navy Yards, also told me.
"Think of automobiles," O'Hara explains. "There's no appreciable difference in the fuel economy, and then all of the sudden gasoline tripled in price, and now we've got 50 mile-per-hour diesels running around the country. You probably could have done that in the '30s, but nobody cared to."
In some ways, B2 represents another tipping point brought on by scarcity–or public pressure to get it done. The project began early a decade ago, when developer Bruce Ratner proposed building the new Barclays Center to house the Brooklyn Nets. After he coordinated with the city to seize the land through the controversial use of eminent domain, Ratner promised to build 2,250 units of affordable housing at the Atlantic Yards and provide jobs. When lawsuits followed, and the financial crisis hit, critics, officials, and the public wondered whether the developer would actually ever follow through.
Last year, FCR revealed the plan for B2, which now will dedicate 50% of its 363 rental units to low-income tenants affordable housing–some for low, middle, and medium income residents–and will eventually employ 125 union tradesmen during construction (it currently has 72). Using all-union labor in modular construction was something the company claims was essential to the process. Whether cooperation with the trades continues will likely have a hand in determining the future of modular in New York.
Another key feature of FCR'S code is how the mods will actually fit and join together. To secure the building from winds and seismic shifts, it will feature both a steel brace and a conventional foundation–a hybrid of modular and traditional construction methods. But a more radical innovation takes place in between the mods, when they are joined together by rubber sealant, like the connections between subway cars. The sealant goes on the façade in one of the final steps before the mod is trucked out. The apartments, meanwhile, require zero welding.
One of the most impressive feats of B2, however, is its precision. As we walk past hallway modules, steel chassis being fitted with wiring, and a set of stairs that, once stacked, will scuttle up the building, Krulak stopped to explain that B2 only allows for one-eighth of an inch of tolerance. Defined as the amount you can vary from an exact measurement in the structure, an eighth-inch tolerance is an exceptionally tiny bit of leeway compared to other kinds of construction.
"It's ridiculously tight," Krulak says.
When I asked Krulak what other kinds projects usually require that kind of precision, he laughed. "Aircraft engines!" he says. "Not too many. Some areas of the car industry have those tolerances."
"That's right," O' Hara confirms later. "There's no question we're building stronger, we're building quieter, we're building more energy efficient."
B2 isn't the only modular project pushing this kind of design forward in New York City. While modular has often remained in the background as a process for hospitals or breakthrough affordable housing complexes, it'll now be used to develop a building of 300-square-foot micro-apartments for the city's aDAPT NYC initiative with Capsys. The city is also working with Garrison, who recently rolled out climate-resilient modular buildings for the beachfront, to develop a new kind of post-disaster house that could be replicated internationally.
If it lives up to its promises, B2 could be one more specimen to help tip our cities over into a new era of building. Still, it represents a transitional moment. Garrison, for example, envisions an era in which computer modeling and design bring modular building higher, and without elements of traditional construction, like a concrete core or steel brace. "Ultimately, the way the forces pass through the modules will become more integrated," he said. "This isn't the end of the story."